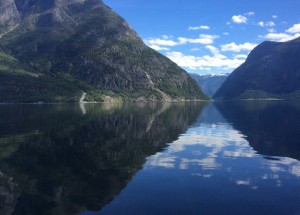 Norway: the trip of a lifetime to the land of my father's Viking ancestors
by Pauline Park
Norway has always had a special place in the imaginary of my mind; it is first of all the land of my father's Viking ancestors; it is secondly one of the most progressive countries in the world, a pioneer in ; and last but not least, because it may well be the most beautiful country on earth. Any one of those reasons would be sufficient for me to visit Norway, but when I was invited to speak at Oslo Pride House in June 2017, it was the ideal opportunity to visit the country that was at the top of my bucket list.
My trip began on Monday, June 19 with a flight from JFK to Stockholm Arlanda. On Tuesday, June 20, I flew to Gardermoen airport and took a speedy, efficient train into Oslo, meeting a friend and going with him for dinner at an Asian fusion restaurant Monsun in Grünerløkka.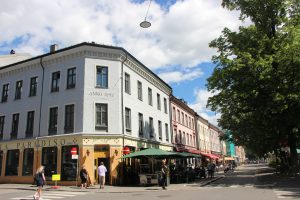 Olaf Ryes Plass at Markveien in the Grünerløkka district of Oslo
Over the course of my first week on Oslo, I got the hang of the Trikk Trakk tram, which I rode between the Grünerløkka and Sentralstasjon (Central Station).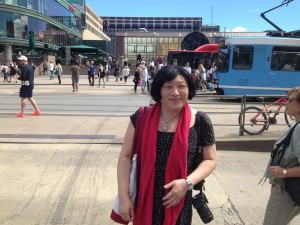 What brought me to Norway was an invitation to speak in Oslo and I had three speaking engagements in late June. On June 23, I spoke to members of the Palestinakomite i Norge at Maksitaksi in Oslo about the 'pinkwashing' of the illegal Israeli occupation of Palestine.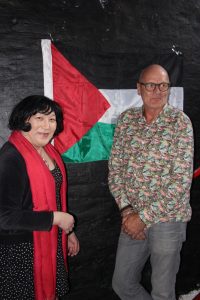 On June 24, I gave a talk at Oslo Pride House on "The Triumph of Trump & the Future of LGBT Rights" at El Dorado Bookstore; and the following day, I gave a talk about "Transgender Rights in the Age of Trump" at Oslo Pride House.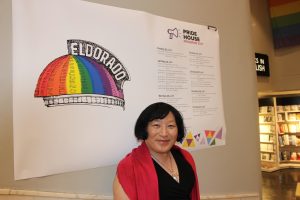 But in my first week in Oslo, I also took the time to see many of the sights that make the city so interesting, including the Munch Museum, which is dedicated to the work of Norway's most famous artist, Edvard Munch.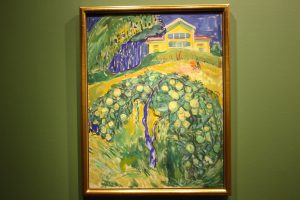 The special exhibition of Munch's work that I saw there just underlined the fact that his art is so much more than just "The Scream," his iconic masterpiece.
I also visited the Henrik Ibsen Museum, which includes the commodious flat in which Norway's greatest playwright lived in his last years.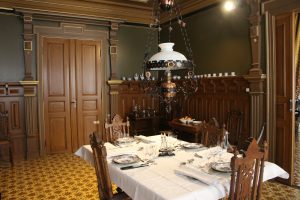 On a very rainy day in June, I visited the Historisk Museum (Historical Museum) and was delighted to see the beautiful architecture of the building, which is very similar to the fin-de-siècle Jugendstil and Wiener Secession styles.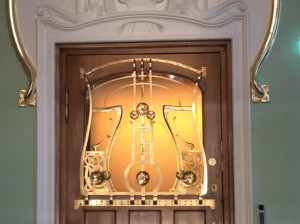 Oslo: Jugendstil door in the Historical Museum
I was surprised as well as delighted to see an exhibition about the Sami ('Lapps'), the indigenous people of northern Scandinavia, that included images of a transgendered Sami.
On June 24, I visited the informative Norsk Hjemmefront Museum to learn more about the Norwegian Resistance during World War II; the museum is next to Akershus festning, the great fortress that overlooks Oslo harbor and possibly the single most impressive sight in the Norwegian capital.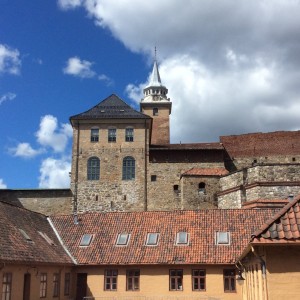 Akershus festning has a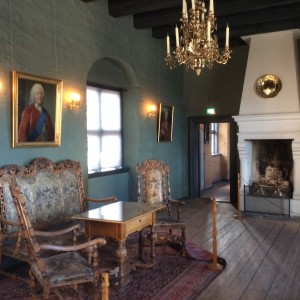 Akershus festning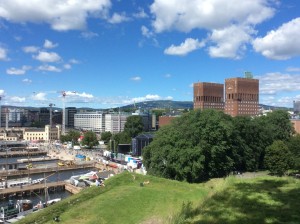 On June 25, I too, the ferry to Bygdøy peninsula to see the Norsk Folkemuseum (Norwegian Folk Museum)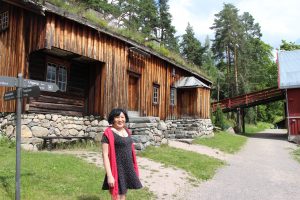 Norsk Folkemuseeum
and the Viking Ship Museum, LGBT exhibition at Oslo Rådhuset, Oslo Pride House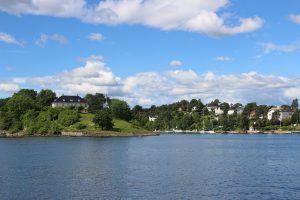 Bygdøy peninsula seen from a ferry on Oslofjord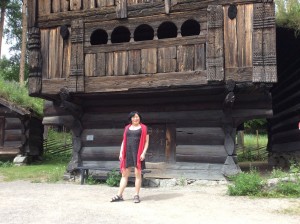 Norsk Folkemuseum (Norwegian Folk Museum) on Bygdøy peninsula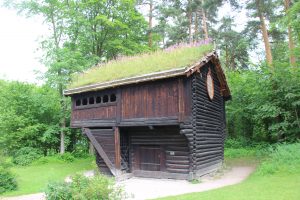 Bygdøy: Norsk Folkemuseum (Norwegian Folk Museum): Setabu, Støylsemne: a summer cottage from Hylestad, Valle Setesdal (c.1500-1600)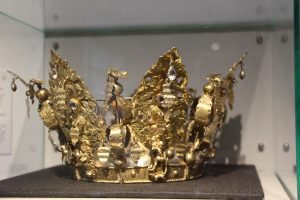 I saw this amazing bruderkrone in the Norsk Folkemuseum on Bygdøy when I was in Oslo in June: "Bridal crowns were used by the upper classes in Norway from the Middle Ages until the end of the 16th century. Later the custom only continued in rural areas. The lower part of this crown — in giil silver with images of saints — was probably made ca. 1520. It was still in use after the Reformation, but the upper part was renewed in the 17th century. It was strictly forbidden to wo
rship saints for the Lutherans, but they still existed in folk tradition." ("Bruderkroner var vanlige i høyere samfunnslag i Norge fra middel-alderen til slutten av 1500-tallet. Senere fortsatte skikken bare blant bønder. Den nederste delen av denne kronen — i forgylt sølv med helgenfigurer — ble trolig laget ca. 1520. Den var fremdeles bruk etter reformasjonen, men fikk ny bekroning på 1600-tallet. Tilbedelse av helgener var strengt forbudt i den lutherske kirke, men minnet om dem levde lenge videre i folkekulturen.")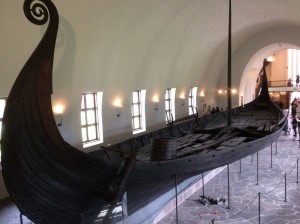 Oseberg ship in the Viking Ship Museum on on Bygdøy peninsula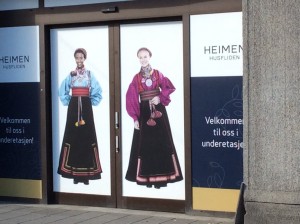 Oslo: an ad for traditional Norwegian bunad costumes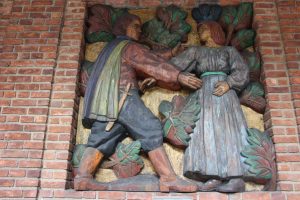 Oslo Rådhus: Froy & Gerd meet: a wood relief by Dagfin Werenskiold from his 1950 series of Yggdrasilfrisen at the entrance to City Hall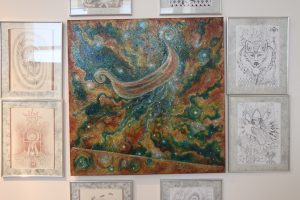 Arnhild Haagensen, "Himmelbåten," akrylmaling, glassperler og gullpulver på linlerret (acrylic paint, glass beads & gold-plated powder), in the exhibition of LGBT/queer art "Blitt sånn, født sånn: Rådhusgalleriet Skeive Kunstnere" at the Rådhusgalleriet (City Hall gallery, Oslo)
On Monday, June 26, I flew to Spain and returned to Norway two weeks later on Monday, July 10, for my second week
Oslo City: sandwich, umbrella. Oslo tourist info. office: booked train ticket to Bergen. Chinese restaurant in Oslo City.
Tuesday, July 11
Lunch; train from Oslo to Bergen; taxi to City Apartments.
Wednesday, July 12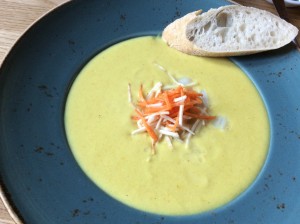 Norges Fiskerimuseum (Norwegian Fisheries Museum): Von Tangens kremede fiskesuppe (creamed fish soup) for lunch (Kr 165)
Bergen Tourist Information office: bought Bergen Card. Bryggen. Hanseatisk Museum & Schøtstuene.
Norges Fiskerimuseum
(Norwegian Fisheries Museum).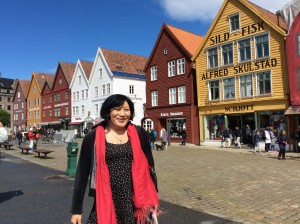 Bergen: on the Brygge
Thursday, July 13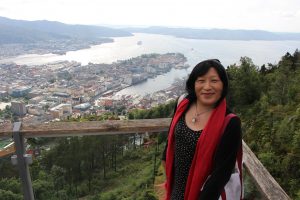 Fløibanen funicular up Mount Fløyen
Friday, July 14
Checking out of the Zander K hotel. Bus to Haugesund via ferry on the Banenfjord & then crossing Stord. Taxi to the Scandic Haugesund Hotel.
Stord
Haugesund: the Brygge (wharf)
Monday, July 17
Haugesund Folkebibliothek, Haugesund Rådhus, Lillesund skole, Haraldsgata.
Thursday, July 20
Haugesund Folkebibliothek; checked out of the Scandic Hotel; walked to busstasjon. Kyssbus to Stavanger via ferry. Taxi to Scandic Forum Hotel; checked in; bus to sentrum. Gladmatfestivalen on the Brygge, domkirke; Kirkebakken; taxicab back to Scandic Forum.
Checked out of the Zander K hotel; train to Flesland airport; Icelandair baggage check & check-in; flight to Trondheim; flight to Keflavik;