Jimmy Van Bramer, Tom Duane, Christine Quinn & Danny Dromm
When the Working Families Party burst on the scene a decade ago, I was excited to see a new political party in New York that was explicitly committed to pursuing a progressive political agenda. The WFP seemed like a refreshing alternative to politics as usual, especially politics in the borough of Queens, which remains dominated by the Queens County Democratic Party organization, a.k.a., 'the Queens machine.'
New York is unusual in permitting candidates to run on more than one party line — sometimes called 'fusion voting' — which gives small third parties such as the Conservative Party an influence disproportionate to their size, enabling it to anchor the Republican Party on the right and prevent a drift to the center. Unfortunately, until the formation of the WFP ten years ago, there was no countervailing force on the opposite end of the political spectrum. With the debut of the WFP, there appeared to be  a progressive party capable of influencing public policy through its ability to hold the Democratic Party accountable for its choices of candidates. The Working Families Party's stated public policy agenda is a progressive one: affordable housing, good jobs at living wages, green jobs and green homes, universal health care, clean elections, and 'the extension of civil rights to gays and lesbians,' including marriage equality
Over the years, I have voted for many WFP candidates, including those who ran on both the Democratic and WFP lines, in order to support an alternative to the Democratic Party machine. But no more. November 2009 represented the moment at which the scales fell from my eyes.
Two things happened. First, the WFP has endorsed several candidates who were clearly not the progressive choice in their races. While the party made some very good choices in the 2009 election cycle, endorsing Bill Thompson for mayor of New York (who ultimately lost to incumbent Michael R. Bloomberg) and Richard Aborn for Manhattan District Attorney (who unfortunately lost his primary race in September) as well as Bill de Blasio for New York City Public Advocate and John Liu for City Comptroller (both of whom went on to win both their primary races and the general election), the WFP also endorsed Daniel ('Danny') Dromm over incumbent Helen Sears in the 25th Council District in Queens and Jimmy Van Bramer over Deirdre Feerick in the 26th Council District in Queens, as well as Council Speaker Christine Quinn over insurgent Yetta Kurland in the 3rd Council District in Manhattan. Other problematic candidates that the WFP endorsed in 2009 include Elizabeth Crowley (the incumbent Democratic Council Member representing the 30th Council District in Queens) and James Oddo (the incumbent Republican Council Member representing the 30th Council District in Queens).
Second, the WFP set up Data and Field Services, a secretive private company used manage field operations for the party's endorsed candidates. In early December 2009, City Hall News published "All In The Family," a five-part investigative series posted to www.cityhallnews.com about the Working Families Party. As City Hall explains, the party has created a web of party organs that work in tandem to help elect its candidates. "There are, in fact, four arms: a political party, a for-profit and two different kinds of non-profits, each of which is separate and distinct under the law," as Edward-Isaac Dovere explained in part one of the investigative series. "While standing for ethics in government and campaign finance reform, Working Families has non-profits groups and a for-profit entity that lack donation caps, disclosure requirements (in terms of frequency and detail) and other regulations that political parties face. Leading politicians, political operatives and other experts complain that Party-supported candidates are as a result given an unfair advantage over their rivals," Dovere adds, noting that the WFP's organizational structure is unprecedented not only in New York state politics but anywhere in the United States.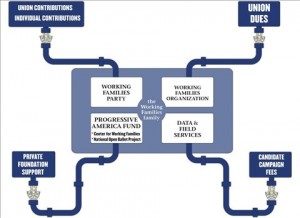 the Working Families Party structure (courtesy of City Hall News)
The complicated structure of the Working Families Party raises serious questions about its commitment to 'clean elections,' as stated in its public policy agenda, rife as it is with potential conflicts of interest. There remain lingering questions about the WFP, as City Hall News editorialized on Dec. 15. "There is legal, and there is right. The Working Families should be living up to both," City Hall News declared. "And enough people have their doubts about whether the leadership needs to do more than simply pay Skadden Arps to do a private review. There need to be some explanations publicly, and directly from the leadership." Indeed.
There are implications for the LGBT community as well, since the WFP helped elect the first two openly gay elected officials in Queens, Daniel Dromm and Jimmy Van Bramer, who take office in January as Council Members representing the 25th and 26th Council Districts in Queens, including the district I live in (the 25th). While neither Dromm nor Van Bramer have been charged with any crime or indicted (as of yet), they have both been subpoenaed by federal prosecutors investigating the WFP scandal. And barring unforeseen circumstances, the openly lesbian Chris Quinn will almost certainly be re-elected Speaker by her City Council colleagues, continuing her role as the second most powerful person in New York City government, with its budget of $59.4 billion, which is larger than that of all but two states — California and New York State itself.
Given that Quinn herself is at the heart of a slush fund scandal in which Council staff members have already been indicted for illegal activity, the WFP's support for her in the September 2009 Democratic primary and November 2009 general election must be accounted one of the most cynical choices in the relatively short history of an increasingly cynical party, whose values seem to be much closer to those of the Queens machine than I ever imagined.