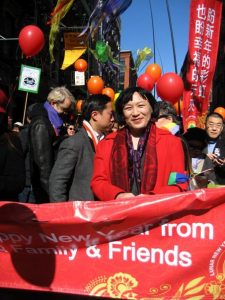 Leading the LGBT contingent in the 2010 Chinese lunar new year parade…
On 21 February 2010, we made history, as the first lesbian, gay, bisexual and transgender (LGBT) contingent in the Chinese lunar new year parade in New York's Chinatown. LGBT contingents have marched in the lunar new year parades in Chinatowns in San Francisco, Seattle, and Los Angeles, but it was not until 2010 that queer Asians & Pacific Islanders (APIs) took to the streets — Mott Street and Canal Street in particular — to make their presence known.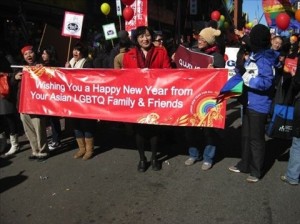 I was privileged to participate in the parade, representing the New York Association for Gender Rights Advocacy (NYAGRA), which was one of the co-sponsoring organizations, as I did in the January 30 press conference announcing the formation of the LGBT contingent.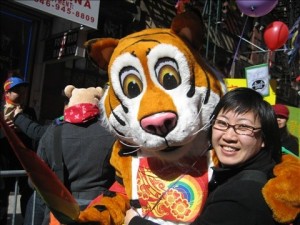 Karen Lee celebrating the Year of the Tiger with the LGBT contingent's ferociously friendly mascot…
Over 130 members of the LGBT community joined our contingent, including more than half a dozen openly transgendered men and women. While there had been some concern about possible protests, only a few scattered protesters on the margins of the parade objected to our presence in the parade, while thousands of people cheered us on, welcoming us and especially the tiger who was our LGBT contingent's mascot.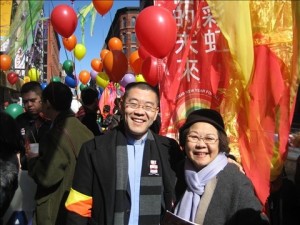 Patrick Cheng with his mother, Deanna, proudly supporting her gay son
Stepping off at 1:45 p.m. on a bright, sunny day in late February was thrilling as we took our rightful place as LGBT/queer APIs in the largest API community event of the year. And our presence was duly noted, not only by Gay City News ("Asian-American Gays, Their Friends Take Mott Street") and the LGBT blog site DC Agenda ("Grabbing the Tiger's Tail"), but by the mainstream media as well.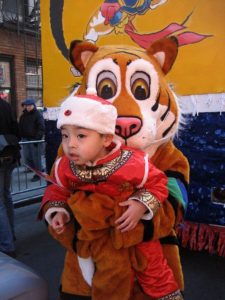 The New York Daily News acknowledged our participation as "a historic first" and embedded on its website a video with interviews with six members of the LGBT contingent (Irene Tung, Susie Chin, Weiben Wang, Jarron Magallanes, Sharon Panelo, Pauline Park).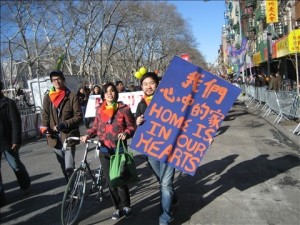 The Associated Press also ran a short piece over its wire on the LGBT contingent's participation in the parade ("NYC's Chinatown marks Lunar New Year with parade").  NY1 ("Year of the Tiger Roars Through Chinatown") aired segments on our LGBT contingent, and 1010WINS (the top radio news station in the city) also noted our presence ("New York City's Chinatown Marks Lunar New Year"). And Downtown Express included a photo of our tiger mascot under the heading, "Gays join Lunar festivities." WNBC-TV (the local NBC network affiliate) also included a photo in their photo montage from the parade ("Chinatown Rings in the Year of the Tiger").
Most important, SingTao and the World Journal included mention of the LGBT contingent in their coverage, further enhancing LGBT visibility in the Chinese American community in New York City.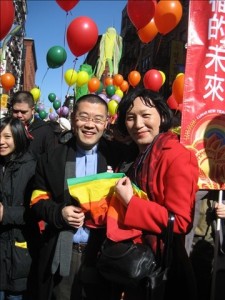 Patrick Cheng & Pauline Park
Congratulations to the entire planning team: Aries, Don, Diana, Eileen, Fay, HNelena, Irene, Jinny, Ken, Kian, Karen, Nat, Olympia, Stephanie, Tamiko & Vivian.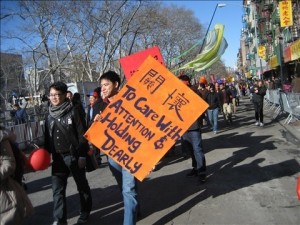 And congratulations to all of the co-sponsoring organizations of Lunar New Year for All, including:
Asian American Arts Alliance | Asian Cinevision | Asian Women's Giving Circle |APICHA: Asian & Pacific Islander Coalition on HIV/AIDS | Barangay: LGBTQ Philipin@s | CAAAV: Organizing Asian Communities | CPC: Chinatown Planning Council |Chinatown Youth Initiatives | Christine Quinn, City Council Speaker |Joan Chen, Actor | John Liu, New York City Comptroller | Helen Zia, Author & Human Rights Activist | GAPIMNY: Gay Asian Pacific Islander Men of New York |Museum of Chinese in America | Metropolitan Community Church of New York | NQAPIA: National Queer Asian Pacific Islander Alliance | Nodutdol for Korean Development | NYAGRA: New York Association for Gender Rights Advocacy | Organization of Chinese Americans – NY Chapter | Project Reach – CPC | Queer Asian Spirit: LGBTQ Asians of Faith | Q-Wave: Queer. Women & Trans. Asian. Visible. Empowered | SALGA: South Asian Lesbian & Gay Association of NYC |St. Pat's for All
More info. on the LGBT contingent is available at the Asian Pride Project website.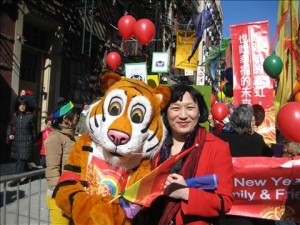 Happy Year of the Tiger to all~!