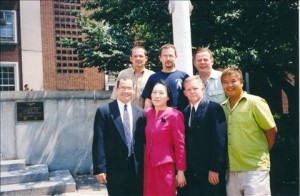 GVIDCQ founding members:
Raymond Penko, Andres Duque, Charles Ober, Phillip Velez, Pauline Park, Jimmy Van Bramer, Raymond Ho
New Push in Queens

Activists launch new LGBT Democratic club targeting disenfranchised communities
By Paul Schindler
Gay City News
2002
A group of nine leaders from the Queens LGBT community appeared on the steps of Borough Hall July 29 to announce the formation of a new Democratic Party club aimed at engaging and serving diverse elements of the county's queer community.
"Our mission is to give a full voice to the full diversity of the LGBT community, especially those who have not had a voice in the public arena whether it is because they are undocumented, because they're closeted, or for whatever reason," said Pauline Park, a Korean American transgender activist who will serve as a vice president in the new club.
"Our club will be defined by its independent nature, which will be based on the ideas of the group's members, giving everyone a voice," said Phillip L. Velez, a gay Latino writer who will serve as the club's president. "We want to work with other groups, but we are going to be independent."
The club, the Guillermo Vazquez Independent Democratic Club of Queens, is named for a Colombian-born gay and AIDS activist who died in 1996. Vazquez, who lived in Jackson Heights, was a founder of the Latino Commission on AIDS, the Colombia-U.S. AIDS Foundation, and the Latin American Cultural Center, served on the board of the Empire State Pride Agenda (ESPA), and also participated in the New York City Gay and Lesbian Anti-Violence Project and the Gay Men's Health Crisis.
The Vazquez club is the second Democratic group in Queens serving the LGBT community, joining the older Lesbian and Gay Democratic Club of Queens. In its mission of outreach to diverse ethnic and racial communities, the Vazquez club follows a path forged by the Out People of Color Political Action Club (Out POC PAC), a non-partisan citywide group launched last year.
In comments at the press conference July 29, however, Park said that racial and ethnic diversity was only one component––however important––of the club's mission.
"There are groups that have traditionally been underrepresented in the LGBT community, whether women, bisexuals, transgendered people, disabled people, and the mission of our club is really to give them a home, a voice," she said.
Velez and Park were joined by other well-known community activists in announcing the new club. Jimmy Van Bramer, who made a strong second place showing in a 2001 City Council race in the district encompassing Jackson Heights, Elmhurst, Corona, and Woodside and who is now running for Democratic state committee from the same district, will be another of the club's vice presidents. Betty Santoro, a long time lesbian activist who played an instrumental role in organizing the first March on Washington in 1979 and in the passage of the city's gay rights ordinance in 1986, will be secretary.
Other founding members include Andres Duque, an ESPA board member and director of Mano a Mano, a coalition of Latino LGBT groups; Charles Ober, the board president of the Queens Pride House, the Woodside community center, and a longtime leader of Dignity-NY, a group for gay Catholics; and Ray Penko, Pride House's executive director.
(Full disclosure: Velez, Van Bramer, Park, and Duque have been contributors to Gay City News and/or its predecessor publication, LGNY).
Park emphasized that the club's educational mission, while in part aimed at the wider Queens community, will also provide significant role modeling within the LGBT community itself.
"At meetings of Asian-Pacific Islander groups, I am often the first openly transgender person that they have encountered," she explained. "So it's important in educating people of color organizations and in showing LGBT people of color that they can actually come out within their own communities. That often happens much less often than some of us would like."
Hiram Monserrate, a City Councilmember representing Queens' 21st district, which includes sections of Jackson Heights, East Elmhurst, and Corona, where more than 60 percent of residents are Latino, attended the Vazquez club press conference and spoke approvingly of the coalition-building the group hopes to do.
"The first time I ran for office was in 2000 as an insurgent candidate for district leader and I beat an incumbent by energizing and mobilizing voters who have traditionally been disenfranchised," he said. "Among the new immigrants in the LGBT community, this club can play an important role in energizing them, motivating them, and organizing them so that not only are they a voting block but that they have influence on policy, which is so important, and on legislation. We need to work in coalition toward social justice."
An official at Out POC PAC, in which Velez, Park, and Duque are active, also welcomed the new club's efforts.
"We're very excited about it," said Joe Pressley, the group's co-president. "It creates tremendous opportunities for Out POC PAC. It will help us in doing our job in Queens and we've already discussed doing some joint events together… We'd like to think that Out POC PAC has helped others to think about creating alternatives to the existing clubs out there."
In announcing the borough's second LGBT club, the founders of the Vazquez club declined to cite any specific differences they had with the existing group, the Lesbian and Gay Democratic Club of Queens.
"I don't think it's an issue of who might do a better job or a worse job," Duque said. "I think it's an issue that Queens is such a huge borough––if there's another club, that's great. More people can get involved."
Danny Dromm, a gay activist in Queens long involved with the older club who is seeking the Democratic district leader post in the same district where Van Bramer is aiming for state committee, echoed this "more is better" perspective.
"I welcome it," he said of the new club. "The more, the merrier. I always encourage new groups to start in the borough."
Dromm, one of the movers and shakers behind the annual Queens LGBT pride festivities now in their tenth year, argued that LGBT activists have turned an important corner with the Queens Democratic establishment, and pointed to the endorsement of himself and Van Bramer by the County organization as evidence. At the same time, a multi-pronged political strategy by the community remains useful, he said.
"We have a sea change in the County organization's posture," Dromm said. "Still, we always need people on the inside and on the outside, because it's taken eight or nine years to get to this change."
Despite the fact that both clubs emphasize the benefits of more political voices in the borough, there clearly are rivalries within the Queens LGBT community. It is significant that Dromm is a key player in the Queens Lesbian, Gay, Bisexual and Transgender Community Center, which is located in Corona, while several of the founders of the Vazquez club are leaders at the Pride House in Woodside. Dromm made the point that studies show that LGBT residents in Queens access services based in large measure on convenience, so having community centers in two different neighborhoods is valuable. Still, both centers are relatively new and of necessity compete for scarce funding dollars.
There have also been some political differences between the two camps. Last year, the older LGBT Democratic club, by a narrow majority, endorsed Queens Borough President candidate Carol Gresser, despite her record while President of the Board of Education as a strong opponent of multi-cultural education that incorporated discussion of gay and lesbian families and of condom education. Several of the Vazquez club's founders were among those who faulted Dromm for spearheading the Gresser endorsement.
To some degree, divisions may also reflect the competing Democratic Party career trajectories of Dromm and Van Bramer. When questions were recently raised about a political advertisement that Dromm paid the non-profit Queens pride planning committee to include in a mailing, Van Bramer was among the critics. In his comments about the Vazquez club's focus on outreach to people of color communities, Dromm wondered aloud why Van Bramer, who is white, seemed to be the group's "spokesperson."
For his part, Van Bramer noted that Velez, the club's president, is its chief spokesperson. Van Bramer explained that he was drawn to the club by his longstanding interest in working in coalition with people of color communities.
This article originally appeared in the 1 August 2002 issue of Gay City News.