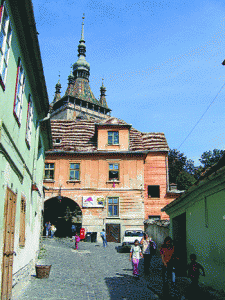 Transylvania: the great clock tower of Sighișoara
Peasants, Pitchforks, and Dracula
Romania offers views of a still extant medieval past and markers of more recent troubles.
By Pauline Park
Gay City News
27 October 2005
For most Americans, Romania is the land of Dracula, Nicolae Ceausescu, and Nadia Comaneçi—and not much else.
For lesbian, gay, bisexual, and transgendered Americans looking for friendly destinations, Romania doesn't come readily to mind either; after all, there is only one real gay bar in all of Bucharest.
But if you are seeking travel adventure off the beaten path and are undaunted by the challenges posed by traveling in a country with crumbling infrastructure and wildly variable transportation—but rich in history and authentic local tradition—Romania may be for you.
Romania's 23 million people inhabit an area about the size of New York and Pennsylvania combined. Most tourists start in the capital, which unfortunately presents a mostly confusing jumble of narrow streets. Ceausescu, the Communist dictator, demolished one-sixth of Bucharest in order to build the Palace of the Parliament (Palatul Parlamentalui), the second largest office building in the world, after the Pentagon. Far more attractive than that monument to megalomania is the Romanian Athenaeum (Ateneul Roman), a 19th century concert hall with superb acoustics.
The Museum of Art (Muzeul de Arta) has some dazzling Byzantine-style icons, but the 19th and 20th century Romanian art is largely derivative. Nearby is the Piata Revolutiei (Place of the Revolution), where the popular unrest that overthrew half a century of Communist misrule broke out within Bucharest. The Museum of the Romanian Peasant (Muzeul Taramului Roman) is worth an hour, but more interesting is the open-air Village Museum (Muzeul Satului). Parcul Herestrau is the Central Park of Bucharest.
Bucharest can easily occupy a week of your time, but the real Romania lies in the smaller towns and villages of the country. Two and-a-half weeks was not enough to see everything in Romania, and so Timișoara (the town whose uprising led to the 1989 revolution) and the painted monasteries of southern Bucovina will have to wait for another visit. But we did take two big trips out into the hinterlands, the first to Transylvania, the second to Maramures.
In Transylvania, we skipped Bran Castle, a tourist trap billed inaccurately as "Dracula's Castle." Instead, we went straight to Sighisoara, where we saw the house where Dracula was born. The fictional portrait of Dracula in Bram Stoker's novel bears almost no resemblance to the historical Vlad Tepeș, who was not a vampire, and is in fact a hero to Romanians for leading the resistance to the Ottoman Turks in the 15th century.
Sighișoara's medieval citadel was built by German settlers who came to Transylvania from the 11th century onward, and one can more easily conjure up images of Vlad the Impaler here than anywhere else in Romania. Sibiu and Brasov have Baroque centers—currently undergoing extensive renovation—that recall their heyday as leading cities of Hapsburg-ruled Transylvania.
Our biggest trip was to the county of Maramureș. The old prison in Sighet, the county seat, houses the Memorial Museum of the Victims of Communism and of the Resistance, which movingly documents the brutal Communist dictatorship that held the Romanian people in its grip for half a century. In the remoter regions of Romania, a tour guide with a car can be invaluable, and through a travel agency in Sighet, we found a local English-speaking guide who provided three days of touring along with room and board for two nights in his pension in Botiza, all for about $180 each.
Maramureș is the heart and soul of Romania, and home to the last remaining peasant culture in Europe, where farmers wield scythes and pitchforks as they tend to haystacks on the hillsides. The guidebooks rightly call Maramures the heart and soul of Romania. Home to the last remaining peasant culture in Europe, the villages of Maramures bring one as close to medieval European life as is possible in the 21st century. Here we found peasants wielding scythes and pitchforks tending to haystacks on the hillsides and driving down country roads in horse-drawn carts.
In the villages of the Cosau Valley, we saw old-fashioned grain threshers and watermills, and stills where peasants make fiery plum brandy. Outside Ocna Sugatag, we went to a livestock fair where one herder tried to sell me a sheep. In the Suciu River valley, we saw a herd of grazing water buffalo. And in Sapanta, we visited the Merry Cemetery, where a villager created beautifully carved wooden tombstones painted in bright colors featuring personalized epitaphs in rhyme for his fellow villagers.
Maramureș — especially in the Mara River valley — offers some of the most beautiful countryside I've seen in Europe, reminiscent of the Italian region of Umbria. Unfortunately, modernity is slowly but surely encroaching upon the medieval spirit of Maramures, with ugly new houses interspersed among ancient wooden hamlets as the nouveaux riches of the region compete with each other to show off their new wealth.
With the government pushing towards entry into the European Union and McDonald's and KFC already in Bucharest, it is unclear how long the peasant culture of Maramureș can survive. For the moment, Romania is still cheap compared with Western Europe. You can find a nice hotel room in Bucharest for under $100, and elsewhere, for as little as $50-75, and as little as $25 a night in a pension. But beware of independent, unaffiliated taxis; some will charge ten times the going rate. Stick with Meridian or Grant cabs in Bucharest. Watch out for pickpockets; and beware of stray dogs in the capital, some are which are said to rabid.
"The Lonely Planet Guide" and "The Rough Guide," whose maps are more detailed, are the only two country-specific guidebooks in English. Both have some small errors, but both were useful, as was the Romanian Dictionary and Phrasebook by Mihai Mirouiu (Hippocrene Books).
One final note: my gay Asian-American friend from California and I were conspicuous in a country in which Asians are rarely seen. We attracted a lot of attention, not all of it friendly, though whether it was because we are Asian, because I am transgendered, or both, was not entirely clear. We were least stared at in Cluj-Napoca, a large college town and Romania's sophisticated second city. For all of that, and despite a few mishaps — involving a train taken in the wrong direction and a pilfered wallet — Romania was a great and memorable adventure.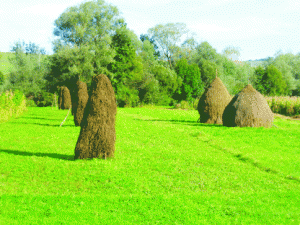 Maramureș haystacks, northwestern Romania
LGBT Romania
From an American queer perspective, Romania is in many ways pre-Stonewall. The small staff of ACCEPT (online at accept-romania.ro) works to advance LGBT rights and to educate a still very traditional society in which it is difficult to be 'out.' In 2002, Romania repealed its sodomy law in order to harmonize its legal code with that of the European Union. In May 2005, Bucharest held its first pride parade, after the mayor reversed himself under pressure from the president of Romania, whose government's overriding objective has been to secure EU entry in 2007 and is therefore reticent about any human rights scandals.
Bars In Bucharest:
Queens, on Strara Iuliu Barasch, num. 12-14, across from the theater Evrelesc de Stat, Bucharest (phone: 0723603473) is the only real gay dance club in Romania.
Red Harts, on Strada Kogalniceanu, num. 17, is a friendly smaller bar with a mixed clientele.
This article originally appeared in the 27 October 2005  issue of Gay City News.