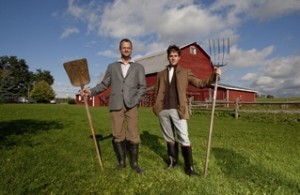 The Beekman Boys: Josh Kilmer-Purcell & Brent Ridge
Who says drag queens can't make good (organic) farmers…? That's the question I asked myself while watching The Fabulous Beekman Boys on Planet Green. The 'boys' are Josh Kilmer-Purcell and Brent Ridge, two very urban gay men in New York. Josh is the former drag queen and Brent is a former 'vice president of health living' at Martha Stewart Omnimedia, and the two of them go where no drag queen has ever gone before — to farm country upstate. They find Farmer John, a real farmer who has a herd of goats but no farm. It's not either of the queens who get teary, it's Farmer John who nearly breaks down in tears in the first episode ("When Pigs Fly") as he credits Josh & Brent with saving their lives by giving them a home.
If you're really into goats, you can follow Farmer John's herd on the Beekman Farm goat cam; now that's what I'd call a nanny cam~! But if you suspect that the secret life of goats is really far more fascinating than anyone has imagined, watching the goat cam will almost certainly dispel that illusion for you; these goats are a really dull bunch of kids.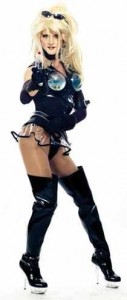 Aqua (Josh Kilmer-Purcell's drag alter ego)
The Beekman Boys have gotten a lot of attention recently — including from the New York Times — in part, I think, because of the incongruence of a couple of gay Manhattanites (one a once very flamboyant drag queen) homesteading on a farm upstate. But I think the most interesting part of the story isn't just about two gay urbanites trying to figure out how to run a farm; in fact, Josh grew up on a farm in Wisconsin, just like my mother did. And there's a fair amount of arguing between Josh & Brent, with Brent being the bossy queen and Josh complaining it's not as fun as he'd hoped it would be.
But the most interesting aspect, to me, is about how two contemporary Americans re-connect with the land, growing their own food, in a country where very few people have any real relationship to the food that they eat. Here are two queer pioneers who are trying to re-create that relationship.