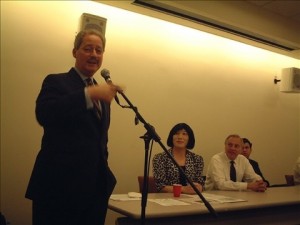 Bronx Borough President Fernando Ferrer came to the forum at NYU and spoke briefly about transgender rights.
Turning Law Into Action
Panel at NYU discusses obstacles, opportunities of gender rights law
By Winnie McCroy
Gay City News
April 21-27, 2005
Vol. IV, Issue 16
A crowd of about 50 transgendered people, advocates and political leaders gathered at New York University's Kimmel Center on April 19 for a panel discussion on the new city guidelines established to implement the 2002 law that protects trans people and other New York City residents from discrimination in housing, employment and public accommodations based on their gender identity and expression.
Panelists included Pauline Park, co-chair of the New York Association for Gender Rights Advocacy (NYAGRA); Matt Foreman, executive director of the National Gay and Lesbian Task Force; Avery Mehlman, deputy director of the New York City Commission on Human Rights; Michael Silverman, executive director of the Transgender Legal Defense & Education Fund (TLDEF) and City Councilman Bill Perkins.
Organizers had invited all mayoral candidates to attend, but only Democratic hopeful Fernando Ferrer, the former Bronx borough president, turned out.
The gender rights measure was enacted in April 2002, passing with a City Council vote of 45 to 5. In December 2004, the city's human rights commission completed worked done in collaboration with advocates from NYAGRA and other organizations and issued guidelines for its implementation. Now, the mission is to educate the public about these guidelines.
"We're here to educate both the transgender community and the general public about the scope and reach of the law and what protections it offers so that people like landlords, employers and providers of public accommodations know how they're supposed to interact with the transgender community in a way that is within the bounds of the law," TLDEF's Silverman told Gay City News. "It's also for the transgender community to learn what its rights and responsibilities are with respect to the law."
The law's protections include the right to access to restrooms of the individual's choice, to homeless services, and to protections in prisons, as well as against general harassment such as stalking, anti-trans slurs, and retaliation for reporting these complaints.
Park told Gay City News, "We at NYAGRA feel it's sufficient not just to simply pass a law or to adopt guidelines for its implementation, it's equally important to continually educate the public-policy makers, employers, landlords, and providers of public accommodations — about the law and about discrimination that transgendered and gender variant people face on a daily basis."
Perkins, lead sponsor of the legislation on the Council, noted that the issue was first introduced under the leadership of former City Council Speaker Peter Vallone. It did not move forward, however, until Gifford Miller assumed the speakership, and Perkins, joined by colleagues including the three gay and lesbian members — Christine Quinn, Margarita Lopez and Phil Reed — began to push for its advancement. Although clearly pleased that
the legislation passed so handily, Perkins warned the crowd that the fight was long from finished.
"One of the most important things we've learned about this legislation is this: laws don't change attitudes. They may punish behaviors, but you know, I still can't get a cab at all times in this city, even though that's against the law," said Perkins, an African American who represents Harlem.
Several speakers and audience members argued that in the past, complaints made to the human rights commission were lost in the shuffle. Mehlman admitted that the commission had been plagued by years of backlogged cases before Mayor Michael Bloomberg took office and appointed a team of attorneys to handle the 75,000 open cases. Now, Mehlman said, complaints are investigated quickly.
He pointed as an example Park's success in winning a settlement in a case against Advantage Security who asked her for identification after she used the women's restroom in the Manhattan Mall in Herald Square last April. The company paid both her and another transgendered woman who faced similar harassment $2,500 each. Several speakers, however, noted the anti-trans tenor of the New York Post coverage on March 31 of another bathroom access case in an article titled, "Judges Uphold Bathroom Ban on Girlie-Men."
The Task Force's Foreman noted the importance of making the gender rights guarantees work in New York City. "When you do something like this in New York, you're affecting eight million people — 16 times more people than live in the entire state of Wyoming, for example," he said. "Other cities across the country look to New York, saying if New York can do this, with its complex legal system, other places can do it.
"That said, we have a very long way to go to translate the law and the guidelines into livability for trans people in New York City. It doesn't take a rocket scientist to know that discrimination against trans people is rampant, everywhere, and pervasive. And it's incumbent upon those of us who don't identify as trans to really understand that and take a stand about it."
This point was stressed toward the end of the panel discussion in galvanizing comments from Melissa Sklarz, a transgender activist who is co-chair of LGBT issues for Community Board 2, which covers Greenwich Village, SoHo and Little Italy.
"Now that we have legal protection, what are we going to do to make a difference?" Sklarz asked. "Wouldn't it be great if those of us who are empowered actually stayed to fight? So that the next generation that comes along won't have to worry about the hateful, disgusting press coverage that we get in the New York Post."
For additional information about this legislation and the guidelines under which violations can be reported, visit ci.nyc.ny.us/html/cchr/html/trans_guide.html. If you feel you are the victim of discrimination based on your gender identity or expression,
contact the NYC Commission on Human Rights at 212-306-7450.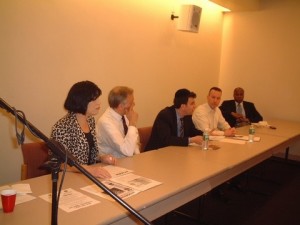 photo caption: (L. to r.) Pauline Park, Matt Foreman, Avery Mehlman, Michael Silverman and City Councilman Bill Perkins participated Tuesday night for a discussion on how New York is implementing its municipal gender rights law.
This article originally appeared in the 21-27 April 2005 issue (Vol. IV, Issue 16) of Gay City News.