Pauline Park: a profile from Transgender Equality: A Handbook for Activists & Policymakers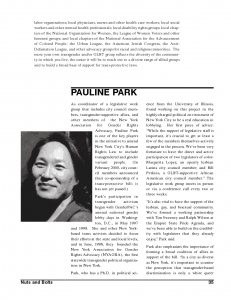 As coordinator of a legislative work group that includes city council members, transgender-supportive allies, and other members of  the New York Association for Gender Rights Advocacy, Pauline Park is one of the key players in the initiative to amend New York City's Human Rights Law to include transgendered and gender variant people. (In February 2000, city council members announced their co-sponsorship of a trans-protective bill; it has not yet passed.) Park's participation in transgender activism began with GenderPAC's annual national gender lobby days in Washington, D.C., in May 1997 and 1998.  She and other New York-based trans activists decided to focus their efforts at the state and local levels, and in June, 1998, they  founded the  New York Association for Gender Rights Advocacy (NYAGRA), the first statewide transgender political organization in New York.
Park, who has a Ph.D. in political science from the University of Illinois, found working on this project in the highly-charged political environment of New York City to be a real education in lobbying.  Her first piece of advice: "While the support of legislative staff is important, it's crucial to get at least a few of the members themselves actively engaged in the process. We've been very fortunate to have the direct and active participation of two legislators of color — Margarita Lopez, an openly lesbian Latina city council member; and Bill Perkins, a GLBT-supportive African American city council member." The legislative work group meets in person or via a conference call every two or three weeks.
"It's also vital to have the support of the lesbian, gay, and bisexual community. We've formed a working partnership with Tim Sweeney and Ralph Wilson at the Empire State Pride Agenda, and we've been able to build on the credibility with legislators that they already enjoy," Park said.
Park also emphasizes the importance of forming a broad coalition of allies in support of the bill. "In a city as diverse as New York, it's important to counter the perception that transgender-based discrimination is only a white queer lower Manhattan issue."  Park said. "With Pride Agenda staff and the six council members in our legislative work group, we've produced what looks to be a winning strategy, forging a broad-based coalition that includes communities of color and people in the outer boroughs."  Members of the legislative work group have reached out to a range organizations for their support, including the Audre Lorde Project, the National Organization for Women-New York City Chapter, the Asian American Legal Defense and Education Fund, Puerto Rican Legal Defense & Education Fund, District Council 37 (the largest union in the city),  the GLB political clubs, and people of faith.
Park has been involved with organizing in GLBT communities since 1994, when she launched Gay Asians & Pacific Islanders of Chicago, an organization for gay, bisexual, and transgendered Asian and Pacific Islanders. Since then, she has continued to be involved in Asian and Pacific Islander communities, working with the Gay Asian & Pacific Islander Men of New York and co-founding Iban/Queer Koreans of New York in February 1997. The initial spark for Iban/QKNY was the Korean LGBT Forum organized by the Korean Gay Organization/ Chingusai and hosted by the Korean American Association of Greater New York on November 2, 1996.  Park was one of the four speakers in that panel discussion, the first forum on GLBT issues ever sponsored by a non-queer Korean American organization. For Park, ensuring that people of color have an equal voice in the transgender political movement is critical. "As a transgendered woman of color, I do not have the luxury of completely separating what are ostensibly 'transgender' issues from issues of race, ethnicity, nationality, and citizenship status."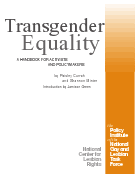 Transgender Equality: A Handbook for Activists & Policymakers, by Paisley Currah & Shannon Minter, was published on 19 June 2000 by the National Center for Lesbian Rights and the Policy Institute of the National Gay and Lesbian Task Force.