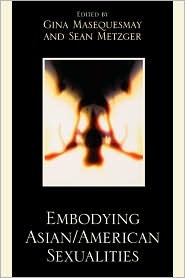 An Interview with Pauline Park
Chapter 8 in Embodying Asian/American Sexualities, edited by Gina Masequesmay & Sean Metzger
Based on interviews conducted August 22, 2004 and January 3, 2005
1.      What does transgender mean? Can you distinguish between transgender and gay/lesbian/bisexual for the reader?
'Transgender' is an umbrella term that refers to a diverse population.  The transgender community includes a number of different subgroups, such as transsexuals, crossdressers, and genderqueers (gender-variant individuals who may not identify with either gender).  Some (including many but not all transsexuals) will seek sex reassignment surgery while others will not; some will present fully in the gender opposite their birth sex at least part of the time (transgendered people) while others will not; but in its most general sense, 'transgender' refers to those individuals who 'transgress' gender boundaries in some sense and to some degree.  The most important point is that gender identity and sexual orientation are two entirely different phenomena; the common misconception that all transgendered people are gay is belied by the fact that many (perhaps most) transgendered people are heterosexual, though many are lesbian, gay, or bisexual as well.  Gender identity has to do with how one feels about one's gender (whether one feels oneself to be a boy or girl, man or woman), while sexual orientation has to do with whom one is attracted to.
1a.     Given that this anthology addresses issues of "embodiments," could you comment on what "embodiments" means for you as a transgender person?
Like every other human being, I am 'embodied' in that I occupy a physical body.  Many transgendered people are uncomfortable in their bodies or even alienated from them.  Some who identify as transsexual seek to alter their body through hormones and surgery.  Unlike some other transgendered women, I am comfortable occupying a male body, and I see no contradiction between being male-bodied and identifying as a woman.  For me, sex and gender are two very different things.
2.      Please narrate your "coming out" as a transgender person? Did religion impact your coming out process? If so, how?
I was born in Korean and adopted by American parents of European descent who were Christian fundamentalists and who had homophobic attitudes and very conservative views on gender roles.  Transgender issues were never discussed.  To that extent, my coming out as gay (at the age of 17) coincided with my rebellion against my mother's religious and political views (my father died when I was 12 going on 13).  I had my second coming out at the age of 36 and have been living as an openly transgendered woman since then.  But while my public coming out as a gay boy preceded that as a transgendered woman by nearly 20 years, in fact, I realized I was transgendered at the age of four, long before I began to identify as gay, and I always knew that the gay male identity that I adopted was a tentative and incomplete one that did not fully address my gender identity.  I first began to 'cross-dress' regularly in public at the age of 21, but I went back in the 'tranny closet' two years later and so my gender transition was far less linear and far more complicated than my gay 'coming out' narrative.
2a.     Could you elaborate on what a "tranny closet" is? How is it different from the "gay closet"?  Were there differences being in the "tranny closet" within gay versus straight communities? For example, what were the reasons for staying in the closet among those different groups?
The 'tranny closet' is somewhat different from the 'gay closet' insofar as transgender identity generally has more implications for one's public presentation.  After all, a gay man is probably going to still present as a man, and a lesbian as a woman, even though they may be somewhat gender-variant.  But a transgendered man or woman may significantly or even profoundly alter his/her gender presentation.  So to that extent, 'tranny closet' may literally involve what is in one's clothes closet.  But in a less literal and a deeper sense, the alteration of identity may be more profound and life-altering for many transgendered people than for non-transgendered LGB people.  Because of this, the process of 'coming out' of that 'closet' may be more complex for the transgendered.  In my case, for example, my coming out as a gay male was much simpler and more linear than my coming out as a transgendered woman.  There are some differences between coming out in the LGB community vs. coming out in straight society; while there is still some prejudice within the LGB people, the transgenderphobia in straight society is much more pervasive and much more intense.  It was partly for those reasons that I remained in the 'tranny closet' as long as I did.  I was particularly concerned about the potentially deleterious impact on my professional career.
2b. Could you elaborate on the different issues of "coming out" versus "passing"? How are such issues different for a transsexual person versus a gay/lesbian person versus a queergender person versus a crossdresser?
The term 'passing' originates in the experience of light-skinned African Americans who could 'pass' for white and would live as if they were born white, concealing their black racial and cultural origins.  'Passing' for a transgendered person refers to the experience of being perceived as gender-normative.  In other words, a transgendered woman 'passes' when everyone around her regards her as a female-born woman without realizing that she is transgendered (i.e., was born male).
'Coming out' and 'passing' are very different experiences, and in some circumstances, may even be opposed to each other.  For example, there is a certain proportion of post-op transsexuals who live 'stealth,' concealing their transgender identity and living in their chosen gender as if they were born into that sex.  In other words, a post-op MTF may pretend that she was born female and conceal from neighbors, co-workers, and others the fact that she was really born male; or an FTM transsexual may live as a man without revealing to others that he was actually born female.
For me, 'coming out' means living as an openly transgendered woman, not in any way attempting to conceal my male birth and anatomy.  That does not mean, of course, that I always alert strangers to my transgender identity; on the street, I do not wear a button saying, "I'm really male," or anything of that sort.  Safety is important to me, as it is to everyone; but as long as my personal security is not at risk, I am very open about my being transgendered.
For part-time crossdressers, by definition, it is not a question of living as transgendered women.  But there is still an issue of disclosure, as spouses, family members, friends and colleagues usually would not know unless told.  Many if not most crossdressers are closeted, and some are completely closeted (i.e., they only crossdress alone, in the privacy of their own homes).
'Passing' for lesbians and gay men would mean passing as 'straight.'  Some lesbians are sufficiently feminine, and some gay men sufficiently masculine, so that they can pass relatively easily; others may be sufficiently gender-variant that it would be difficult for them to pass, and others may assume that they are gay based on their gender variance.
3.      What led you to create the New York Association for Gender Rights Advocacy and what is its function?
NYAGRA is the first statewide transgender advocacy organization in New York.  We founded NYAGRA in June 1998, because at the time, there was no such organization and none that was involved in the legislative arena at the state or local level.  NYAGRA's mission is to advocate for freedom of gender identity and expression for all; we do so through public education and public policy advocacy.  Our public education efforts include public forums on transgender and intersex issues and transgender sensitivity training for social service providers, AIDS agencies, government agencies, and community-based organizations.  But we are best known for our legislative work, in particular, for having led the successful campaign for Int. No. 24 (Local Law 3 of 2002), the transgender rights bill that passed the New York City Council in April 2002. NYAGRA was also instrumental in negotiating inclusion of gender identity and expression in the text of the Dignity for All Students Act, a safe schools bill currently pending in the New York state legislature that would prohibit discrimination and harassment in public schools throughout the state.  In 2004, NYAGRA partnered with other LGBT organizations in mounting a series of public forums on discrimination and harassment in schools based on gender identity and expression, held in cities throughout the state (Nyack, Albany, Syracuse, Ithaca, Poughkeepsie).  NYAGRA was a founding member of the New York State DASA Coalition as well as the coalition supporting the Dignity in All Schools Act, a safe schools bill passed by the New York City Council in June 2004 and enacted when the Council overrode Mayor Bloomberg's veto of the bill in September 2004.  The NYC law prohibits harassment in public and (non-religious) private schools in the five boroughs, and features a definition of gender that includes gender identity and expression.
3a.     California passed Assembly Bill (AB) 537, the California Student Safety and Violence Act, in 2000. One of the continuing struggles for the coalition that worked to pass and now to enforce this legislation is the inclusion of transgender issues. Please elaborate on NYAGRA's work with the DASA coalition. What, if anything, did you learn from other local LGBT activist organizations around the country such as Seattle's Safe Schools Coalition (which started in the late-80s) and the Los Angeles Unified School District's Project 10, which started in the mid-80s, who have dealt with similar struggles? How did national efforts such as the Human Rights Watch "Hatred in the Hallways" study or the work of GLSEN (Gay, Lesbian, Straight Education Network) inform activist activities in New York?
We in NYAGRA try to keep abreast of developments in other states, including California, but the only thing that I can recall influencing our thinking working on the New York state DASA bill was our recognition that the California state legislature was able to include gender identity and expression in their safe schools legislation without mentioning that language explicitly simply by referencing protected categories already included in California state law through its state hate crimes statute; we were not able to consider that possibility in New York because the New York State Hate Crimes Bill Coalition was not willing to hold up that hate crimes bill to include gender identity and expression in that legislation.  GLSEN is one of the member organizations in the NYS DASA Coalition, and NYAGRA has worked in partnership with GLSEN on our series of public forums on the issue of gender identity and expression in the NYS DASA Bill.  But GLSEN's support for the safe schools bill introduced in Congress in late 2004 by U.S. Rep. John Shimkus of Illinois (R-19th) has raised questions within the LGBT community about GLSEN's commitment to full transgender inclusion in safe schools legislation at the state and federal levels.
Regarding the NYS DASA bill, it was NYAGRA that negotiated inclusion of gender identity and expression in that legislation so that it became the first fully transgender-inclusive bill ever introduced into the New York state legislature when it was reintroduced in 2000.  Persuading the NYS DASA Coalition to support a transgender-inclusive bill was not easy.  Both the Empire State Pride Agenda and GLSEN (which co-coordinated the coalition through 2004) initially resisted inclusion of the definition of gender in the bill.  But we were eventually able to persuade the Pride Agenda and then GLSEN and through the Pride Agenda, we were able to persuade the prime sponsor of the bill in the Assembly, Assembly Member Steve Sanders, chair of the Assembly education committee.  Ever since then, the coalition has stood by full transgender inclusion, though in the spring of 2004, there was some interest on the part of ESPA and
GLSEN in exploring compromise language similar to that in the Florida DASA bill, which we in NYAGRA do not regard as being sufficiently transgender inclusive.  That bill puts the phrase 'identity or expression of' before the list of protected categories (including gender) but does not include a definition of gender or any other transgender-explicit language.
3b. Do you foresee joining forces with other transgender groups to form a national organization for transgender people?
There already is a national organization: the National Center for Transgender Equality (NCTE).  While we don't have a formal coalitional relationship with NCTE (NCTE is not a coalition or a national organization with state chapters), NYAGRA has co-sponsored events with NCTE, including a forum in New York City in December 2002 (co-sponsored by NGLTF).
3c. Do you work with gay/lesbian organizations in NY? What about national gay/lesbian organizations like HRC (Human Rights Campaign) or NGLTF (National Gay and Lesbian Task Force)? In other words, where do you see your organization fit into other queer movements and efforts?  Is the trend toward a merging of queer movements to fight for freedom on gender and sexual expressions? Or, do trans and gay/lesbian have such different issues that they will remain separate organizations?
We work with a wide range of lesbian/gay and LGBT organizations in New York City and state.  Our primary partner to date has been the Empire State Pride Agenda and (on education issues, including safe schools legislation) GLSEN.  We have also had some limited opportunities to work with both HRC and NGLTF, both of which supported our campaign for Int. No. 24 (the transgender rights bill passed by the NYC Council in April
2002, enacted as Local Law 3 of 2002).  But we also signed onto a letter from the Task Force in December 2004 that was highly critical of HRC for suggesting that it might support Social Security privatization in exchange for support from the Bush administration and Republican majorities in Congress for movement on LGBT rights legislation.
We in NYAGRA see ourselves as part of a larger LGBT community, and we have played a significant role in the shift toward greater transgender inclusion here in New York.  For example, NYAGRA is a key part of the Coalition for Unity & Inclusion, which successfully lobbied the Lesbian & Gay Community Services Center to change its name to LGBT Community Center (aided significantly by the internal work on transgender inclusion by Center staff).  NYAGRA & CUI also successfully persuaded Heritage of
Pride to change the name of the NYC Lesbian & Gay Pride March to 'LGBT Pride March.'  And we were successful in persuading the NewFest to change the name of the New York Gay & Lesbian Film Festival to 'LGBT Film Festival.'  Beyond nomenclature, since its founding in 1998, NYAGRA has contributed significantly to the shift in consciousness in New York City and state toward transgender inclusion.  When we were founded in June 1998, few lesbian & gay organizations in New York City included the 'T' in their names, much less included transgender in their mission statements, their programming, or their thinking more generally; now, most do in name as well as in practice.
But we in NYAGRA also see ourselves as part of a larger progressive movement for social justice and social change; not all LGBT organizations share that philosophy.
4.      What are the particular challenges facing transgender Asian/ Americans and Pacific Islander/ Americans?
Transgendered Asians and Pacific Islanders (APIs), like many other transgendered people of color, face multiple oppressions based on race, ethnicity, citizenship status, and language.  Many transgendered APIs are recent immigrants and have limited English-language proficiency and cultural competence.  Some are undocumented and face problems related to their immigration status.  Others would like to marry U.S. citizens of the same sex as their birth sex but cannot because of laws and state constitutional amendments prohibiting same-sex marriage.  Others face problems changing their legal sex designation on documents issued either by U.S. government agencies or by government agencies in their country of birth (such as birth certificates issued by their municipalities of origin).  Some transgendered API women — especially those who are undocumented — are forced into sex work and face heightened risk of HIV infection and other sexually transmitted diseases.  Many transgendered  APIs lack health insurance and/or full access to quality health care.  Many transgendered APIs are reluctant to approach social service providers in their ethnic communities for fear of discrimination or being 'outed,' but those with limited English-language proficiency and cultural competence may find it difficult to access services through LGBT community centers and other LGBT social service providers.  Given the centrality of the family in API communities, one of the biggest challenges for transgender APIs is gaining acceptance from their families of origin.  Religious institutions also figure prominently in many API communities, but few are transgender-affirming.  Christian churches in the Korean American community tend to be socially conservative and are often homophobic and transgenderphobic.  The Roman Catholic Church is also a central institution in the Filipino community, with implications for transgendered Filipinos.  For transgendered immigrants from predominantly Muslim countries (Pakistan, Bangladesh, Malaysia, Indonesia), the increasing influence of Islamic fundamentalism has further complicated their lives, already difficult because of the sex segregation and gender oppression of their immigrant communities and cultures of origin.
4a.     The API transgender issues are diverse.  Is there a common issue that the majority of API transgenders share that distinguishes them from non-API transgenders?  We see, in Los Angeles for example, gay/lesbian groups splintering into smaller racial , gender and ethnic groups.  Is the trend similar in the transgender communities (between FTMs and MTFs; TS who identify as straight versus gay/lesbian or bi; etc.)?
I think this question raises the larger issue of what is often referred to as 'identity politics.'  There is certainly a trend throughout the LGBT community toward narrower and narrower focus in organization-building based on identity formations.  The right wing is enamored of the term 'Balkanization.'  I think the use of this term shows an ignorance of the need of marginalized groups to address the specificity of their oppression.  Clearly, transgendered APIs have in common both being transgendered and being API; but transgendered API women in particular also have the commonality of being 'fetishized' as 'exotic' objects of sexual interest by straight 'tranny chasers'; they also share the other multiple oppressions of queer APIs that relate to race, ethnicity, and citizenship status; and they share heightened risk for HIV/AIDS and other STDs.  And yet, of course, transgendered APIs are individuals who are very different in other respects as well.
4b. How do you feel about the disidentification that many Pacific Islanders feel with the term API? Such divisions are reflected, in fact, in our own final decision to use Asian/ American and Pacific Islander/ American in this book. In what ways are such divisions either useful or not?
'API' and 'APA' are obviously social constructs, but then again, so are 'Asian American' and all identity formations, to a greater or lesser extent.  Clearly, the attempt to include Pacific Islanders within the API/APA construct reflects a concern over inclusion, but it can be disingenuous or even tokenizing if not accompanied by a real effort to include Pacific Islanders in organizations that are ostensibly 'API.'  But the parallel here with 'LGBT' is striking: if it is simply a question of adding the 'T' for purposes of inclusive nomenclature, then adding the 'PI' is insufficient; it is important to make the 'P' or 'PI' in 'APA' or 'API' meaningful through meaningful inclusion of Pacific Islanders in whichever organizations and initiatives use one of those designations.
5.      What resources are available for transgender Asian/ Americans and Pacific Islander/ Americans?
The resources available for transgendered APIs (as distinct from resources available to the transgender community as a whole) are virtually all housed in AIDS agencies serving API communities, including:
Asian & Pacific Islander Wellness Center (San Francisco)
http://www.apiwellness.org/
Asian Pacific Islander Coalition on HIV/AIDS (APICHA, New York)
http://www.apicha.org/
Asian Pacific AIDS Intervention Team (APAIT, Los Angeles)
http://www.apaitonline.org/
AIDS Services in Asian Communities (ASIAC, Philadelphia)
http://www.asiac.org/
Asian Pacific Islanders for Human Rights (APIHR, Los Angeles)
http://www.apihr.org/
APIHR is the first non-AIDS organization for LGBT/queer APIs to receive significant funding and also has a TG program.
5a. Which texts (books, films, etc.) do you find particularly useful for educational purposes?
There are all too few resources on transgender and queer API issues currently available.  Among the few that I find useful are:
David L. Eng and Alice Hom, eds., Q&A: Queer in Asian America
(Philadelphia, 1998: Temple University Press).
Kevin K. Kumashiro, ed., Restoried Selves: Autobiographies of Queer
Asian/Pacific American Activists (New York, London, Oxford, 2003:
Harrington Park Press).
Franklin Odo, ed., The Columbia Documentary History of the Asian
American Experience (New York, 2002: Columbia University Press).
Ann Thomson Cook, Made in God's Image: A Resource for Dialogue about
the Church and Gender Differences (Washington, D.C., 2003: Dumbarton
United Methodist Church).
"Georgie Girl" (P.O.V. documentary about the life of Georgina Beyer)
"Boys Don't Cry" (feature film)
Embodying Asian/American Sexualities, edited by Gina Masequesmay & Sean Metzger, was published by Lexington Books (a division of The Rowman & Littlefield Publishing Group, Inc.) in 2009. "An Interview with Pauline Park" (pp. 105-114) is chapter 8 out of 13 chapters, and was based on interviews conducted by Sean Metzger on August 22, 2004 and January 3, 2005.