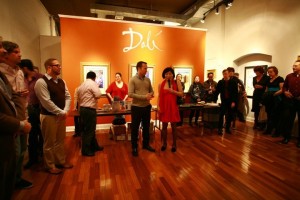 On Nov. 4, nearly a hundred people crowded into the William Bennett Gallery to help me celebrate my 50th birthday and to support the New York Association for Gender Rights Advocacy(NYAGRA) and the Transgender Legal Defense & Education Fund (TLDEF).
Michael Silverman, the executive director of Transgender Legal, and Therese Rodriguez, executive director of the Asian/Pacific Islander Coalition on HIV/AIDS (APICHA) gave speeches, as did I. Folks from APICHA brought sushi, water, soda and juice for the occasion, and we were surrounded by works of art by the great Salvador Dali.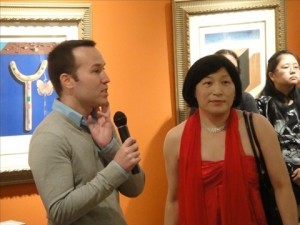 Michael Silverman talks about the work of the Transgender Legal Defense & Education Fund (TLDEF)
Among those present were Council Member Gale Brewer, who represents the Upper West Side in the New York City Council and who was a co-sponsor of the transgender rights law enacted by the Council in 2002; Paul Kobrak from the New York City Department of Health & Mental Hygiene; Jarron Magallanes, Robert Murayama, Ding Parajon & Charlie Solidum of APICHA; Jarad Ringer of the New York City Anti-Violence Project (AVP); Audie Edwards, Charles Ober & John Petrozino of Queens Pride House; Yanira Arias, Juan David Gastolomendo, Daniel Ravelo & Jose Tineo of the Latino Commission on AIDS (LCOA); Weiben Wang of the Gay Asian & Pacific Islander Men of New York (GAPIMNY); Aries Liao, Kira Tzong & Un Jung Lim of Q-Wave; Vic Bach, Carlos Valldereuten &Warren Wyss of the Philosophy Forum; Terry Boggis of the LGBT Community Center; Justus Eisfeld of Global Advocates for Trans Equality (GATE); Alta Avoir, Nancy La Mar & Lucille Spencer of CrossDressers International (CDI); Rita Petite, TLDEF's bookkeeper & organizer of the NYC Transgender Meet-Up Group; drag entertainer Lady Clover Honey; Veronica Vera of Miss Vera's Finishing School for Boys Who Want to Be Girls; photographer Mariette Pathy Allen; journalist Andy Humm of Gay USA; and Michael Stafford, the newest member of the TLDEF board of directors.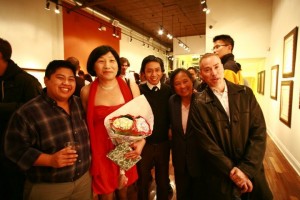 Charlie Solidum, Jarron Magallanes, Therese Rodriguez & Robert Murayama represented APICHA at the event.
(photo by Dae Kim)
And we sold copies of my new compact disc of piano music, "Barricades Mysterieuses." In fact, the event became the occasion for the release of the new CD. (For copies of the CD, use the contact page of this website.)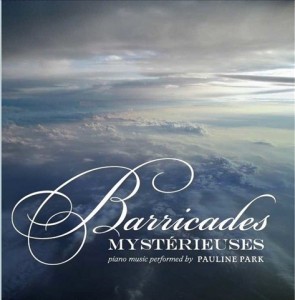 Yanira Arias & Juan David Gastolomendo from the Latino Commission on AIDS (LCOA) as well as Amanda Rosenblum & Stephanie Hsu helped me bring the CDs to the gallery, and Charlie Ober of Queens Pride House helped me bring the unsold CDs back to Queens afterwards.
Thanks to all who attended and to all who made this event possible~!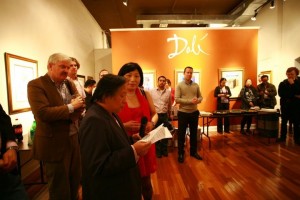 Therese gave a wonderful speech about APICHA and about my work with the organization over the years.
(photo by Dae Kim)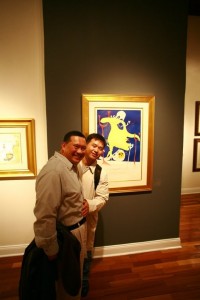 Cesar Faigal & photographer Dae Kim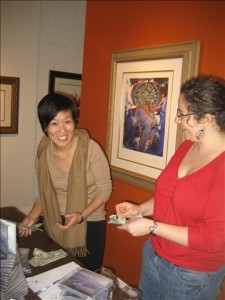 Stephanie Hsu and Amanda Rosenblum handled all the CD sales and donations to NYAGRA and TLDEF.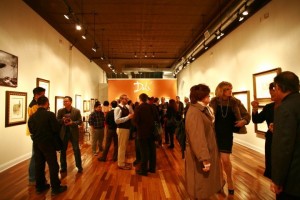 Nancy, Cleopatra (in leopard skin fur), Alta, Lucille & several other members of Cross Dressers International (CDI) joined me for this special event.
(photo by Dae Kim)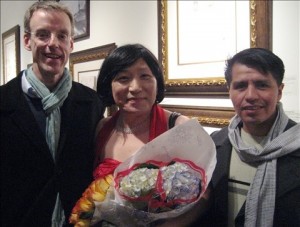 Ed Kennelly & Arturo Reyes Rodriguez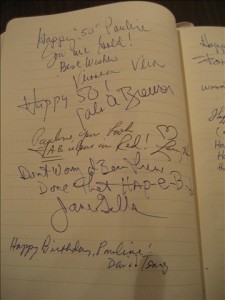 guestbook greetings & birthday wishes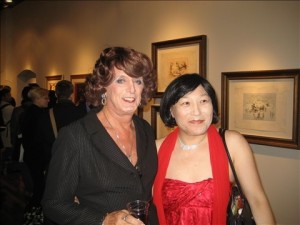 Lucille Spencer of CDI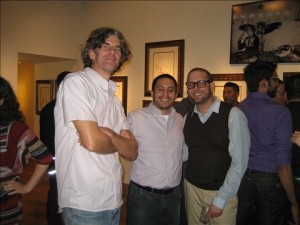 Paul Kobrak, Juan David Gastolomendo & Jarad Ringer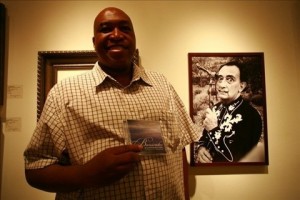 Audie Edwards, secretary of the board of directors of Queens Pride House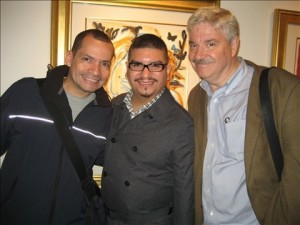 Phil Velez, Richard Lozada & Andy Humm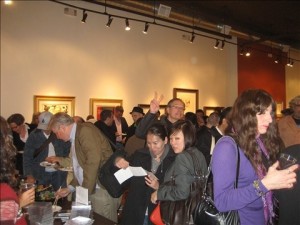 The William Bennett Gallery was full of friends and supporters of NYAGRA & TLDEF.

A panoramic view of the gallery.

Another panoramic view of the gallery.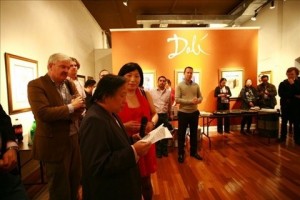 Therese Rodriguez talking about the work of APICHA & Pauline's involvement with it.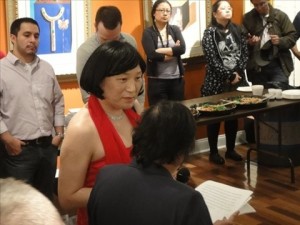 Pauline standing with Therese Rodriguez as she talks about APICHA's work.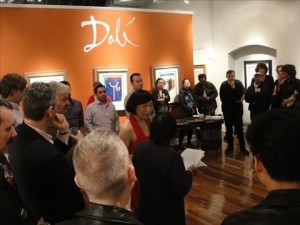 _____________________
How often do you turn 50…? Only once (at least in my case). Back when I was born, Ike & Mamie were still in the White House; now Barack & Michelle live there. The times they are a-changing~!
So I'm throwing the birthday party of the century — well, at least the birthday party celebrating my first half century. The party will be at the beautiful William Bennett Gallery in Soho on Thursday, November 4 from 7-9 p.m.
Of that 50 years, at least 14 have been devoted to LGBT activism, including advocacy work through the New York Association for Gender Rights Advocacy (NYAGRA) and the Transgender Legal Defense & Education Fund (TLDEF). In lieu of birthday gifts, a contribution to help support the work of these two organizations that have been so much a part of my life for the last decade would be most appreciated. Donations can be made through the New York Charities Bureau of the New York State Attorney General's Office to either Transgender Legal or NYAGRA.
I hope you'll make my birthday celebration complete by joining me on November 4~!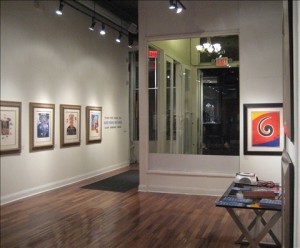 William Bennett Gallery
65 Greene Street
New York, NY 10012-4336