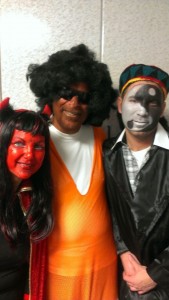 New York State Assembly Member Dov Hikind in blackface for Purim 2013
Dov Hikind, Purim Blackface & the Politics of Israeli Apartheid
A photo New York State Assembly Member Dov Hikind in blackface provoked a firestorm of controversy when the Politicker page of the New York Observer posted it on February 25 (Hunter Walker, "Dov Hikind Parties Down for Purim in 'Black Basketball Player' Costume," New York Observer , 2.25.13).
"I was just, I think, I was trying to emulate, you know, maybe some of these basketball players. Someone gave me a uniform, someone gave me the hair of the actual, you know, sort of a black basketball player," the Brooklyn Democrat told Hunter Walker of the Observer, with a costume that consisted of an afro wig, sunglasses, an orange jersey and brown face paint applied by a 'professional makeup artist,' according to Hikind.
Hikind initially attempted to defend the blackface that he wore on Feb. 24, blogging, "It's Purim. People Dress Up… This is political correctness to the absurd." Hikind told the Observer's Walker, "I can't imagine anyone getting offended. Purim, you know, everything goes and it's all done with respect. No one is laughing, no one is mocking."
But late on Feb. 25, Hikind offered a weak apology, saying, "It was not meant to offend anybody, it was not meant to hurt anybody. I'm sorry that anyone was" ("Dov Hikind Apologizes for Blackface Purim Costume," Reuters via Jewish Daily Forward, 2.25.13).
The New York Post accused the Assembly Member of hypocrisy for donning blackface after having condemned couturier John Galliano for what Hikind thought was a designer outfit and 'get-up' mocking Hasidic Jews (Lorena Mongelli and David Seifman, "Facial profiling! Hikind dresses as black hoopster," New York Post, 2.26.13).
New York State Assembly Member Karim Camara, chairman of the New York State Black, Puerto Rican, Hispanic and Asian Legislative Caucus, told the New York Times that the outcry on Monday "wasn't just about being politically correct," and that he hoped Hikind realized that blackface "has a very painful history to many people" (Thomas Kaplan, "Assemblyman Dov Hikind Defends Wearing Blackface to a Party," New York Times, 2.26.13). And the Times reported that in a letter to Hikind, the City Council's Black, Latino and Asian Caucus wrote that his costume and his initial defense of it were 'deeply disturbing.' "Purim is a happy time, a happy day, and it should not be at anyone else's expense," State Senator Simcha Felder told the Times, significant, given that Felder is also an Orthodox Jew from Brooklyn and Hikind's former chief of staff. The Anti-Defamation League told the Times that Hikind had "showed terrible judgment." Hikind himself told the Times, "Next year I was thinking I'd be an Indian. But you know, I've changed my mind about that. I don't think that's a good idea. Somebody will be offended." Assembly Speaker Sheldon Silver (D-Manhattan) — an Orthodox Jew, like Hikind,  — deemed the costume "inappropriate and offensive"  (Glenn Blain and Reuven Blau, "'Maybe I would be a gay person': Brooklyn Assemblyman Dov Hikind makes odd remark after apologizing for dressing in blackface for Purim," New York Daily News, 2.26.13).
In an interview with Zev Brenner on WSNR on Feb. 25, Hikind said, "If I was doing it all over again? I would look at, you know, additional alternatives, because my real objective is — it's not about being a black person or Indian, or maybe I would be a gay person… by the way, would that be okay, Zev? If I played a gay person next year?" (Glenn Blain and Reuven Blau, "'Maybe I would be a gay person': Brooklyn Assemblyman Dov Hikind makes odd remark after apologizing for dressing in blackface for Purim," New York Daily News, 2.26.13).
All of this would be little more than a tempest in a teacup, a 'regrettable' episode of racial insensitivity involving a clueless politician, if it weren't for the fact that Hikind is one of the most homophobic elected officials in New York and arguably the most aggressive proponent of Israel in a stridently pro-Israel and generally anti-Palestinian New York political class.
It was Hikind, along with Harvard law professor Alan Dershowitz, who led the attacks on Brooklyn College for hosting a forum on Feb. 7 on the boycott, divestment and sanctions (BDS) movement to end the Israeli occupation of the Palestinian territories (Alex Kane, "Brooklyn College stands behind BDS event as pressure from elected officials come down hard," Mondoweiss, 2.1.13).
(Hunter Walker, "Long Live the 'Kingmaker': How Dov Hikind Survived the Blackface Backlash,"