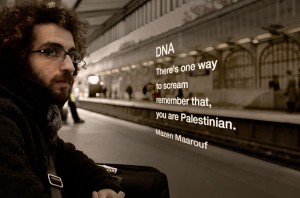 Israeli apartheid & the paradox of a Palestinian poet in exile in Iceland
I heard Mazen Maarouf speak at Columbia University on April 14 and was immediately struck by the paradox of a Palestinian poet in exile in Iceland. Maarouf's poetry reading was sponsored by the Center for Palestine Studies and the Institute for Comparative Literature & Society and moderated by Nathalie Handal, who interpreted Maarouf's poems from Arabic into English. But Maarouf spoke in English during the Q&A following his poetry reading.
The reading and talk brought forcefully home to me the way in which my own work intersects with his, even though I am not a poet and have never been to Iceland. Maarouf, who was raised in a refugee camp in Lebanon, has never visited his homeland, banned by the Israeli government from visiting his native Palestine, and he has recently obtained Icelandic citizenship. Ironically enough, though I have no familial or ancestral connections to Maarouf's homeland, I have been to Palestine, to which I have access by virtue of my United States citizenship.
In February 2011, quite unexpectedly, I became involved with Palestine solidarity organizing when the LGBT Community Center of New York City expelled the Siege Busters Working Group and banned that group from the Center. I was so outraged by the Center's ban on Palestine solidarity organizing that I joined several other activists in co-founding New York City Queers Against Israeli Apartheid (NYC QAIA), which the Center subsequently banned in May 2011. Partly as a result of my work with QAIA, I was invited to participate in the first US LGBTQ delegation tour to Palestine, which took place in January 2012.
I was drawn to the talk both because of my commitment to challenging Israeli apartheid and my interest in Iceland and the Icelandic poetry and literature — both ancient and contemporary — that Maarouf is translating into Arabic. Last summer, I read "Njal's Saga," the longest and (in the view of many) the greatest of the Icelandic sagas; and I am currently reading "Egil's Saga," the second longest of the sagas.
The paradox