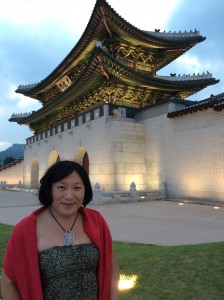 Coming Full Circle: The Journey of a Transgendered Korean Adoptee
By Pauline Park
Queens College
7 November 15
I was born in Korea in 1960 and returned earlier this year – in June/July 2015 – my first time in the land of my birth since I left at the age of seven months old and the most momentous since the trip that took me from Korea to the United States 54 years before. When I was born there, Korea was one of the poorest countries in the world and had only begun its recovery from the devastation of the Korean War that ended in 1953; but the country I returned to more than half a century later was the eleventh largest economy in the world, with large parts of its capital unrecognizable to those who knew it before the startling industrialization that transformed the southern half of the peninsula in the 1970s and 1980s.
The circumstances of my birth and adoption were as mysterious as the political backdrop to my birth and adoption were dramatic. My adoptive parents were told that my birth mother died giving birth to my twin brother and me and that our birth father died before I was born. It was not until 1994, when I was reading a history of Korea, that the thought occurred to me that my birth father might have been among the thousands who died in a massive popular uprising in April 1960 that ousted Syngman Rhee, the dictator/president-for-life installed by the US CIA, from power and ushered in the short-lived Second Republic, which ended when Park Chung-hee came to power in a military coup in May 1961. Of course, as an infant in an orphanage in Seoul, I was completely unaware of the tumultuous political drama that was the backdrop for my birth in October 1960 and adoption in June 1961, only a few weeks after Park Chung-hee's coup d'état. So perhaps I was born to make revolution…
There is little that I know about the adoption and my trip back in June/July 2015 only brought to light two facts that I did not know before this year. First, I discovered I was in fact adopted through an adoption agency, or at the very least, that an adoption agency helped facilitate that adoption. I had correspondence to my adoptive parents from the Children's Welfare Service that my mother had left in her papers when she died in 1984 and on one document, there was an address, which I had thought was the address of the orphanage I was adopted from; when I was in Seoul in June 2015, I met with the executive director of Social Welfare Services (SWS), which inherited the files of the Children's Welfare Service; when the director showed me my file, I discovered that there was no information in it that was useful for a birth search, and she informed me that the address on my adoption papers was not the orphanage from which I was adopted but rather the old office address for CWS. And so what became clear to me was that I had come 7,000 miles only to have reached a dead end. While I gave DNA to a special unit of the Namdaemun police, I concluded by the end of my month in Korea that there was no realistic prospect of ever finding birth family. But then again, I had not gone back to Korea to pursue a birth search; the main objective was simply to see the country of my birth, and that I accomplished.
And so the story of my adoption begins, from what my adoptive mother told me and my twin brother, with the death of our birth mother in childbirth. Our adoptive mother and father sought to adopt only one child but were told they could adopt twins, which they chose to do. And so I was adopted along with my twin brother at the age of seven and-a-half months old. Northwest Orient Airlines brought us from Seoul to Tokyo and from there to Anchorage and onto Chicago. Our new parents – the only parents I would ever know – picked us up at O'Hare Airport. In a photo taken at the airport the very moment when our adoptive parents first held us in their arms, the shock of seeing two seriously underweight babies registered on their faces. Our adoptive parents took us back with them to the house in Milwaukee, Wisconsin, with white aluminum siding that would be my home for the next seventeen years.
My father was Norwegian American and my mother was German American. I knew very little about their background and neither had any particular interest in genealogy, something I would become interested in only many years later. In genealogical research that I did in 2011-14, I discovered that my father's parents had emigrated from Norway in 1883 and 1887 and that my mother's four grandparents had all emigrated from Prussia in the 19th century – from parts of Prussia that are now in Poland. Through my genealogical research, I would learn far more about my parents' Norwegian and European ancestors than they ever knew; ironically, I would come to know far more about my parents' ancestors to whom I had no connection by blood or genes while remaining completely in the dark about the Korean ancestors from whom I am directly descended.
I grew up with my mother's extended family, and above all, my maternal grandmother, who lived in the house until my senior year in high school. My grandmother was born in 1888 and had grown up working the family farm in northern Wisconsin with her father after her mother's untimely death. Grandma's first language was German, and she would sometimes read to me from her German Bible as I tried to make sense of the elaborate traditional Gothic script.
The piano was at the center of our family life, and the making of live music – including the frequent playing of Lutheran hymns – defined my childhood as much as anything else. Despite a modest family income, our parents paid for our private piano lessons. A few years later, my brother and I began violin lessons at our public school, and I would eventually begin organ lessons with our private piano teacher and later with a local organist at another church in the neighborhood.
While I honored my mother's German heritage and my father's Norwegian background, I felt compelled to try to connect to the land of my birth, the 'homeland' that I never knew. I had a small flexible looseleaf binder in a deep burgundy color that I would write in, and on the cover, I remember writing my birth name on it, frustrated that I could write my Korean name only in the Roman alphabet because I did not know hangul (the Korean alphabet). Without any opportunity to learn Korean and with none of the infrastructure of Korean culture camps like those currently available to young Korean adoptees, I had no direct way of connecting to my birth culture. Instead, I connected with Korean culture through books. In our local branch library, there was one book that resonated with me called "The Land and People of Korea." I also scoured the three sets of encyclopedias at home for references to Korea. But in none of these books did I find an obvious answer to the elusive question: where was my real homeland?
I had known no 'homeland' other than the United States, but to strangers, I was a foreigner because I was Asian. Though I had never learned to speak Korean and had never lived in Korea since my adoption at the age of eight months, my Asian features defined my status as the 'other,' the foreigner, the outsider. It was because others challenged my 'American-ness' that I came to doubt my belonging to the great American family, and it was through this process of 'othering' that I came to be alienated from America, the only homeland I had ever known.
When we went out in public, the striking physical differences between my adoptive parents and my brother and me made it impossible for others not to notice. As we accompanied our parents – a tall, balding, skinny Scandinavian and a rotund German Hausfrau, our parents were constantly asked, "Whose children are they?" But that was life in an all-white neighborhood on the south side of Milwaukee in the 1960s and 1970s. Before the court-ordered desegregation of our local public school system, my brother and I were the only non-white children in our elementary school.
Every December 7, my brother and I were verbally harassed by the white kids at school. This happened more than twenty years after the Japanese attack on Pearl Harbor. 'Chink' and 'Jap' were hurled at us, and it made me feel ambivalent about my adoptive country. Because of this, I had a hard time thinking of myself as American.
Because of that harassment, my parents' house became my childhood security. But when my father died just before I turned twelve, our household became insecure. My grandmother's departure in our senior year in high school left only my mother, my brother, me, and our Scottish Terrier.
I had never known any other home, but when I was just turning eighteen, I left that house, never again to live there, despite frequent short visits while in college. Including the orphanage in Seoul from which I was adopted and the old house in Milwaukee, I have lived in 25 different places in thirteen different cities (Seoul, Milwaukee, Madison, London, Chicago, Champaign-Urbana, Berlin, Regensburg, Brussels, Paris, Lake Forest, New York) in six different countries (Korea, United States, United Kingdom, Germany, Belgium, France) on three different continents (Asia, North America, Europe). With each move came a subtle shift in my understanding of home and homeland.
Milwaukee, my childhood home, was a white working-class a city of beer and bratwurst with the feel of a small town, despite its one and-a-half million people. For the first three years of my adulthood, Madison would be home. Madison, the 'Berkeley of the Midwest' and the center of the anti-war movement during the Vietnam era, had a small but growing gay community when I first arrived in 1978. The Gay Center in the basement of a church on campus would be the site of my first coming out, as a gay male in my very first semester at the University of Wisconsin.
London represented the next shift in venue and identity. Living there for two years, I fell hopelessly in love with London and I was determined to stay. While there, I learned that I had been accepted into a master's degree program in European studies at the London School of Economics and Political Science.
It was while living with my lover in London that I first went out publicly dressed as a woman, though without any encouragement from him. It was clear to me at that point that my gay male identity did not and could not adequately address my lifelong identification with women. I began to go out regularly dressed as a woman, and it was the most liberating experience of my life. For the first time in my life, I was presenting myself as I saw myself to be. Despite my nervousness and to my surprise, I encountered few problems, perhaps because of my youth and my natural femininity as well as my Asian features.
At the same time that I was exploring my gender identity in public for the first time, my two years in London provided the opportunity to reconsider my national identity.
Because I could not speak Korean, it was impossible to fulfill expectations of what 'Korean' meant; and because of the incidents of racial insensitivity and harassment that I had experienced in childhood and youth, it was difficult to identify unambivalently as American.
I returned to the United States in October 1983 and experienced reverse culture shock. Ironically enough, it had been the experience of living in Europe that had made me realize how American I was. Now that I was back in the country of my youth, I had to reconstruct my identity once again. If Madison had been my first experience of living away from home and had provided the opportunity for my first coming out, London had offered an opportunity to explore questions of national identity – as well as gender identity. In Chicago, I entered a career in public relations, but helping large corporations enhance their public image did not give me a sense of fulfillment, and so I decided to go back to graduate school to pursue a Ph.D. in political science at the University of Illinois at Urbana-Champaign. As a poor grad student, the days of wine and roses gave way to the years of rice and beans.
Chicago had been my home for five years, and I had ceased to think of London and England as 'home.' When my grandmother died in a nursing home just a year before moving down to Champaign-Urbana, I felt that I had lost my last deep connection with Milwaukee, my first real home. Although Milwaukee was not far away, the psychic distance from my new academic life in Champaign-Urbana was considerable.
I spent six years pursuing my Ph.D. In so many ways, those six years would prove pivotal in redefining my identity in all its facets. It was not so much my Ph.D. program in political science, but my year living in Europe doing dissertation research that enabled me to reconsider my national identity as well as my gender identity.
When I finished my dissertation in December 1993, I discovered Foucault while taking a graduate seminar in political theory. Reading the work of this radical gay French theorist helped me re-think my lifelong identity complex. I had labored for years under the feeling that I was a 'fake Korean,' unable to live up to the expectations of others. In light of my reading of Foucault and other theorists, I came to understand that the pursuit of – or flight from – 'Korean-ness' was doomed to failure from the start, since there was no 'essence' of 'Korean-ness' to pursue. I now came to see myself as having a distinct identity as a Korean adoptee, neither ethnically Korean in the way that Koreans or recent Korean immigrants were nor even Korean American in the way that US-born, English-speaking Korean Americans were.
The most frequent question I am asked as a Korean adoptee is whether I have ever gone 'back' to Korea. 'Back' always struck me as such an odd word, given that I had left at the age of seven and-a-half months old and had no memories of the country of my birth Until my return in June/July 2015, I usually responded by saying that I hoped to visit Korea one day, but that I had not yet had the opportunity. As a Korean adoptee that never learned the Korean language, I cannot have anything but a complex relationship with the country of my birth. While I am proud of my Korean birth, I cannot claim that 'heritage' easily or without lengthy explanation. The question of where I am from has provoked different responses over the years. I usually respond with, "I was born in Korea but adopted by European American parents, and I grew up in Milwaukee." But I could just as easily answer the question with either 'Wisconsin,' or 'the United States,' or even 'New York,' depending on the context.
Other Korean adoptees have asked me, "Have you done a birth search?" On my trip to Korea in June/July 2015, I saw my adoption file and now know that there is no practical way to identify the orphanage from which I was adopted, which almost certainly no longer exists. I am occasionally haunted by the possibility that one or both of my birth parents may still be alive and may actually be looking for me and my brother; but if so, they would be at least in their 70s. Even if I were to find my birth family, as a non-Korean speaking, openly transgendered Korean adoptee and activist, I would probably find it difficult to relate to them – and they to me. But I have every reason to believe that the story that my adoptive parents were told was true and that my birth parents are dead; and I am now persuaded that there is no real possibility of finding out anything about them, and I have come to terms with the disappointing finality of the end of my birth search.
Whatever the circumstances of my adoption and upbringing, I have come to understand that I am not a 'fake Korean,' I am a real Korean adoptee; above all, I am the real 'me.' And I no longer feel any need to apologize for my history, any more than to apologize for a lack of Korean language proficiency. I can now locate 'homeland' in a way that does not diminish my own sense of wholeness or authenticity.
Becoming involved with the growing community of adult Korean adoptees has also been tremendously helpful in coming to terms with my identity as an intercountry adoptee. Not long after moving to New York City, I joined Also-Known-As, a group for Korean and other intercountry adoptees here that is playing an active role in the construction of that community. In September 2001, I went to Washington, D.C. for the first international gathering of the first generation of Korean adoptees. Being at a conference with over 2,000 adult Korean adoptees was an extraordinary experience. While a few of the attendees were initially shocked by my presence – most had never met an openly transgendered person before – they soon realized that my life story as a Korean adoptee was one that they could relate to, and my gender identity has never been an issue at any of the adoptee gatherings that I have attended.
I have recently begun formally studying the Korean language in a class specifically for Korean adoptees, and while I doubt that I will ever become fluent, it is a good experience for me to learn more of the language of my ancestors.
Just as I came to reject the self-imposed label of 'fake Korean' in favor of an accepting myself as Korean adoptee, I also came to understand transgender as distinct form of gender identity that challenged the false constructs of 'man/woman.' I would eventually come to call myself a 'male-bodied woman,' a concept radical even within the transgender community, because I reject the assumption that the presence or absence of the penis determined my status as a man or as a woman.
My move to Queens, New York in 1997 corresponded with the end of my academic career and the beginning of my activism and advocacy work in New York as well as my coming out as an openly transgendered woman. In January 1997, I worked with other Queens activists to co-found Queens Pride House, a small lesbian, gay, bisexual and transgender (LGBT) community center in the borough. In February 1997, I joined with other queer Koreans to co-found Iban/Queer Koreans of New York. And in June 1998, I worked with other transgender activists to co-found the New York Association for Gender Rights Advocacy (NYAGRA).
I now see myself as a transgendered Asian American woman with a distinct identity as a Korean adoptee. And I now feel comfortable calling the United States my home, comfortable, in fact, with the ambivalence about my adoptive homeland engendered by my personal experience of harassment and by a study of the often problematic politics of the American republic.
Korean adoptees share much in common and yet there is an enormous variation in terms of the circumstances of our adoption and upbringing each of us has a unique story to tell. My story is unusual in a number of respects, and while there are quite a few LGBT-identified Korean adoptees, few are openly transgendered and few are LGBT activists.
I have gone from having grown up in an all-white neighborhood on the south side of Milwaukee and ending up in Jackson Heights, which one demographer determined is the most demographically diverse spot on earth.
If the circumstances of my adoption meant that I was torn from the country of my birth before living in it for even eight months, the trip 'back' to Korea in June/July 2015 brought me full circle. For the first time since leaving at the age of seven and-a-half months, I was back in the land of my birth, but even if I had had any memories of Seoul or Korea, I probably would not have recognized the country or its capital city, as completely transformed as they have been by the forced industrialization directed by Park Chung-hee. Ironically enough, half a century later, I returned to find his daughter, Park Geun-hye, in the Blue House once again, this time as the first woman elected president of the Republic of Korea.
But I returned as an adult in late middle age, as an openly transgendered 54-year-old LGBT activist. And while ten days in June were taken up with a tour for 22 Korean adoptees from the United States and one from Denmark, the second half of my stay was focused on activities related to my post-transition life in New York, including four speaking engagements. I spoke at a special meeting of Chokagbo, a new transgender advocacy project based in Seoul (and only the second ever in the history of Korea); at a meeting of Solidarity for LGBT Human Rights in Korea (Haeng Sung In); and I gave a presentation at a meeting of Palestine Peace & Solidarity in South Korea (팔레스타인평화연대) about my participation in the first US LGBTQ delegation tour of Palestine in 2012. By far the biggest crowd I spoke to was at the Queer Korea Festival that preceded the Seoul Pride Parade on June 28 – a crowd that was estimated to be 35,000 strong. I had not sought out this speaking engagement, and it was an especially gratifying honor, given that I was an English-speaking Korean adoptee who had not lived in the country since leaving Korea in 1961. Afterwards, I participated in the Seoul Pride Parade, which – unlike so many pride parades in the US – was completely without corporate sponsorship, and was truly the most thrilling pride parade I have ever marched in. Rather than a corporate marketing event, which so many US pride parades have come to feel like, this one was as grassroots as they get, just members of a marginalized community marching for their rights. The fact that I as a non-Korean speaking adoptee could contribute in any significant way to the advancement of LGBT rights in the country of my birth made this the most important political moment of the entire trip and brought me full circle from the non-verbal infant I was upon my departure from the peninsula over a half century ago to the keynote speaker at the biggest event in the history of the LGBT community of Korea. What could possibly have been a more powerful indication of my having come full circle…?
Pauline Park (www.paulinepark.com) is the chair of the New York Association for Gender Rights Advocacy (www.transgenderrights.org).  She has written and spoken widely on issues of race and nationality, and gender identity and expression.