More than 400 Asian New Yorkers sign letter opposing Yang
By Sydney Kashiwagi
City & State New York
4.21.21
Progressive activists oppose his platform on policing, housing and Israel-Palestine relations…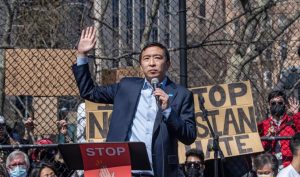 Pauline Park, a Korean American transgender progressive activist, was skeptical of Andrew Yang when he ran for president. She thought his signature universal basic income proposal was too "vague" and did not not articulate a "larger vision" for addressing inequality and pursuing social justice.
But as Yang geared up to run for New York City mayor and eventually jumped into the race in January, Park found the candidate's platform more concerning. She didn't like his position on the Palestinian-led Boycott, Divestment and Sanctions movement and his vow to "push back against" the movement if elected. His support for providing more resources to the New York City Police Department was another, and Park said Yang has failed to outline a clear affordable housing plan. (Read Yang's plan here.)
"I would like Asian Americans in the city to realize that Andrew Yang does not really have the best interest of the community at heart. His pronouncements and policy positions are not ones that will help the (Asian American and Pacific Islander) community if he is elected mayor," said Park, a member of GAPIMNY, a gay, bisexual, queer and questioning Asian and Pacific Islander men and transgender advocacy group. "Simply electing an Asian American is not going to change material conditions in which Asians in this city live, just like electing Barack Obama did not change conditions for African Americans, electing Mayor Lori Lightfoot of Chicago didn't change the material conditions in which Black Chicagoans live."
Park isn't alone in how she feels about Yang's candidacy. More than 400 other progressive Asian and Pacific Islander American community members, organizers, and activists in New York City signed a letter shared exclusively with City & State and launched a website Wednesday opposing Yang's bid for mayor. They argue that "representation alone is simply not enough" and that Yang's track record, actions and policies "do not uplift marginalized" Asian, Pacific Islander, Black, Indigenous, people of color, immigrant and working-class New Yorkers.
Signatories of the letter include Mayor Bill de Blasio's communications adviser and deputy press secretary Angelene Superable, who is the executive vice president of the New York Pan-Asian Democratic Club; Senti Sojwal of the Asian American Feminist Collective; Vicki Niu of Asians 4 Abolition; and three Asian American City Council candidates: Carolyn Tran running in the Queens District 25 race, Hailie Kim running in the Queens District 26 race and Shahana Hanif running in the Brooklyn District 39 race.
The letter comes at a time when Asian Americans have faced a troubling rise in anti-Asian hate crimes in New York City fueled by former President Donald Trump referring to the coronavirus as the "Chinese Virus." In the backdrop of an uptick in anti-Asian violence, Asian American New Yorkers have also faced mounting economic challenges during the pandemic. A report from the Asian American Federation found that Asian New Yorkers filing for unemployment surpassed all other groups last year and that 1 in 4 Asians live in poverty in New York City.
The signatories criticized Yang for playing into "racist, harmful stereotypes," pointing to his op-ed in The Washington Post last year, in which he called on Asian Americans to "show our American-ness" in the face of backlash against the Asian American community during the pandemic, and his "anti-Black comments" when he said the fellowship program at Venture for America might not be a good fit for Black applicants. They criticized Yang for taking "pro-police stances" by supporting more police in the city's subways and more funding for the NYPD's Asian Hate Crimes Task Force. They called out his campaign's ties to lobbying firm Tusk Strategies and his history of discriminating against female employees.
"In 2022, New York City needs a leader who can truly grapple with the complex racial and economic injustices and the needs of Asian and Pacific Islander American New Yorkers in the pandemic's aftermath," the letter reads. "There are candidates more aligned with social and racial justice values, … whose mayorship would actually benefit our communities, and they are not getting the attention they deserve."
If he wins, Yang, the son of Taiwanese immigrants, would become the first Asian American elected mayor of New York City and the second Asian American to hold a citywide office after now-state Sen. John Liu served as the city's comptroller and then ran unsuccessfully for mayor in 2013.
The scathing letter comes as Yang has distinguished himself as the clear front-runner in recent polls just two months before the Democratic primary. He has received endorsements from the New York City Asian American Democratic Club and sitting Asian American lawmakers, including progressive Queens Assembly Member Ron Kim and Manhattan Council Member Margaret Chin.
However, Yang has not won the endorsements of arguably the most powerful Asian American lawmakers in New York: Rep. Grace Meng, New York's first and only Asian American elected to Congress, and Liu.
Liu told City & State that even though he thinks Yang is energizing Asian American voters in New York City and that his candidacy "represents a voice that needs to be both heard and seen," he believes the concerns outlined in the letter are "legitimate." Liu said he will endorse in the mayoral race but declined to say who that candidate will be. He also pointed out that other candidates have been building a broad coalition of supporters just like Yang but "over a much longer period of time."
"The letter itself is not surprising. These concerns have been mounting over the past few months; it's not coming out of the blue," Liu said. "It's long been noted, justifiably, that many Asian Americans are very progressive and ideology and principle does go a ways farther than race and ethnicity, particularly among people who are knowledgeable and active."
Ron Kim urged Yang to listen to the progressive groups' concerns and said he would work with Yang to move him on addressing inequities faced by the Asian American community. Kim said that what stands out about Yang is his willingness to listen and learn from his mistakes. Kim said Yang has not exhibited "the toxic masculinity that most men in politics" have displayed – the "it's my way or the highway" or the"get along or get killed type of politics," which Kim has seen from lawmakers like Gov. Andrew Cuomo. When Yang outlined his Green New Deal for public housing plan, drawing backlash from Rep. Alexandria Ocasio-Cortez – the plan's original author – Kim said Yang quickly reached out to AOC to understand her original plan.
"What's refreshing to me about Andrew is he's not tied to any establishment, whether it's the traditional Democatic establishment or the left establishment, or the civil rights establishment, there's an endless group of established groups in the city of New York that if you're here for a long time, you're beholden to – pigeonholed – to their specific interests and he doesn't have that," Kim told City & State. "He's coming in with a fresh set of eyes, offering solutions and willing to fail and pivot and learn, and that's a quality that I've never seen in a politician."
Other progressives like Zara Nasir, with the People's Plan NYC, who helped organize the letter, think Yang aligning himself with politically powerful groups – like the Orthodox Jewish community and business elites – over the city's Asian American community is troubling. "It again just reinforces this idea that (AAPI) don't matter, our political weight doesn't matter and therefore policies that are important to our community and the working-class poor Asians are not important to him," Nasir said.
Yang's campaign did not return requests for comment for this story. The progressive groups plan to hold an event on May 6 to discuss which candidates support the Asian American Pacific Islander community.