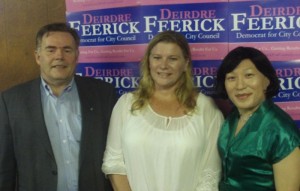 Charles Ober, Deirdre Feerick & Pauline Park
I'm happy to announce my personal endorsement of Deirdre Feerick for City Council. Deirdre is running in the Democratic primary in the 26th district, which includes parts of Woodside, Sunnyside, and Long Island City as well as bits of Astoria and Maspeth in Queens. Deirdre is running to replace Eric Gioia, who is foregoing a re-election bid in order to seek citywide office as a campaign for Public Advocate.
There is usually fierce competition for any open seat, and such is the case with this race; what makes the contest somewhat unusual is that it pits an openly gay man against a heterosexual woman who in my view will prove herself a strong ally of the LGBT community. While Deirdre is running against an openly gay candidate, it is Deirdre and not her openly gay opponent who has won the bulk of individual endorsements from prominent LGBT activists in Queens, including from my colleague and friend, Charles Ober.
In his capacity as president of the Ridgewood Democratic Club, Charlie has worked extensively with Deirdre over the years, and has always found her responsive as well as professionally comptetent. Charlie and I met with Deirdre a few weeks ago and had an extensive discussion with Deirdre; we were both impressed by the strength of her commitment to LGBT equality, including same-sex marriage, transgender rights, and LGBT-inclusive safe schools legislation.
Deirdre Feerick is by far the best qualified candidate in the race, and she deserves nomination and election. If you are registered to vote in the Democratic primary on Sept. 15, I urge you to come out and vote for Deirdre Feerick for City Council in the 26th district.