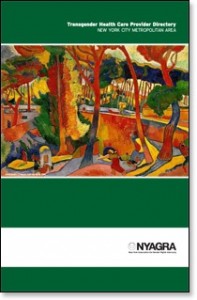 On July 21, the New York Association for Gender Rights Advocacy (NYAGRA) published the first public directory of transgender-sensitive providers in the New York City metropolitan area. The Gender Identity Project (GIP) of the Lesbian, Gay, Bisexual & Transgender Community Center (208 W. 13th St. in Manhattan) hosted a special event from 7-9 p.m. at which hundreds of copies of the provider directory were distributed to members of the transgender community. The directory – which includes of physicians, mental health professionals, acupuncturists, and AIDS agencies as well as other health care providers – is a project of the Transgender Health Initiative of New York (THINY), a community organizing project whose goal is to ensure that transgendered and gender non-conforming people can access health care in a safe, respectful and non-discriminatory manner. THINY was established by the Transgender Legal Defense & Education Fund (TLDEF), NYAGRA, and the Center GIP in 2004 and has been coordinated by TLDEF staff since then.
Transgendered and gender-variant people face pervasive discrimination and insensitivity when trying to access on health care in New York City and its metropolitan area. Up until now, community members could access transgender-sensitive physicians and other health care providers through referrals from the GIP and other social service providers, but there has never been a published directory of such health care providers available to the general public. The 26-page NYAGRA directory was compiled by Kelly White under the direction of Pauline Park, chair of the NYAGRA board of directors. White is a Cornell University student who joined NYAGRA in June 2009 as part of a paid summer internship through the Cornell Urban Scholars Program (CUSP).
While similar provider directories for other cities (Boston, Los Angeles, Minneapolis-St. Paul) have been made available on-line, the NYAGRA directory may well be the first directory of transgender-sensitive health care providers published in a print edition anywhere in the United States.
The NYAGRA provider directory is now available on-line through the TLDEF website.