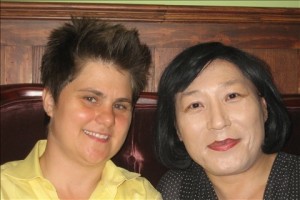 Yetta Kurland, a candidate for City Council (3rd district), with Pauline Park
I've decided to endorse Yetta Kurland for City Council in the 3rd Council district (which includes the Village and Chelsea in Manhattan); here's why. First, Yetta is an openly lesbian candidate for the Democratic nomination for Council Member and the only candidate in the 3rd Council district who is committed to a progressive agenda of social justice and social change. Second, she's not Christine Quinn — the incumbent Council Member who is also Speaker of the City Council.
Yes, there is some symbolic value in having an openly lesbian Speaker of the City Council — the second most powerful office in New York City government — but Quinn has little to show for it in terms of progressive and LGBT-inclusive legislation after four years as Speaker and more than ten years as Council Member. Chris Quinn's record on LGBT issues is a dismal one; as Speaker, she has done little if anything for the LGBT community other than provide funding for a few large flagship community institutions — just as her predecessors (Speakers Peter Vallone, Sr. and Gifford Miller) had. And Quinn has betrayed the progressive values that she claims motivated her to seek elected office in the first place (as documented in a short film by Donny Moss), running the City Council in a manner even more authoritarian that that of her predecessors; no wonder New York Magazine dubbed her 'Boss Quinn.' Since her election as Speaker in 2005, Quinn has turned the City Council into a rubber stamp for Mayor Michael Bloomberg. Most outrageous of Quinn's many depredations was her successful effort to push through the mayor's term limit extension bill that overturned the will of the people as expressed in two referenda.
Quinn has two opponents in the Sept. 15 primary for Democratic nominee in the 3rd Council district: Maria Passante-Derr and Yetta Kurland. To her credit, Passante-Derr has questioned Quinn's role in the slush fund scandal — questions that Quinn has tried her best to evade. But Passante-Derr seems to lack significant support, and one has to wonder if Passante-Derr is anything more than a publicity-seeking gadfly. Worse still, she has also made comments about LGBT youth of color that raise serious questions about her commitment to a progressive and inclusive agenda.
That leaves Yetta Kurland as the only real alternative to Chris Quinn. Yetta Kurland is a civil rights lawyer whose legal work has focused on fighting discrimination. She has also been actively involved with LGBT community organizations for many years, and she has also been an advocate for animal welfare, earning her the endorsement of the New York League of Humane Voters. Yetta has also been endorsed by Democracy for New York City, Downtown Independent Democrats, the New York Community Council, the 504 Democratic Club (the first Democratic club in the United States focused primarily on disability rights), the New York Blade, and Go Magazine.
As co-president of the Out People of Color Political Action Club, I'm happy to say that Yetta also earned the endorsement of OutPOCPAC, the first and only political club for LGBT people of color in New York City. As I said when we announced the club's endorsement, "Yetta Kurland has solid credentials and is the most progressive candidate in the race, while Speaker Quinn has failed to use the power of her office to push a progressive agenda that would benefit the LGBT community; she was the principal advocate in the Council for Mayor Blomberg's campaign to extend the term limits law."
I am delighted to announce my own personal endorsement of Yetta Kurland — one of only four candidates for City Council this year whom I have chosen to endorse as an individual. If you live in the 3rd Council district, I urge you to vote for Yetta Kurland for City Council.