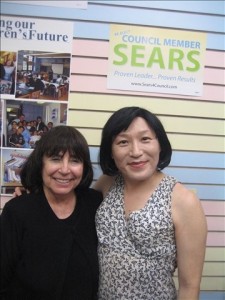 Council Member Helen Sears (D-25) with Pauline Park
An Open Letter to the LGBT Community in Queens re Helen Sears & the Race in City Council District 25
On September 15, Democratic primary voters all over New York City will go to the polls to pick the Democratic nominees for City Council in 51 districts throughout the five boroughs. Here in City Council District 25, we have the opportunity to return someone to office who has been a strong ally of the lesbian, gay, bisexual and transgender (LGBT) community in Queens. Since she was first elected in 2001, Helen Sears has co-sponsored every piece of LGBT-specific and LGBT-inclusive legislation introduced during her two terms in the Council, including:
— The transgender rights law (prohibiting discrimination based on gender identity or expression) enacted in 2002.
— The Dignity in All Schools Act (a safe schools law prohibiting bias harassment on the basis of sexual orientation and gender identity and expression as well as race, ethnicity, religion and disability) enacted in 2004.
— The equal benefits law ('Dominique's Law'), domestic partnership benefits legislation enacted by the City Council in 2004 (which was ultimately invalidated by the Court of Appeals).
— Res. 1961-2009, calling on President Obama to issue an executive order that would prohibit discrimination in federally-assisted housing on the basis of sexual orientation or gender identity.
— Res. 0773-2007, calling on Congress to enact the Local Law Enforcement Hate Crimes Prevention Act, the federal hate crimes bill which would provide federal assistance to states and local jurisdictions to prosecute hate crimes.
— Res. 1170-2007 (adopted in 2008), calling on the president of the United States, Congress and the U.S. Department of Defense to repeal the 'Don't Ask, Don't Tell, Don't Pursue' statute and allow lesbian, gay, bisexual and transgendered people to serve openly in the military.
— Res. 0755-2003, calling on the U.S. Supreme Court to overturn Bowers v. Hardwick and invalidate the Texas sodomy law (which the court did in Lawrence v. Texas in 2003).
In addition to co-sponsoring this legislation, Helen Sears signed a letter from the Speaker of the City Council calling on the New York state legislature to enact a marriage equality law. Helen also shows her support of the community every year by marching in the Queens LGBT Pride Parade and participates in the Day Against Hate as well as speaking out against hate crimes against members of our community. As Council Member, Helen Sears has also provided funding for LGBT community organizations in the borough and the city, including:
Queens Pride House
AIDS Center of Queens County (ACQC)
Gay Men's Health Crisis (GMHC)
Momentum AIDS Project
In the course of eight years in the City Council, Helen Sears has demonstrated a strong commitment to LGBT equality. The Lesbian & Gay Democratic Club of Queens was founded by Danny Dromm, one of Helen's primary opponents; in the December 2005 issue of the LGDCQ newsletter, the club noted,
"On November 7th, the club was honored to host Council Member Helen Sears who Represents: Parts of Jackson Heights, Elmhurst, East Elmhurst, Rego Park, Woodside, Corona. Ms. Sears spoke passionately about her commitment to securing full LGBT rights and reminding the audience that she has been a long time supporter. Discussion also ranged around issues directly affecting her Council District along with issues that affected the entire City. Each time Ms. Sears attends the club, she wows us with her ability to speak on a wide range of issues of importance to our members. (Its no wonder she was re-elected in a landslide the next day to 4 more years.)"
The LGBT community of Queens could not have a stronger ally in the City Council than Helen Sears, and I urge you to vote to re-elect Helen Sears as the Council Member for the 25th district.
Pauline Park
Jackson Heights
25 August 2009