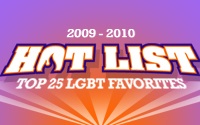 Campus Pride names Pauline Park to its 'hot list' of LGBT speakers
I was delighted to receive this message just today:
"Congratulations! You've been chosen by students, campus activity professionals, and other Campus Pride constituents for the 2009 Campus Pride HOT LIST! The list is made up of the top twenty-five speakers, lecturers, and performers from around the country… We look forward to making this list an annually published reference for students, staff, and faculty who seek to bring an LGBTQ-positive voice to their campuses. Again, congratulations. We appreciate all you do and look forward to all that you continue to contribute to creating and sustaining positive campus environments for LGBT students."
Here is the announcement as it appears on the Campus Pride website:
"Campus Pride officially releases the 2009 HOT LIST! The list represents our "Top 25 LGBT Favorites" — lecturers, comedians, musicians. poets, artists, researchers, activists and more. Every year Campus Pride will pick the most diverse, provocative, inspiring and enlightening artists/speakers as a resource for your LGBT student organization. The purpose is to provide a recommendation of the BEST OF THE BEST in planning your campus events and activities. The artists/speakers listed are not only our SIZZLING HOT PICKS but they also rate highly among recommendations from LGBT young adults at colleges and universities across the country. If you want to create change — PICK FROM OUR TOP 25 LGBT FAVORITES! BURNING HOT: Learn more about each artist/speaker and don't forget to mention the Campus Pride HOT LIST!"
I'm honored to be in such distinguished company as Lieutenant Dan Choi, Judy Shepard and Cherrie Moraga; not to mention my friends Martin Manalansan and Mia Mingus — and the fabulous Kinsey Sicks.
Thanks, Campus Pride~!