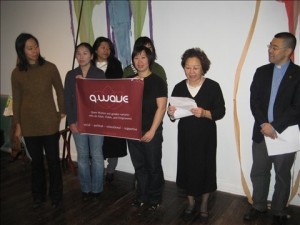 Patrick Cheng's mother reads a statement in Chinese in support of her son and the LGBT/queer API community at the QAPI press conference in Chinatown on Jan. 30.  At left: lead organizers Irene Tung & Aries Liao.
NYAGRA statement on the participation of LGBT/queer APIs in the 2010 Chinese lunar new year parade in Chinatown
Pauline Park, chair
30 January 2010
On February 21, a contingent of lesbian, gay, bisexual and transgender (LGBT) or 'queer' Asians and Pacific Islanders (APIs) will participate in the annual Chinese lunar new year parade in New York's Chinatown for the first time. The New York Association for Gender Rights Advocacy (NYAGRA) — a transgender advocacy organization founded in 1998 — is proud to join Q-Wave, the Gay Asian & Pacific Islander Men of New York (GAPIMNY), Barangay, and a host of organizations in co-sponsoring the LGBT contingent in the parade. On behalf of our members, as chair of NYAGRA, I would especially like to acknowledge and thank Aries Liao and Irene Tung of Q-Wave for spearheading this historic initiative.
I would also like to suggest that it is important for us as LGBT/queer APIs to address the biggest misconception in API communities — namely, that we are lesbian, gay, bisexual or transgendered because we've been hanging around white people too much. The implicit assumption behind that misconception is one of a viral model of gender identity and sexual orientation. The slogan of Queer Nation was "We're here, we're queer, get used to it." When it comes to homosexuality and transgender, the truth is that we have been here — in China and in every other Asian or Pacific Island society — since time immemorial.
China has homoerotic and proto-transgenderal traditions going back centuries. The 'passion of the cut sleeve' (duan xiu) — the love of the Han dynasty Emperor Ai (27 BC-1 AD) — for his male favorite, Dong Xian — is the source of the Chinese euphemism for homosexuality ('cut sleeve'). The other popular Chinese euphemism for homosexuality — the 'half-eaten peach' — goes back even further, to the Zhou dynasty Duke Ling of Wei (534-403 BC) and his male lover, Mixi Zia. While it is true that contemporary LGBT identities are of recent vintage, it is equally true that there were people in every pre-modern Asian or Pacific Islander society who were like us in important respects and whom we would call lesbian, gay, bisexual or transgendered.
So when we join the Chinese lunar new year parade in Chinatown on Feb. 21 as the first LGBT contingent in that parade, we are simply reclaiming our rightful place in our communities of origin and reinscribing ourselves in the dominant narratives of Asian and Asian American cultures. My message for non-LGBT participants in the parade who are shocked or confused by our presence is this: we are you and you are us. We have been here (all along), we have been queer, and you have been used to it, you just forgot.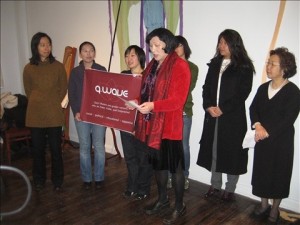 Pauline Park reads a statement on behalf of NYAGRA at the QAPI press conference.