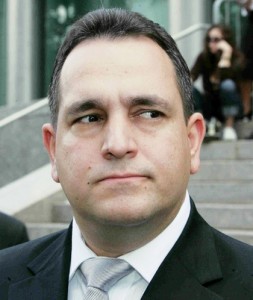 In 2009, Sen. Hiram Monserrate was convicted on a misdemeanor charge of assaulting his girlfriend, Karla Giraldo.
FOR IMMEDIATE RELEASE
Pauline Park
OutPOCPAC co-president
paulinepark@earthlink.net
Doug Robinson
OutPOCPAC co-president
doug@outpocpac.org
New York, NY, January 21, 2010 – The Out People of Color Political Action Club (OutPOCPAC) today endorsed the unanimous report of the New York State Senate's Special Committee of Inquiry on Sen. Hiram Monserrate (chaired by Sen. Eric T.Schneiderman, D-Manhattan) recommending expulsion for the senator convicted last year of a misdemeanor charge of assaulting his girlfriend. A New York City-based non-partisan political club for lesbian, gay, bisexual and transgendered (LGBT) people of color, OutPOCPAC joins the National Organization for Women-New York State (NOW-NYS) and a host of other civil rights and social justice organizations in calling on members of the New York State Senate to vote for the expulsion of Senator Monserrate (D-Queens).
"Hiram Monserrate's conviction for domestic violence, his leading role in thecoup that upended the State Senate last June, and his vote against the marriage equality bill in December are each in themselves sufficient reason for OutPOCPACto repudiate him," said Doug Robinson, co-president of OutPOCPAC. "Taken together, these constitute a compelling reason for members of the Senate toexpel him from that body."Monserrate was elected in November 2008 to represent the 13th Senate district in western Queens and took office in January 2009; in June, he joined Sen. Pedro Espada of the Bronx in fomenting a 'coup' that effectively suspended action inthe Senate for 30 days, preventing votes on legislation that would recognizesame-sex marriage as well as on the Gender Expression Non-Discrimination Act (GENDA) and the Dignity for All Students Act (DASA) — the LGBT community of New York's three top legislative priorities. GENDA is a state transgender non-discrimination bill currently pending in the Senate and DASA is a safe schools bill also pending in the Senate; both have been approved by the Assemblybut have yet to get a vote in the Senate.
"I would like to see the 13th Senate district represented by a Senator who embodies integrity and respect for women," said Pauline Park, OutPOCPAC co-president and a resident of the 13th district. "Hiram Monserrate is guilty of violence against the woman who is his partner and consorted with the most corrupt member of the state Senate to undermine the elected leadership of that body," Park added. "And in voting against the marriage equality bill in December, he betrayed his stated commitment to support full equality for LGBT New Yorkers as well as his own record on LGBT rights as a City Council member."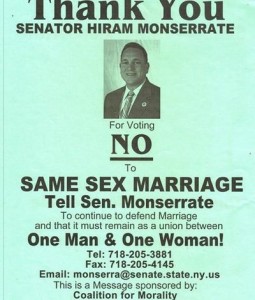 The Coalition for Morality's poster calling on members to thank Hiram Monserrate for voting against the marriage equality bill.