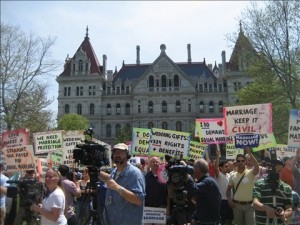 More than 2,000 people rallied for equal rights in front of the capitol building in Albany.
New Yorkers Lobby Albany for Equality and Justice Day in Record Numbers
Constituents urge lawmakers to pass three key bills this session
By Kat Long
New York Blade
5.1.2009
Riding the momentum of recent victories for gay equality in Iowa, Vermont, Washington D.C. and other states, Empire State Pride Agenda sponsored its annual Equality and Justice Day in Albany on April 28. Pride Agenda, the statewide LGBT civil rights advocacy group, organized the daylong series of meetings with state legislators as well as a noontime rally at the foot of the capitol building. More than 2,000 New Yorkers from all corners of the state took part—the largest turnout in the event's history. The number presented a huge increase from the first E&J Day, when 400 people participated.
"We were very strategic in identifying the districts where we wanted to make sure we had a good attendance, and we had conference calls prior to E&J Day with the individuals who had signed up to come, so we could talk to them about just how important their stories were going to be," said Alan Van Capelle, Pride Agenda's executive director. "Those districts included places on Long Island and in the North Country and western and central New York, so that [support] literally came from around the state."
The day's program was focused on having small groups of constituents meet with their elected Senators and Assemblymembers to tell their personal stories, with an emphasis on the difference pro-gay laws could make in their lives.
Three major pieces of legislation of concern to LGBT New Yorkers have a chance of passage in this legislative session, which ends June 22: the marriage equality bill re-introduced by Gov. David Paterson last month; the Gender Expression Non-Discrimination Act (GENDA); and the Dignity for All Students Act. (See related articles in this issue for analyses of each bill).
"Anytime we've won something from Albany it's because we've told our stories to legislators," Van Capelle said. "The biggest goal we had to was to get as many people together to tell their stories to our elected officials."
The groups of amateur lobbyists included heads of major labor unions, CEOs of Fortune 500 companies, and everyone in between, Van Capelle said, which showed a depth and breadth of participation that hadn't been seen in previous years.
For some E&J Day participants, it was their first chance to meet face-to-face with their elected representatives and make a personal investment in the democratic process. For others, this year offered a chance to lobby with the wind at their backs.
Pauline Park, chair of the New York Association for Gender Rights Advocacy (NYAGRA), told the Blade this was her eleventh year of lobbying in the capitol. She personally met with legislative directors for Senators Carl Kruger (D-Brooklyn), Joseph Addabbo, Jr. (D-Queens) and Hiram Monserrate (D-Queens), the latter from her own district.
"I felt it was especially important, as the chair of a statewide transgender advocacy organization, to meet with centrist Democrats who have not yet taken a clear position on legislation important to our community," Park said. "It is precisely with Addabbo, Kruger and a few other moderate Democrats and moderate Republicans that we will find the votes to bring marriage, GENDA, and Dignity bills to the floor of the Senate and get them passed."
Based on her meetings, Park felt that the Dignity for All Students Act would be the easiest of the three to pass, "as it is difficult for even the most homophobic or transgenderphobic politician to argue that kids should be subject to bullying in school." She also had high hopes for GENDA based on polls that suggested most New Yorkers support laws banning discrimination, but felt marriage equality could be the biggest hurdle, based on feedback from legislators.
Van Capelle said that while we as voters have no control over which bills come up for votes first, it's our responsibility to work the legislation we want to see made into law.
"This is a unique moment in our movement that did not happen by accident. We've worked for this moment, and we saw the fruits of it on Tuesday."
He added, however, that E&J Day 2009 was the "starting point, not the finish line."
This article originally appeared in the New York Blade on 1 May 2009; the Blade is now defunct.