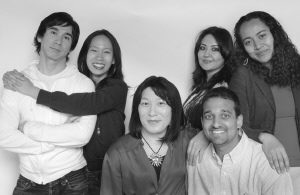 The cast of "Undesirable Elements" included (left to right):
Joseph O. Legaspi, Kelly Zen-Yie Tsai, Pauline Park, Zohra Saed, Raj Thakka & Moana Niumeitolu.
Varied Voices
By David Noh
Gay City News
6.8.2007
Contrary to popular, still somehow prevalent belief, Asians do not all look alike, nor do we all know each other. These facts come through loud and clear in "Undesirable Elements," an oral history performance piece, performed in April at Queens Theater in the Park as part of the Asian Cultural Festival. It was written and directed by Ping Chong and Sarah Michelle Zatz, in collaboration with six performers who all have varied, intriguing life stories. Certain recurrent common themes crop up, however, most of them having to do with non-Asian misconceptions.
If you're Asian-American, you've definitely experienced the unintentional "Who's on first?" comedy of being asked where you're from, and having your geographical response met with, "No, I mean, where are you from?" i.e., "What's your racial background?"
Filipino poet Joseph O. Legaspi recounts coming to America at an early age, expecting everyone to be blonde, rich, and tall, expectations that were largely not disappointed, especially in college, where he felt alienated. As a child in the Philippines, his family's lighter skin tones had placed them on a higher social caste, which his mother supported by encouraging him to stay out of the sun.
Indian Raj Thakkar created Charter School Business Management, which supports the charter school movement. He recalls how hard his father had to work at a family-owned candy store and also, how hard it was for the two of them to understand one another. Since 9/11, he has experienced increased instances of racial profiling.
Artist Vaimoana Niumeitolu describes herself as "the first Tongan person you've ever met," and tells of growing up in Provo, Utah, and making a vow to herself to never date a white man – a vow she has since broken.
Afghani Zohra Saed is particularly eloquent about the misunderstandings she constantly endures regarding her culture, and Kelly Zen-Yie Tsai describes how, when performing with her so-called "brothers" on Russell Simmons' Def Poetry, she was dismayed to hear their "ching chong Chinaman" routines.
Finally, tireless political activist Pauline Park describes her life as a transgendered woman who, although Korean, was adopted by a white family in the Midwest, but still must constantly answer questions about a Korea she's never known. She has chosen to lead her life as a woman sans surgery and co-founded the New York Association for Gender Rights Advocacy (NYAGRA), the first statewide transgender advocacy organization in New York.
Words are everything here and all six performers are thankfully compelling, with Chong's strong, spare direction scrupulously staying out of their way. At times, the performers get up and circle the stage, assuming different seating positions, which seems an unnecessary effort to instill some kind of movement into a basically static concept. But when Niumeitolu performs a native dance, its lush beauty is a welcome reprieve from all of the verbiage.
Undesirable Elements
Pregones Theater
571-575 Walton Ave btwn. 149th & 150th Sts.
Bronx
Jun. 14
7:30 p.m.
$20
212-352-3101
Asia Society
725 Park Ave.
Jun. 15
8 p.m. $20
212-288-6400
This article originally appeared in the 8 June 2007 issue of Gay City News.