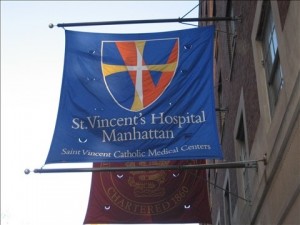 Trans Health Fair Debuts at Center
By Brett Krutzsch
New York Blade
Friday, June 01, 2007
Robert Eads, a female to male transsexual, died from ovarian cancer after being turned away by more than two dozen physicians who worried that taking him on as a patient might harm their practices. A documentary released in 2001, "Southern Comfort," chronicles Eads' struggles to navigate the health care system as a transgender individual.
"Transgender people, like Robert, face a tremendous amount of discrimination in the mainstream health care system," said Michael Silverman, executive director of the Transgender Legal Defense and Education Fund (TLDEF). "And, as a result, many of them have checked out of the system." In an effort to meet the health care needs of transgender individuals, various community organizations have joined together with St. Vincent's Hospital to sponsor New York's first-ever Transgender Health Fair.
From 5:30–8 p.m., Wednesday, June 6, at the LGBT Center in Manhattan, transgender men and women will have the opportunity to get free health screenings for cholesterol, diabetes, blood pressure, and more.  Information will be provided about hormone therapy, smoking cessation, nutrition and mental health. Individuals will also learn about health insurance opportunities and how to enroll in Medicaid.
"This is a historic event," said Pauline Park, chair of the New York Association for Gender Rights and Advocacy (NYAGRA). Park, who is one of the key organizers of the event, hopes the health fair will "signal to the transgender community that our partnership with St. Vincent's is a trans-affirming one." According to Park, "Many transgender people don't have health insurance, and many don't go to the doctor because they fear discrimination because of past incidents." Park hopes the health fair will show that resources are available to transgender men and women, and that crucial partnerships are being formed with St. Vincent's health care providers.
"Transgender people are one of the most marginalized communities in the health care system," said Dr. Dennis Greenbaum, chair of St. Vincent's Department of Medicine. "It is essential that they have access to the same respectful, high quality care that all people expect."
Park said that transgender individuals face three major impediments when trying to obtain medical care: intentional discrimination (i.e. being told "we don't serve people like you"), inadvertent/unintentional discrimination (i.e. not having the proper resources to serve the transgender population) and institutional discrimination (i.e. only asking for male/female on in-take forms or not providing gender-neutral bathrooms).
Silverman, who is also instrumental in organizing the health fair, said, "We have transgender people all of the time who complain they are called the wrong name, or pronoun, or just made fun of" when seeking medical attention.  "I'm currently working with two transgender people who went to a local emergency room, and some security and maintenance workers referred to them as faggots," Silverman said. "It shocks the conscience that this is what transgender people face." Silverman and Park both maintain that the medical establishment needs to become better informed of the existence and needs of transgender people. Male-to-female transsexuals have a high rate of HIV infection, according to Silverman. And all transgender individuals have unique health issues.
"The health fair will provide information that transgender people often don't get," Park said. For example, information will be given to individuals who identify as female but who also should be getting routine prostate exams.  Advice and information about hormone therapy will also be available at the health fair. The issues can become tricky, as Park notes: "If you get estrogen-based hormones and your legal sex is male, most insurance companies won't cover it even though they cover estrogen for post-menopausal women." The health fair may not be able to change the insurance industry, but it will provide people with more options and access to transgender-friendly care.  Hopefully, the transgender health fair will connect a traditionally disenfranchised group with necessary services and treatments. "The real point of the health fair," Silverman said, "is to show people that there are providers for the transgender community."  The Transgender Health Fair 5:30–8 pm., Wednesday, June 6, at the LGBT Center, 208 W. 13th St., in Manhattan.
This article originally appeared in the New York Blade on 1 June 2007; the Blade is now defunct.