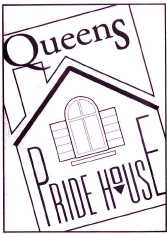 Gays' Forum on Police Amid claims of mistreatment, group eyes fixes
By Alan Krawitz
Newsday
9 July 2002



When Jeffrey Montgomery's boyfriend was killed in 1985 in Detroit, a police source told Montgomery the department didn't want to waste resources by investigating "just another gay killing," he said.
That surprising revelation served to underscore the generally bleak tenor of a recent forum on lesbian, gay, bisexual and transgender rights, and the law enforcement community here and abroad. Sponsored by Outfront, Amnesty International's program on sexual orientation and human rights, the forum featured a panel of three speakers discussing relations between the police and the gay community.
About 35 people from Queens gathered at the Queens Pride House in Woodside recently to hear: Jeffrey Montgomery, co-chair of the National Coalition of Anti-Violence Programs; Adrian Sanchez, a researcher with the Outfront program; and Andres Duque, director of Mano a Mano, a coalition of Latino organizations and activists based in New York City. Pauline Park of the New York Association for Gender Rights Advocacy was the moderator.
"Attacks on gays haven't changed much in the last 50 years," Montgomery said. In 2001, Montgomery's Michigan-based group documented 1,900 incidents of violence against lesbian, gay, bisexual or transgender people in the United States. Of those, 547 were reported in New York City. Montgomery reported on a national pattern of "continual harassment and targeting of gays" by law enforcement personnel. He related stories of police in Detroit carrying out "gay for a day" sting operations that allegedly targeted gay men seeking consensual sexual liaisons. He said during one such operation, Detroit police arrested 700 men and seized automobiles of gay men under vehicle-forfeiture laws, raising nearly $1 million for the city. Several men are suing the city in the matter.
He also reported that gays were issued summonses from Detroit police charging them with being "annoying persons." The city's 1964 annoying persons ordinance was designed to deter obnoxious or lewd behavior, but many gay men were arrested for flirting or blowing kisses. The coalition helped six gay men sue Detroit to get the "annoying person" ordinance repealed.
Sgt. Ricardo Moore of the Detroit Police Department said last week that the arrests were part of a city-wide prostitution sweep and were not intended to target gay men. "Most [Lesbian, Gay, Bisexual and Transgendered Network] people are reluctant to report incidents to police for fear of not being taken seriously," Park said.
Montgomery also cited coalition statistics that reveal 50 percent of gays who reported bias attacks often feel mistreated or re-victimized when reporting to police. Other coalition statistics go further, reporting that of last year's 1,900 documented anti-gay incidents, the offender was a member of law enforcement in 285 cases.
While Montgomery focused more on police-gay interaction nationally, Amnesty International researcher Adrian Sanchez discussed the findings of a report he authored on the poor treatment of LGBT people in Ecuador. Sanchez' report "Ecuador: Pride and Prejudice," detailed arbitrary detentions, torture, police inaction and homophobic harassment.
Duque brought a more sanguine perspective as he spoke of gay pride and police relations in Queens and Latin America. "Jackson Heights has the largest Latino gay population in the U.S., and it has existed since the '60s," he said. He noted that the last five to 10 years have seen a "tremendous rise" in gay rights activism over the Internet as networks of activists communicate globally. He said while resources for gay people are generally scarce in Latin America, Brazil and Argentina, both have strong gay rights movements.
Duque noted that an anti-gay killing in Jackson Heights last year may have improved relations between police and the LGBT community. Edgar Garzon, a gay Latino man, was beaten by an unidentified suspect in August. Garzon, 35, remained in a coma for more than two weeks before dying. "The relationship between the gay community and the 115th precinct is pretty good; [police] made a good effort at trying to reach out to the gay community – especially after Eddie was attacked," Duque said.
Dion Small, 33, a gay man from the Bronx, said gays can at times be unwilling to involve themselves in issues that don't affect them. "There's a need to increase gay activism in the city and not just in Queens," he said." The panelists said improved police relations start with early education of children to address issues such as gender identity, sexual orientation and gay tolerance. Montgomery offered this assessment of the gay pride movement: "The U.S. is no further ahead or behind the rest of the world when it comes to gay rights."
Alan Krawitz is a freelance writer.
This article originally appeared in the 9 July 2002 issue of Newsday.