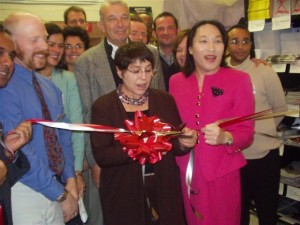 GMHC Expands Legal Reach to Queens
Pride House in Woodside home to effort focused on new Americans
By Matthew Coleman
Gay City News
1-7 November 2002
Gay Men's Health Crisis (GHMC) opened a new legal services program this week in Queens in cooperation with Queens Pride House and the City University of New York School of Law. The clinic, named GMHC@Queens Pride House, is positioned to help the borough's under-served communities. The Woodside-based clinic, which offers a variety of services, specializes in providing free legal assistance for people living with "a triple whammy," according to Ana Oliveira, executive director of GMHC.
"The triple whammy refers to people who are LGBT, HIV positive, and undocumented immigrants," Oliveira said. "These are all obstacles to becoming a legal immigrant. Unfortunately, immigrants who are HIV-positive are at greater risk of deportation. This program will help advise people of their rights and assist with legal issues, such as deportation and naturalization."
The legal clinic, which has been operating for the past two months, officially opened October 29 with a ribbon-cutting ceremony at Pride House. City Councilmember Helen Sears cut the ribbon and spoke of the need for these services in Queens. "It's important to have such a program here at Pride House," Sears said. "The storefront location lends itself to the sense of community these services will attract."
The clinic is staffed with a paralegal, an intern from the CUNY Law School, and an attorney from GMHC's Legal Services and Client Advocacy. The program provides legal assistance for a wide variety of services, including immigrant cases, discrimination cases, landlord/tenant issues, estate planning, and family law. The location at 67-03 Woodside Avenue will serve the large, immigrant LGBT population in Woodside, Corona, and Jackson Heights. Translators of Spanish, Chinese, and other foreign languages are provided for clients.
"Many of the clients we serve live right here in Queens," Evelyn Tossas-Tucker, director of GMHC Legal Services and Client Advocacy, said. "Many of them are not comfortable going into Manhattan for GMHC's legal services. This location is really an extension of our services already offered by GMHC."
Pauline Park, a secretary at Queens Pride House and a representative of the New York Association for Gender Rights Advocacy, agreed that the program is important to the area. "We're delighted to expand much-needed legal services for a marginalized population," she said. "These services are desperately needed here. In addition to legal assistance, the clinic will help promote greater awareness and acceptance of people living with HIV/AIDS in the area."
Like Oliveira's "triple whammy," Park also spoke of the added stigma of LGBT immigrants living with HIV/AIDS feel in accessing services from mainstream providers. "Often, people are so fearful of this stigma that it prevents them from venturing beyond their local communities for much help," Park said. "The free clinic will address those concerns by offering an alternative right where the people
reside."
Queens Pride House was formed in 1996 to provide a safe space for LGBT individuals and to meet the special needs of populations, such as youth, women, and immigrants, who are often insufficiently supplied with services. Pride House and GMHC officials agreed that the clinic was a logical and important step toward reaching that goal. "As GMHC widened its scope over the years, we have gotten more involved with immigrant rights," Marty Algaze, director of communications for GMHC, said. "Queens has a large ethnically diverse immigrant community. There is a real need in this neighborhood for these services."
Funding for these free services comes from GMHC, the nation's first AIDS services association, and the Stonewall Community Foundation, an LGBT advocacy organization.
In addition to on-site legal assistance, the program anticipates working with other local organizations, such as AIDS Center Queens County and Safe Haven, in providing services in Queens through cooperation and referrals.
The legal clinic at Queens Pride House is open Fridays from 10 a.m. to 5 p.m. Call 718.651.4945 or 212.367.1040 or visit www.queenspridehouse.org or www.gmhc.org.
This article originally appeared in the 1-7 November 2002 issue of Gay City News.