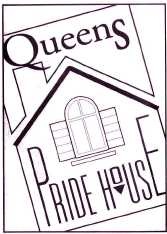 Woodside clinic offers legal aid to HIV patients
By Dustin Brown
Times-Ledger
10.24.2002
For people in Queens who are living with HIV, the options for finding legal guidance are limited.
Although they could find free services by going into Manhattan, job and family commitments often stand in the way. While legal clinics in their neighborhoods may cater to their communities, HIV can be a taboo subject they are afraid to broach because of possible discrimination.
Now a small storefront that is off the beaten path in Woodside — yet still within a thriving immigrant community — has introduced the borough's first legal clinic to help people who are infected with the virus that causes AIDS.
Queens Pride House is partnering with the Gay Men's Health Crisis, the oldest AIDS organization in the country, to provide free legal assistance every Friday out of its offices at 67-03 Woodside Ave.
"The partnership will enable us to better serve the needs of LGBT (lesbian, gay, bisexual and transgendered) people in Queens, including people who are HIV positive, many of whom are recent immigrants or people of color," said Pauline Park, the secretary of Queens Pride House. "That's a population that is generally reluctant to seek legal services within their communities of origin because of fears of discrimination."
The legal clinic, which has been operating since Sept. 15, will officially open Tuesday night at 7 p.m. in a ribbon-cutting ceremony and reception with City Councilwoman Helen Sears (D-Jackson Heights).
The center is designed to cater to the people who are most difficult to reach. A typical client would be a closeted bisexual or gay man with limited English proficiency "who is afraid to seek social services, who is afraid to have an HIV test, who is afraid to get legal counseling about the implications of that," Park said.
"They're the ones who need the services most and they're the most reluctant to come forward," she continued. "That's really who we hope to reach."
People can set up appointments to visit Queens Pride House and consult with an attorney from GMHC, which investigates the situation and helps the client navigate through the legal issues.
"If you're HIV-positive and you're, let's say, an immigrant or undocumented, or you have a housing problem or you have a family issue, there are certain things that the law will help you with," said Evelyn Tossas Tucker, the legal director at GMHC.
Although the agency already offers such services in its Manhattan offices, the legal clinic in Queens provides access to a broader range of people.
"If you're closer to the people in the community, it makes it a little easier for them, more convenient," Tucker said.
Because many people still view AIDS as a disease that exclusively afflicts gay white men — the population that was hardest hit when the epidemic first surfaced more than two decades ago — minorities and immigrants often fail to recognize that they are at risk themselves, Park said.
"They may say … 'I just don't hang out with people who are likely to have AIDS,'" Park said. "That's really extremely dangerous because anyone can be HIV-positive or become infected or transmit the virus."
Although the service is provided in an LGBT community center, Park believes the site affords the anonymity many people desire because it is not in a heavily trafficked area.
"It's a convenient location, but it's a little bit removed," Park said. "The fact that it's not part of a visible commercial strip, that is in effect the Main Street for one of the immigrant communities, is helpful."
This article originally appeared in the 24 October 2002 issue of the Times-Ledger papers.