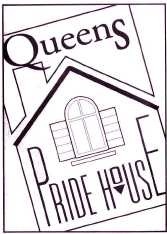 Queens Pride House condemns gubernatorial candidate Paladino for homophobic statements
For more info., contact:
Pauline Park
Daniel Castellanos
Queens Pride House
76-11 37th Ave, Suite 206
Jackson Heights, NY 11372
(718) 429-5309
(718) 424-4003
12 October 2010, Jackson Heights, NY — Queens Pride House — the only center for the lesbian, gay, bisexual and transgender (LGBT) community of Queens — has issued a statement condemning Carl Paladino for statements he made denigrating members of the LGBT community.
"Carl Paladino's outrageous invective against members of the LGBT community demonstrate clearly his homophobic bias and his complete disregard for common decency," said Pauline Park, president of the board of directors of Queens Pride House. "We call on all responsible elected officials and community leaders in Queens to condemn Paladino's bigoted and reprehensible statements," she added.
"I just think my children and your children would be much better off and much more successful getting married and raising a family, and I don't want them brainwashed into thinking that homosexuality is an equally valid and successful option — it isn't," Paladino declared at a press conference in Brooklyn on October 10.
"Queens Pride House is a 501(c)(3) organization, and we do not endorse candidates for elective office," noted Daniel Castellanos, executive director of the not-for-profit based in Jackson Heights. "But we believe that as the only LGBT community center in Queens, we have not only a right but an obligation to speak out against homophobia and bigotry in the public arena," Castellanos said in condemning the candidate for governor of New York who is running on both the Republican and Conservative Party lines. "Paladino's homophobic comments would be unacceptable at any time, but coming as they do after news of horrific hate crimes against LGBT youth in the Bronx and the suicides of several gay teens just in the last week, they are as incredibly insensitive as they are obviously bigoted," added Castellanos.
"Paladino's defense that he is speaking from Catholic faith is as outrageous and indefensible as the orignal comments themselves," declared Charles J. Ober, treasurer of the the Queens Pride House board of directors. "There are many Catholics and other people of faith who strongly support full inclusion of LGBT people in their communities of faith as well as full equality under law — including marriage equality," added Ober, a practicing Roman Catholic and a member of Dignity, the organization for LGBT Roman Catholics; Ober once served on the board of directors of its New York City chapter.
"It is statements just like these from elected officials and candidates for office that create an environment of hostility for LGBT people, including LGBT youth many of whom are just coming out," said Park, who negotiated full inclusion of gender identity in the Dignity for All Students Act, a safe schools statute enacted by the New York state legislature in June and signed into law by Gov. David A. Paterson on September 8. "And Paladino's ridicule of LGBT pride parades also shows his ignorance of the empowering impact that attendance at and participation in such events," added Park, who in 2005 became the first openly transgendered grand marshal of the New York City Pride March — the nation's oldest and largest.
Queens Pride House is a non-profit organization based in the borough of Queens. Founded in 1997, QPH serves the lesbian, gay, bisexual, and trans communities in Queens by increasing access to LGBT-friendly health and social resources, heightening political awareness, building community, and advocating for more comprehensive services. Operating as an LGBT community center, Pride House provides many services. QPH runs a health referral hotline and drop-in center which links participants to resources within their own communities, allows participants to access resources for themselves by offering free computer and internet services, and provides safe spaces for LGBT-identified people to gather.
QPH facilitates several support groups that decrease social isolation and increase education about health-related issues, resulting in increased overall general health of the population served. The monthly workshops offered by QPH address LGBT-related health issues, develop the skills and leadership of participants, and promote collaboration among participants and other community-based organizations. QPH also offers monthly social events and movie nights, which give questioning, curious, or closeted people a non-threatening way to access the community center and services, thereby decreasing some of the barriers to wellness that LGBT people face. Queens Pride House is a member of the National Association of Lesbian, Gay, Bisexual, and Transgender Community Centers. QPH is also a member of the LGBT Health and Human Services Network of New York State, through which it advocates for funding for LGBT programs and services in Queens.
# # # #