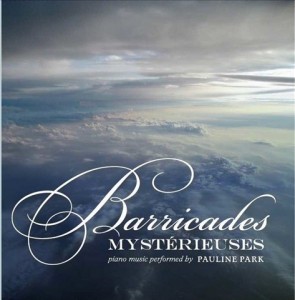 Barricades Mystérieuses
piano music performed by Pauline Park
1) Couperin: Les Barricades Mystérieuses (1713) (2:46)
2)  Bach: Goldberg Variations: aria (sarabande) (BWV 988) (1741) (1:45)
3) Bach: Goldberg Variations: #7 (giga) (1741) (1:09)
4) Bach: Goldberg Variations: #13 (sarabande) (1741) (2:51)
5) Bach: Goldberg Variations: #30 (quodlibet) (1741) (1:10)
6) Bach: Sarabande (Partita in B-Flat Major) (1726) (2:17)
7) Beethoven: Sonata No.8 in C minor ('Pathétique')(Op. 13): adagio cantabile (1798) (4:29)
8) Schumann: Von fremden Ländern und Menschen (Kinderszenen) (Op. 15, No. 1) (1838) 1:48
9) Schumann: Traümerei (Kinderszenen)(Op. 15, No. 7) (1838) (2:09)
10) Chopin: Nocturne in E-flat major (Op. 9, No. 2) (1833) (4:09)
11) Chopin: Nocturne in D-flat major (Op. 27, No. 2) (1837): (6:24)
12) Chopin: Prelude in C minor (Op. 28, No. 20) (1839) (1:28)
13) Brahms: Intermezzo (Op. 118, No. 2) (andante teneramente) (1893) (6:12)
14) Brahms, Waltz in A-flat major (Op. 39, No. 15) (1865) (1:43)
15) Dvorak: Humoreske, Op. 101, No. 7 (1894) (3:16)
16) Massenet: Meditation (Thaïs) (1894) (4:01)
17) Elgar: Nimrod (Enigma Variations, Op. 36, No. 9) (1899) (2:32)
18) Debussy: Les sons et les parfums tournent dans l'air du soir (Préludes, premier livre) (1910) (4:20)
19) Puccini, Quando m'en vo (La Bohème) (1896) (2:22)
20) Puccini: O mio babbino caro (Gianni Schicchi) (1918) (1:39)
21) Carmichael: Stardust (1929) (2:48)
22) Blow the Wind Southerly (English folk song) (0:56)
23) Arrane Ny Vlieaun (Manx folk song) (1:32)
24) Péarla an Bhrollaigh Bháin (The Snowy Breasted Pearl) (Irish folk song) (1:09)
25) The Water is Wide (Waly, Waly) (Irish folk song) (1:26)
Barricades Mystérieuses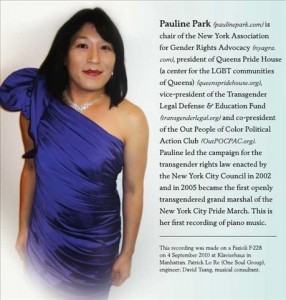 program notes
1) Couperin: Les Barricades Mystérieuses (2:46)
François Couperin (1668-1733) was the Johann Sebastian Bach of France, the most illustrious scion of a musical dynasty of organists and composers. 'Couperin le Grand' is considered the greatest of the French Baroque 'clavecinistes' (composers for the harpsichord) and he significantly influenced Bach's French style (as exemplified in the sarabande from his Partita in B-flat Major). "Les Barricades Mystérieuses" is one of Couperin's most celebrated compositions and comes from the sixth order (6ème ordre) or collection of pieces of the second book (second livre) of works for harpsichord, published in 1713 near the end of the reign of Louis XIV, at whose court Couperin served as organist in the Chapelle Royale. Written in 'rondeau' style, "Les Barricades Mystérieuses" alternates the initial theme with a series of different contrasting responses to that theme, with the initial theme triumphantly restated at the conclusion of the piece. Couperin utilizes the 'style brisé' (broken style) in which the arpeggiation is divided equally between left and right hands. But what precisely did Couperin mean by 'Barricades Mystérieuses'? Some have suggested that the title refers to the habit of some at the court of the Sun King to wear masks to disguise themselves at elaborate masked balls, the masks being 'barricades' to their recognition and means by which the masked revelers maintained the mystery of their identities. "We will never really know what Couperin had in mind," Philippe Beausant writes in his 1980 biography of the composer. Couperin was fond of unusual titles, and as with so many other of his titles, "Barricades Mystérieuses" is suggestive and evocative without ever directly indicating the object of its contemplation. As I play this piece, the 'barricades mystérieuses' appear to me to be the impediments that life itself erects as challenges for us to overcome, some of which are 'mysterious' because they confound our understanding. As I read it, then, "Les Barricades Mystérieuses" is an essay on life itself. The penultimate section of the piece may be the most important clue: this section (beginning at 1:45 and ending at 2:16) has a plangent quality that suggests deep sorrow and even tragedy. But the poignant penultimate response to the initial theme has its own response in a triumphant restatement of the opening theme, suggesting that the cycle of life, whatever sorrow and tragedy it may encompass, comes to its close with a restatement of its original them, but this time with a full recognition of its significance. It is in the spirit of this profound meditation on life that I have entitled this disc "Barricades Mystérieuses."
2)  Bach: Goldberg Variation: aria (sarabande) (1741) (1:45)
As his first biographer J.N. Forkel tells the story, Johann Sebastian Bach (1685-1750) briefly stayed with the insomniac Count Keyserlingk, who asked Bach to to compose something that the young harpsichordist Johann Gottlieb Goldberg could play in the wee hours when Keyserlingk was sleepless. Keyserlingk gave Bach a golden goblet of 100 louis d'or — possibly the highest fee he ever earned for a single composition. The 'Aria mit verschiedenen Veränderungen' (aria with different variations) was published in 1741 in the fourth part of the 'Clavierübung' (book of 'keyboard practice') (BWV 988) and is now universally regarded as the  greatest set of variations ever written for the keyboard. But unlike most such variations, these are actually a set of 30 variations on the ground bass rather than on the melody of the initial 'aria,' a sarabande from the Anna Magdalena Notebook. Unusually for the era, the composer carefully wrote out the ornamentation in detail. The ornamentation in the first half of the opening sarabande creates an almost extravagantly elaborate melodic line truly deserving the epithet 'Baroque' (thought to derive from the Portuguese word 'barocco,' used to describe an oddly shaped pearl), while the second half (beginning at 0:49) opens up to a more regular and expansive conclusion.
3) Bach: Goldberg Variations: #7 (giga) (1741) (1:09)
The seventh of the Goldberg Variations is a little jig ('giga' in Italian), beguiling in its simplicity and grace.
4) Bach: Goldberg Variations: #13 (sarabande) (1741) (2:51)
The thirteenth of the Goldberg Variations is — like the opening aria — a sarabande, the stateliest of the Renaissance dance forms that became models for Baroque keyboard compositions. This sarabande has a long and sinuous line, as suggestive as it is elegant, but with a reflective and almost meditative character.
5) Bach: Goldberg Variations: #30 (quodlibet) (1741) (1:10)
The thirtieth of the Goldberg Variations is Bach at his most Bachian: solidly German in its chordal progressions and metrical regularity and yet full of humor and wit. The culmination of the entire set, this last and final variation is called a 'quodlibet,' a medley which quotes two popular folk tunes:
"Ich bin so lang nicht bei dir gewest…" (I have been so long away from you)
"Kraut und R ben haben mich vertrieben…" (Cabbage and beets have driven me away)
6) Bach: Sarabande (Partita in B-Flat Major) (1726) (2:17)
The sarabande from the Partita in B-Flat Major is Bach at his most French, showing the influence of Couperin and the French clavecinistes; like the thirteenth of the Goldberg Variations, this sarabande has a reflective quality as well as a long, sinuous line, but with even more elaborate ornamentation, including two unusually long trills.
7) Beethoven: Sonata No.8 in C minor ('Pathétique')(Op. 13) (1798): adagio cantabile (4:29)
The Sonata No.8 of Ludwig van Beethoven (1770-1827) opens with a darkly passionate first movement (grave and allegro di molto e con brio) in C minor of almost demonic intensity, followed by a second movement marked 'adagio cantabile' (slowly and in a singing style) whose celebrated melody floats serenely over triplets. The adagio of the 'Pathétique' is classical in structure and tonality as well as being poised and even stately, but at the same time is thoroughly infused with the spirit of the early Romantic era.
8) Schumann: Von fremden Ländern und Menschen (Kinderszenen) (Op. 15, No. 1) (1838) (1:48)
Robert Schumann (1810-1856) wrote his "Album für die Jugend" (Op. 68) as an Album for Youth, but he saw his "Kinderszenen" (Scenes from Childhood) as "reflections of an adult for adults" (as he wrote in a letter written in 1848). In his 1997 biography, John Daverio says that "the 'Kinder' (children) in the title are none other than Robert and Clara themselves." And so these pieces, with what Daverio describes as their "self-consciously naive manner" — in the language of contemporary psychobabble — show the adult Schumann getting in touch with his 'inner child.' The set opens with "Von fremden Ländern und Menschen" (Of Foreign Countries and People), a wonderfully reflective piece used as the theme of the 1979 Australian film, "My Brilliant Career."
9) Schumann: Traümerei (Kinderszenen)(Op. 15, No. 7) (1838) (2:09)
The most famous of all of the "Kinderszenen" is "Traümerei" (Reveries), which evokes images of a young child sitting at the window daydreaming on a sunny afternoon. But the the apparent simplicity of this piece is the touchstone of its genius.
10) Chopin: Nocturne in E-flat major (Op. 9, No. 2) (1833) (4:09)
The nocturnes of Frédéric Chopin (1810-1849) are for some the quintessential Chopin. Like "Les Barricades Mystérieuses" of Couperin, this Nocturne in E-flat major is constructed in a form similar to the French Baroque 'rondeau,' with an initial theme, a contrasting theme, and repeated returns to the original theme. But unlike the Couperin rondeau, Chopin's nocturne is graced with an almost operatic Bellinian melody which is re-articulated each time with an ever more elaborate melodic line. Op. 9, No. 2 closes with a cadenza that ends in an extravagant trill before returning to the original key of E-flat major.
11) Chopin: Nocturne in D-flat major (Op. 27, No. 2) (1837): (6:24)
"The importance of the heterophonic texture for Chopin — the single melodic line simultaneously displayed in different rhythms in two voices of more — is that it preserves the supremacy of the Italian-style melody while allowing a richly interesting polyphonic development," Charles Rosen writes in "The Romantic Generation" (1995). "It also allows the accompaniment to become melody at any moment, and maintains the implicit existence of melody in the subsidary layers. The Nocturne in D-flat Major, Op. 27, No. 2, shows this art at its finest." Perhaps the biggest challenge is playing different metrical rhythms with the right and left hands simultaneously (as in the Brahms Intermezzo in A). But to those who can meet that challenge, the Nocturne in D-flat offers extraodinary rewards.
12) Chopin: Prélude in C minor (Op. 28, No. 20) (1839) (1:28)
The Prélude in C minor is a funeral march whose somber gravity is perhaps all the more intense because of its extreme brevity as well as the extremes of volume from the opening fortissimo to the closing pianissimo.
13) Brahms: Intermezzo (Op. 118, No. 2) (andante teneramente) (1893) (6:12)
Johannes Brahms (1833-97) was 60 years old when he wrote the Intermezzo in A major. Composed only a few years before Brahms' death, the Intermezzo in A has an autumnal quality that to me suggests an old man reflecting on life and love.
14) Brahms, Waltz in A-flat major (Op. 39, No. 15) (1865) (1:43)
In contrast to the Intermezzo, Op. 118, No. 2, the Waltz in A-flat major was written by a young man of 22; but the waltz's melodic inspiration and lithe elegance raises it to a level far above that of the average salon piece written for a Biedermeier (19th century German bourgeois) sensibility.
15) Dvořák, Humoreske, Op. 101, No. 7 (1894) (3:16)
Antonín Dvořák (1841-1904) included eight Humoreskes in his Op. 101, but everyone understands that 'the Dvořák Humoreske' means No. 7, and the tune is familiar even to those who have never heard of the great Czech composer. Written in Bohemia in 1894, the Humoreske begins with a lilting theme in G-flat major as lithe as a little bird gently skipping across the keys, followed by a lyrical second theme that evokes 19th century Mitteleuropa in all its Gemütlichkeit.  Dvořák then introduces a darker theme in the distant key of F-sharp minor before returning to the original theme and then concludes with the soaring second theme to conclude this miniature, the very epitome of nostalgic reminiscence in music.
16) Massenet, Meditation (Thaïs) (1894) (4:01)
Jules Massenet (1842-1912) only sporadically rose to the level of inspiration of his masterpiece, the 1884 opera "Manon." The Andrew Lloyd Webber of his age, Massenet was a schlockmeister who knew how to appeal to the popular tastes of his day, and "Thaïs" was his "Jesus Christ Superstar" — an opera whose central character is a fallen woman redeemed through religious experience. Amidst the rather mediocre quasi-religious eroticism of the score, there is one great inspiration: the 'Meditation' for solo violin accompanied by orchestra (played here in an a transcription for piano).
17) Elgar: Nimrod (Enigma Variations, Op. 36, No. 9) (1899): (2:32)
The 'Variations on an Original Theme for Orchestra' of Sir Edward Elgar (1857-1934) are universally known as the 'Enigma Variations,' and the ninth is the most frequently excerpted of all. The most beloved of all the variations, 'Nimrod' is a deeply felt and moving adagio movement that is often played at funerals, perhaps because it suggests something of the finality of death as well as the possibility of transfiguration.
18) Debussy, Les sons et les parfums tournent dans l'air du soir (Préludes, premier livre) (1910) (4:20)
Claude Debussy (1862-1918) was inspired to write this Prélude by a line from "Harmonie du soir" (Evening Harmony), a poem from Charles Baudelaire's "Fleurs du Mal" (Flowers of Evil), one of the great works of French 19th century poetry, which begins with these lines:
"Voici venir les temps où vibrant sur sa tige, Chaque fleur s'évapore ainsi qu'un encensoir; Les sons et les parfums tournent dans l'air du soir;
Valse mélancolique et langoureux vertige!" (The season is at hand when swaying on its stem. Every flower exhales perfume like a censer; sounds and perfumes turn in the evening air; melancholy waltz and languid vertigo!)
This most evocative of Debussy's Préludes is an essay in sonority, with the composer calling upon the pianist to utilize the sonic resources of the instrument — the piece ending with a low A, the very lowest note on the piano keyboard. The section beginning at 2:46 and ending at 3:09 is meant to evoke the sound of the Javanese gamelan, which captivated Debussy when he first heard one at the 1889 Exposition Universelle in Paris.
19) Puccini, Quando m'en vo (La Bohème) (1896) (2:22)
Giacomo Puccini (1858-1924) wrote three works that are in the repertoire of virtually every opera house in the world: "La Bohème," "Tosca" and "Madama Butterfly." The most charming character in his opera about Bohemian life in 19th century Paris is the flirtatious Musetta, who congratulates herself on her own beauty in this irresistibly seductive waltz.
20) Puccini, O mio babbino caro (Gianni Schicchi) (1918) (1:39)
Set in Florence in 1299, "Gianni Schicchi" is Puccini's only comedy, the third one-act opera in the triptych ("Il Trittico") that premiered at the Metropolitan Opera in New York in December 1918. "O mio babbino caro" (O, my dear Daddy) is a lyrical aria that is in contrast to the rapid fire recitative of the rest of the opera, with Lauretta threatening to throw herself in the Arno River if her father does not allow her to marry her beloved Rinuccio. One of Puccini's greatest melodic inspirations, the aria was popularized in the 1985 Merchant-Ivory film, "Room With a View" (based on the 1908 novel by E.M. Forster).
21) Carmichael, Stardust (1929) (2:48)
Hoagland Howard 'Hoagy' Carmichael (1899-1981) wrote a host of songs that have become classics, including "Georgia on My Mind" (1930), "Heart and Soul" (1938), and "Skylark" (1941); but perhaps the greatest of all of these  is "Stardust." Composed in 1927, it was not until 1929 that the song became a hit when Mitchell Parrish wrote lyrics for it.  Since then, "Stardust" has been recorded over 1,500 times and has been firmly established in the 'great American songbook' and as a jazz standard inspiring endlessly inventive improvisations.
22) Blow the Wind Southerly (English folk song) (0:56)
Most traditional folk songs such as "Blow the Wind Southerly" have no known 'composer.' This Northumbrian folk song is a musical breath of fresh sea air. The great English contralto Kathleen Ferrier recorded the song a cappella in 1951 and it was her deeply moving rendition that inspired me to create this arrangement for the piano.
23) Arrane Ny Vlieaun (Manx folk song) (1:32)
Manx Gaelic is one of the Celtic languages closest to extinction, and few on the Isle of Man still speak it. The singer of this Manx milking song offers to bless the cow she's milking with "the grace of the Father, Son and Holy Ghost and also the Blessed Mary" if her old cow will give her more milk. The arrangement of "Arrane Ny Vlieaun" that I play here is more or less the one I found in a 1975 collection of "Folksongs of Britain and Ireland" (edited by Peter Kennedy and published by Cassell), but with small changes and minor elaborations.
24) Péarla an Bhrollaigh Bháin (The Snowy Breasted Pearl) (Irish folk song) (1:09)
"Péarla an Bhrollaigh Bháin" (The Snowy Breasted Pearl) is a love song that I found in "Ballads from the Pubs of Ireland," a collection of songs edited by James N. Healy and published by Ossian (in association with Mercier Press) in 1996. What I play here is an elaboration on the arrangement that I found in that book, balancing the lilting melody with the weight of the chords and the harmonic progression in order to bring out the song's simple grandeur.
25) The Water is Wide (Waly, Waly) (Irish folk song) (1:26)
"The Water is Wide" (also known as "Waly, Waly") is one of the most famous of all Irish folk songs. Here I play my own reinterpretation of an arrangement from "Jerry Silverman's Folk Song Encyclopedia" (Vol. 1, edited by Beverly Tillett and published in 1975 by Chappell Music). The original songwriter's name is lost in the sands of time, but the song has retained its power to speak across the centuries, and I suspect it will be sung and played as long as there are human beings on this earth to sing and play it.
This recording was made on a Fazioli F-228 on 4 September 2010 at Klavierhaus in Manhattan. Patrick Lo Re sound, engineer; David Tsang, musical consultant.
Recording, program notes and design copyright Pauline Park 2010; all rights reserved. For more information about the music on this CD, including the lyrics to the songs and arias, see www.paulinepark.com.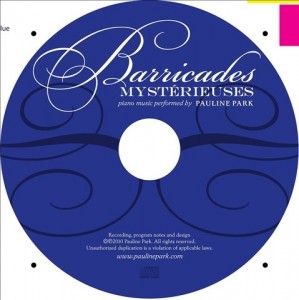 Appendix: song lyrics
19) Puccini, Quando m'en vo (La Bohème)
Quando men vo soletta per la via,
La gente sosta e mira
E la bellezza mia tutta ricerca in me
Da capo a pie'…
Ed assaporo allor la bramosia
Sottil, che da gli occhi traspira
E dai palesi vezzi intender sa
Alle occulte beltà.
Così l'effluvio del desìo
tutta m'aggira,
Felice mi fa!
E tu che sai, che memori e ti struggi
Da me tanto rifuggi?
So ben: le angoscie tue non le vuoi dir,
Ma ti senti morir!
When I walk all alone in the street
People stop and stare at me
And look for my whole beauty
From head to feet.
And then I taste the slight yearning
which transpires from their eyes
and which is able to perceive from manifest charms
to most hidden beauties.
So the scent of desire is all around me, it makes me happy!
And you, while knowing, reminding and longing, you shrink from me?
I know it very well: you don't want to express your anguish, but you feel as if you're dying!
(translation: Giuseppe Cusmano)
20) Puccini, O mio babbino caro (Gianni Schicchi)
O mio babbino caro,
mi piace, è bello bello,
vo'andare in Porta Rossa
a comperar l'anello!
Si, si, ci voglio andare!
E se l'amassi indarno,
andrei sul Ponte Vecchio
ma per buttarmi in Arno!
Mi struggo e mi tormento,
O Dio! Vorrei morir!
Babbo, pietà, pietà!
Babbo, pietà, pietà!
Oh my dear father,
I like him, he is very handsome.
I want to go to Porta Rossa
to buy the ring!
Yes, yes, I want to go there!
And if my love were in vain,
I would go to Ponte Vecchio
and throw myself in the Arno!
I am pining and I am tormented,
Oh God! I would want to die!
21) Carmichael, Stardust (lyrics by Mitchell Parrish)
And now the purple dusk of twilight time
Steals across the meadows of my heart
High up in the sky the little stars climb
Always reminding me that we're apart
You wander down the lane and far away
Leaving me a song that will not die
Love is now the stardust of yesterday
The music of the years gone by
Sometimes I wonder why I spend
The lonely night dreaming of a song
The melody haunts my reverie
And I am once again with you
When our love was new
And each kiss an inspiration
But that was long ago
Now my consolation
Is in the stardust of a song
Beside a garden wall
When stars are bright
You are in my arms
The nightingale tells his fairy tale
of paradise where roses grew
Though I dream in vain
In my heart it will remain
My stardust melody
The memory of love's refrain
22) Blow the Wind Southerly (English folk song)
Blow the wind southerly, southerly, southerly,
Blow the wind south o'er the bonny blue sea;
Blow the wind southerly, southerly, southerly,
Blow bonnie breeze, my lover to me.
They told me last night, there were ships in the offing,
And I hurried down to the deep rolling sea,
But my eye could not see it wherever might be it
The bark that is bearing my lover to me.
Is it not sweet
to hear the breeze singing
As lightly it comes
o'er the deep rolling sea?
But sweeter and dearer
by far 'tis when bringing
The bark that is bearing my true love
in safety to me.
23) Arrane Ny Vlieaun (Manx folk song)
Cur dty vainney, cur dty vainney
Choud as miss ta goaill arrane
Lhig yn curn nish roie harrish
Lesh dty vainney, my voa veen
Bannaght Jee mish cur orts nish
Ayr as Mac as Spyrryd Noo
As Moirrey Bannit bishee
Dty vainney, my voa
Mie dty vainney, mie dty vainney
Lesh kay son yn eeym
Jean dty chooidshare dy chur dou palchey
As yiow uss tooilley oarn
Give your milk, cow, give your milk, cow
While I sing my song to you
Let the milk-churn fill and spill now
With your milk now, my dear old cow
Grace of God, I'll put upon you
Father, Son and Holy Ghost
And also Blessed Mary
Give more milk now, my old cow
Yours is good milk, fine and healthy
From the butter there'll be cream
Do your best to give me plenty
Then your barley share you'll gain
24) Péarla an Bhrollaigh Bháin (The Snowy Breasted Pearl)
Tá cailín deas am chrá
Le bliain agus le lá
'S ní fhéadaim a fáil le bréaga;
Níl aiste chlis le rá
Dá gcanaid fir le mná
Nár chaitheamhar gan tábhacht lé-si,
Don Fhrainc nó don Spáinn
Dá téadh mo ghrá,
Go raghainn-se gach lá dá féachain;
'S maran dúinn atá i ndán
An ainnir chiúin seo d'fháil,
Och! Mac Muire na ngrás dár saora!
Is a chailín chailce bhláith,
Dá dtugas searc is grá,
Ná tuir-se gach tráth dhom éara;
'S a liacht ainnir mín 'n-a láimh,
Dá ngabhaimis id áit-se céile.
Póg is mile fáilte
Is barra geal do lámh
'Sé ' n-iarrainn-se go bráth mar spré leat;
'S maran domh-sa taoi tú i ndán,
A phéarla an bhrollaigh bháin,
Nár thí mise slán ón aonach!
There is a pretty girl tormenting me
For a year and for a day,
And I cannot win her by cajolery;
There is no clever poem that could be mentioned
Of the kind that men compose for women
That I have not vainly tried with her
to France or to Spain If my love should go,
I would fare every day to see her,
And if it be not my destiny
To win this modest maid,
Oh! may Mary's Son of graces save me!
And O gentle pale girl
To whom I have given passionate love,
Do not keep ever refusing me;
There are many fair maids that seek me,
Who possess cattle and treasure,
If I would take them to wed in your place.
A kiss and a thousand welcomes,
And the white tips of your fingers,
Are all that I would ever ask as a dowry with you;
And if you are not fated to be mine, O pearl of the white bosom,
May I not return from the fair!
25) The Water is Wide (Waly, Waly)
There are many different versions of the lyrics to this song, among the most popular being this one:
The water is wide, I cannot get o'er.
And neither have I the wings to fly.
Build me a boat that can carry two,
And both shall row, my love and I.
A ship there is and she sails the seas.
She's loaded deep, as deep can be;
But not so deep as the love I'm in
And I know not if I sink or swim.
I leaned my back against a young oak
Thinking he was a trusty tree
But first he bended and then he broke
Thus did my love prove false to me.
O love is handsome and love is kind
And love's a jewel while it is new
But when it's old it groweth cold
And fades away like the morning dew.