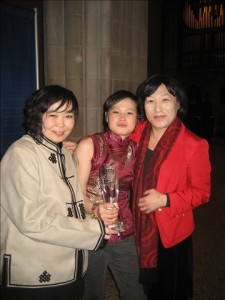 Anaraa Nyamdorj & Munkhzaya Nergui
of the Mongolian LGBT Centre
with Pauline Park at the 2011 Celebration of Courage
Mongolian Courage & LGBT Community
Advocating on behalf of the lesbian, gay, bisexual and transgender is difficult work everywhere; but imagine doing LGBT activism in the face of death threats. That's precisely what the members of the staff and board of directors of the Mongolian LGBT Centre do. In the face of threats and even physical assault, the Centre's members work tirelessly to make their country safer for a marginalized community whose members face pervasive discrimination, harassment, abuse and violence.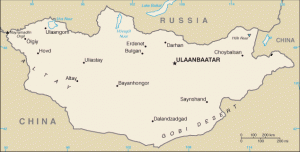 Doing queer activism in Mongolia means taking your life into your own hands. In Mongolia, the first person to transition and come out as transgendered was kidnapped by thugs from Dayan Mongol (an extreme right-wing ultranationalist group) and stuffed into a trunk with a transgendered friend of hers, driven to a remote cemetery, ordered to perform sex acts, and nearly beaten to death; she was warned to take down her blog site and cease and desist from activism or she would be killed. When a clip from a documentary made by the Mongolian LGBT Centre was aired on national television, the same thugs issued a death warrant, and she had to flee the country.
Fortunately, with the help of the Centre, she is now safe and completing her transition in the Netherlands, which granted her asylum. But there are currently no openly transgendered people in Mongolia doing transgender activism in the wake of her flight from the country of her birth. In spite of a lack of sufficient funding and in the face of constant threats of violence from ultranationalist groups that spray paint swastikas all over Ulaan Baatar, the Mongolian LGBT Centre continues to do the important work of advocating on behalf of an extremely marginalized community.

The International Human Rights Commission (IGLHRC) recognized the Mongolian LGBT Centre's important work by conferring on it the Felipa de Souza Award at its 2011 Celebration of Courage gala in New York City on March 7. I was honored to be invited to join the host committee for Celebration of Courage 2011
I was even more honored to meet Anaraa Nyamdorj and Munkhzaya Nergui at the forum held at the LGBT Community Center in Manhattan on March 4 and to spend time with them after the IGLHRC gala on March 7. Anaraa and Zaya are the voices of the voiceless in Mongolia, doing vital activism and advocacy work in the face of constant and very real threats of violence. As Anaraa said in accepting the Felipa de Souza Award with Zaya on behalf of the Centre, "We Mongolians once conquered half the world; now, we are working to conquer hate."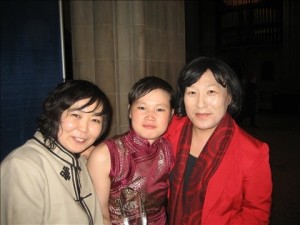 Anaraa and Zaya: the face(s) of Mongolian courage…