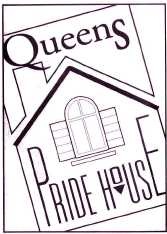 FOR IMMEDIATE RELEASE
For more info., contact:
Peter Pavich
Interim Executive Director
(718)429-5309
pnp8@hotmail.com
PPavich@queenspridehouse.org
Pauline Park
President, Board of Directors
(718) 424-4003
(718) 662-8893
paulinepark@earthlink.net
PPark@queenspridehouse.org
Queens Pride House
76-11 37th Avenue, Suite 206
Jackson Heights, NY 11372
(718) 429-5309
http://www.queenspridehouse.org/
New York, 15 March 2011 — Queens Pride House, the borough's only lesbian, gay, bisexual and transgender community center, is calling for strong action in response to a hate crime that took place in Woodhaven on Saturday.
"We at Queens Pride House are saddened by the tragic loss of life and sickened by the hate motivating this murder," said interim executive director Peter Pavich in response to the killing of 18-year-old Anthony Callao, allegedly by four suspects now under arrest – Alex Velez, 16, of the Bronx, and Nolis Ogando, Christopher Lozada and Luis Tabales, all 17 and from Queens. The four youths are alleged to have come uninvited to a party at a house on 90th St. in Woodhaven and then attacked a number of individuals at the party, including Callao, who died of his injuries at Jamaica Hospital on Monday.
"Such violence and hate have no place in our borough," added Pavich, who was appointed interim executive director in January.
"In the last few years, there have been a number of hate crimes against LGBT people, including transgendered women of color," said Pauline Park, president of the board of directors. "We call upon the police to fully investigate this crime in order to determine the extent to which homophobic hate motivated the perpetrators to kill Anthony Callao," added Park, who participated in the campaigns for enactment of the 2010 New York State Dignity for All Students Act and the 2004 New York City Dignity in All Schools Act, legislation that seeks to address bias-based harassment in public schools.
"Unfortunately, there are many parts of the borough where LGBT people do not feel safe being openly lesbian, gay, bisexual, or transgendered," noted board treasurer Charles J. Ober. "A core part of the mission of Queens Pride House as an organization is to work to educate the public on the discrimination, harassment, abuse and violence that so many members of our community face on a daily basis," added Ober who, along with Park, was one of the original members who founded Queens Pride House in 1997.
Based in Jackson Heights, Queens Pride House serves the LGBT community of Queens by working to increase access to LGBT-friendly health and social resources, heightening political awareness, building community, and advocating for more comprehensive services. Queens Pride House provides social services and referrals in areas of counseling, youth services, substance abuse, immigration, employment, health care, and legal assistance as well as housing a library and media Center with material of interest to LGBT communities, and offering free computer and internet access during public drop-in hours. For more information about programs and services, go to:
http://www.queenspridehouse.org/