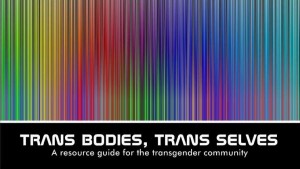 Trans Bodies, Trans Selves NYC Forum
Friday, March 18 · 7:00pm – 9:00pm
Bluestockings Books
172 Allen St
(Lower East Side, Manhattan)
Please join Joe Ippolito, Pauline Park, and other Trans Bodies, Trans Selves editors for this amazing event.
Trans Bodies, Trans Selves – a Transgender Resource Guide – to host coast-to-coast Community Involvement Forums to ensure all voices are represented in this revolutionary book project New York, NY — March 18th, 2011.
This tremendously exciting event will be taking place on Friday, March 18th, 2011 in Bluestockings at 172 Allen St New York, New York from 7-9pm.
Forums to follow in San Francisco (April 20th, 6-9 PM, SF LGBT Center), and in Portland, D.C., Philly, Atlanta, L.A., Chicago, Toronto, and others. This is just the beginning, so please contact TBTS if you would like to facilitate or volunteer at an event, or if you cannot attend (or there is no forum near where you live) but would like to advise for the book.
Trans Bodies, Trans Selves is a groundbreaking resource guide in-progress, being written by and for trans people. This book is a much-needed glimpse into the experiences of trans people and communities in the United States. Covering chapters that range from identities to understanding legal and medical systems, to relationships and sexuality, to youth, activism, and gender theory, this book will also include personal stories, responses from thousands of surveys completed online, and transgender historical tributes and art. With over thirty authors, and forty-five advisors and counting, Trans Bodies is hoping to tour the country to ensure all voices are heard and included in this book. All who are involved are volunteers and understand how important it is to carve out accessible spaces for marginalized communities to interact with the editors and authors and ensure the final draft is as inclusive and representative as possible.
As Joe Ippolito, co-author of the chapter on the Aging, notes, "As a transgender educator, clinician, writer and activist, I whole-heartedly recognize the need to field feedback from the larger gender variant and transgender community when tackling the process of putting together a book of this magnitude. Because this book is actually a resource guide for the Gender Variant/Transgender community, understanding the issues and concerns of our community is a paramount part of the process in order to ensure we are providing an accurate, realistic, and compassionate understanding of people's lived experiences."
"I'm very excited to be involved with the Trans Bodies, Trans Selves book project," said Pauline Park, chair of the New York Association for Gender Rights Advocacy (NYAGRA). "I'm also excited to be facilitating one of the workshops on the book. These workshops will be in the form of small group discussions facilitated by book chapter authors and will be an important way of engaging transgender community members in the project in order to have as many voices heard and as much input as possible during the writing of the book," added Park, who is writing the chapter on organizing along with Sadie-Ryanne Baker. "This project is a genuine community collaboration."
The team behind Trans Bodies, Trans Selves extends the invitation to all communities who identify with any of the issues within this publication, or as allies, to the New York City workshop that will kick off these coast-to-coast community involvement forums.
Please help us make this project represent you!
For information: www.transbodies.com/
Facebook: Trans Bodies, Trans Selves
Contact: info@transbodies.com Phone: 516-996-2586
***The venue is wheelchair accessible, but it does not have a wheelchair accessible bathroom bathroom or a fragrance/allergen-free policy***