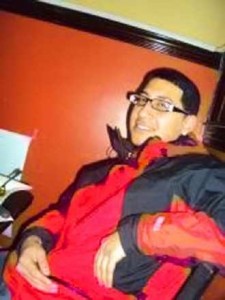 Anthony Callao's MySpace page profile photo
Officials: Teen beaten to death in hate crime
By Anna Gustafson, Assistant Editor
Queens Chronicle
3.17.2011
An 18-year-old died at Jamaica Hospital Medical Center Monday after four Queens teenagers allegedly screaming anti-gay slurs and wielding a chrome bat and a cane beat him on a sidewalk in Woodhaven, according to the NYPD and other officials. Police said they are treating the death of Anthony Collao, 18, as a hate crime after he was allegedly chased down by four teens after leaving a birthday party on 90th Street in Woodhaven early Saturday morning.
The four teens, two from Flushing and two from Woodhaven, reportedly screamed anti-gay slurs at the party, which they crashed, according to a statement from Council Speaker Christine Quinn (D-Manhattan) and a report from the Daily News. "Get the f— out of the front, this is my hood," one of the teens yelled at the party, according to the criminal complaint. Published reports stated Collao was not gay but that the hosts of the party were.
Quinn, Councilman Eric Ulrich (R-Ozone Park) and a host of other community activists denounced the attack. "My council colleagues and I are saddened and disturbed by this outrageous attack," Quinn said in a prepared statement. "We celebrate diversity in New York. We do not tolerate bias attacks in any neighborhood in Queens or anywhere else in our great city."
Collao, who police said lived in South Richmod Hill but who the Daily News reported being from Long Island, died after being taken off life support at Jamaica Hospital Medical Center, according to the NYPD.
Flushing residents Nolis Ogando, 17, and Christopher Lozada, 17, and Woodhaven residents Luis Tabales, 15, and Alex Velez, 16, were charged with manslaughter, gang assault and criminal possession of a weapon, according to Queens District Attorney Richard Brown.
The four were arraigned in Queens Monday night. Tabales was held on $200,000 bail, Lozada on $150,000 bail, and Velez and Ogando were each held on $100,000 bail, according to the DA.
Fresh Meadows attorney David Bart, who represented Velez and Lozada for the arraignment but is now only representing Velez, said his client plans to enter a not guilty plea. "Obviously I'm always willing to negotiate with the district attorney," Bart said.
Attorneys for the other defendants did not respond to phone calls for comment. The DA noted a fifth individual was involved in the killing, and police said they are looking for him.
"I was truly saddened to hear about the fatal attack in my district over the weekend," Councilman Eric Ulrich (R-Ozone Park) said in a statement. "My prayers go out to the young victim's family and friends. Our streets will not be safe until the individuals who are responsible for this heinous crime are brought to justice. Senseless acts of violence such as this will simply not be tolerated."
Police did not elaborate on the gang charge but neighbors living near the site of the alleged attack said they heard it was part of an initiation rite for a gang from Flushing. The killing has elicited strong responses from not only elected officials but community activists as well.
Individuals at the Jackson Heights-based Queens Pride House, the borough's only lesbian, gay, bisexual and transgender community center, called for strong action in response to the alleged crime.
"We at Queens Pride House are saddened by the tragic loss of life and sickened by the hate motivating this murder," said interim Executive Director Peter Pavic.
Pauline Park, president of the board of directors, too expressed her concern. "In the last few years, there have been a number of hate crimes against LGBT people, including transgendered women of color," Park said.
The four teenagers charged with the killing are due back in court on April 6.
This article originally appeared in the Queens Chronicle on 17 March 2011.