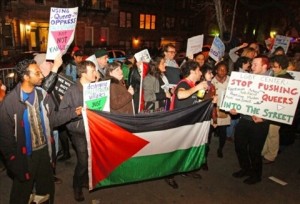 On 5 March 2011, LGBT supporters of Palestinian human rights protested the LGBT Community Center's cancellation of an Israeli Apartheid Week event scheduled for that evening.
The Israeli/Palestinian Conflict Breaks Out at the NYC  LGBT Community Center
Among the issues that Americans lump under the rubric of 'foreign affairs,' perhaps the most divisive and the most intractable is the Israeli/Palestinian conflict. Since the administration of Harry S. Truman recognized the new State of Israel in 1948, the United States has been caught up in the competing claims of the Jewish state and the Palestinian Arabs who lived in the land they call Palestine for centuries before Zionists began settling there in significant numbers in the 20th century.
Within the lesbian, gay, bisexual, and transgender (LGBT) community, the slogan "we are everywhere" is not only wonderfully true but painfully true as well, as LGBT people are found both among the Jewish Israeli and Palestinian and Arab populations living within the borders of the State of Israel. And LGBT people in the United States are found on both sides of the Israeli/Palestinian divide, scattered on a continuum from those who see Israel as the only legitimate claimant to the land between the Jordan River and the Mediterranean to those who believe that all of that land is the home of the Palestinian people alone. Many queer Americans, of course, are somewhere in between, recognizing as legitimate both the State of Israel and the aspirations of the Palestinian people. Perhaps a majority in the LGBT community in the United States is either frustrated to the point of giving up or apathetic after years of war and conflict.
Given the intense and even violent passions that the Israeli/Palestinian conflict can provoke, it is difficult to imagine any LGBT community center wanting to become entangled in it, but that is exactly what has happened to the Lesbian, Gay, Bisexual & Transgender Community Center of New York City.
And the story of how the Center became drawn into the Israeli/Palestinian conflict, despite the desire of its board and staff to avoid such entanglement — or perhaps because of it — is a cautionary tale for LGBT community centers and LGBT organizations and queer politics more generally — both in New York and beyond.
So how did this 'controversy' begin? It began with that most controversial of characters in the ensuing drama, Michael Lucas, a right-wing pornography mogul. Lucas was furious to discover that the Center had rented a room to the Siege Busters Working Group, which is calling for an end to the Israeli blockade of the Gaza Strip.  The group had contracted with the Center to rent space for 'a party to end Israeli apartheid,' a term that raised the hackles of the porn king. Lucas then threatened the Center with a boycott of donors if it did not cancel the Israeli Apartheid Week (IAW) fundraiser scheduled for March 5. That set of facts is the full extent of what all parties agree to; from that point onwards, there is no agreement even on the facts of the matter, let alone the interpretation of them.
"Lucas Entertainment founder and president Michael Lucas was born in Moscow, Russia, on March 10, 1972," the website of Lucas Entertainment states. "He was raised in Moscow and attended college there, graduating with a degree in law. In 1995, Michael Lucas moved to Germany, then to France, where he began modeling and appearing on several European television programs and covers of many European magazines. In 1998, Lucas opened his own production company, Lucas Entertainment, in New York City," the site adds. The biography on LucasEntertainment.com also notes that he was naturalized as a United States citizen in 2004 and even goes on to describe him as 6 feet tall and weighing 180 pounds.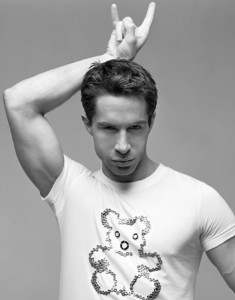 Does the devil make him do it…?
"Michael Lucas is the most mainstreamed, provocative, and controversial figure in gay adult entertainment," declares the right-wing porn king on his blog site. "With his unparalleled character, activism, and distinction, Michael Lucas is at the forefront of his industry and beyond," he modestly asserts. Among the adjectives that Lucas describes himself, 'provocative' and 'controversial' are the only two that his critics as well as his supporters are likely to agree with.
'The zionist porn star impresario,' as the Huffington Post described him, "intimidated New York's LGBT Center into canceling its hosting of another group's Israeli Apartheid Week event scheduled for next month," declared HuffPo on February 27. "And it took him only a few hours of emails and phone calls, plus a little more than $1,000, to do so," added the popular website, linking to the full-length news story in the Village Voice.
The self-described 'top' with a (self-reported) penis size of ten inches (a claim for which I could find no independent verification) plunged into the world of public policy and queer politics with a letter to the Center that threatened a boycott of major donors if the Center did not expel the Siege Busters Working Group; sadly, the Center capitulated to the blackmail, and in doing so, betrayed its mission to be an open and safe space for all members of the LGBT community .
It is precisely because of the sensitivity of  the issue that I feel compelled to make clear that this analysis and any opinions expressed here are solely mine, speaking in an individual capacity, and do not necessarily reflect the views of any organizations with which I am or have been associated, including those that I serve as chair or president or vice-president of the board of directors. I have not in fact consulted with any of those boards with regard to the Israeli/Palestinian issue, let alone with regard to this statement in particular, and I say that because my one overriding concern in deciding whether to speak or write about this issue — and the current controversy embroiling the Center — is because I do not want any of my organizations to suffer recriminations or retaliation as a result of any statements that I might make.
That all being said, of course, in speaking and writing about this issue, I draw on over 17 years of experience in activism and advocacy work across a wide variety of organizations, including those I currently serve: the New York Association for Gender Rights Advocacy (NYAGRA) (as chair), Queens Pride House (as president of the board of directors, the Transgender Legal Defense & Education Fund (TLDEF) (as vice-president of the board of directors). I also draw on my experience with the Out People of Color Political Action Club (OutPOCPAC) (which I served as co-president), the Gay Asian & Pacific Islander Men of New York (GAPIMNY) (which I served as a member of the steering committee), Iban/Queer Koreans of New York (which I served as coordinator from 1997-99), Q-Wave (the organization for LBT API women, of which I am currently a member, though not in a leadership position), the National Queer Asian/Pacific Islander Alliance (NQAPIA) (of which I am a founding member but which I have not served in any leadership capacity), Gay Asians & Pacific Islanders of Chicago (GAPIC) (of which I was the founding chair), and the Guillermo Vasquez Independent Democratic Club of Queens (GVIDCQ) (which I served as vice-president).
While GAPIC, GVIDCQ and Iban/QKNY are now, sadly, defunct, and OutPOCPAC can most generously be described as dormant, all of the other organizations are active and all but NQAPIA are based in New York City. I mention this long list of organizations simply because one point that the Center has insisted on is that the process which led to the decision in question involved 'wide consultation' with many different organizations and constituencies; and yet, none of the above mentioned organizations was consulted in any way before, during, or after the decision that was made; of that I have certain knowledge.
In any case, the Center's executive director, Glennda Testone, rebuffed attempts by Siege Busters members to reach a mutually satisfactory agreement before the controversy widened. As Brad Taylor told Steven Thrasher of the Village Voice, Testone was evasive and controlling in responding to questions from Siege Busters members in a meeting following the Center's cancellation of their March 5 fundraiser, telling them "that our event had generated too much controversy from both sides, and it wasn't 'queer enough'" ("'Party to End Israeli Apartheid!' Still On at Gay Center, Activists Vow, But With Picketing, Not Dancing," Steven Thrasher, Village Voice, 4 March 2011).
Ironically enough, in cancelling the March 5 event, Testone and the Center leadership brought far more attention to the Siege Busters and their cause than simply allowing the event to go forward (as the Center was contractually obligated to) ever would have. And the outrage over the Center's decision to embrace censorship as well as to implicitly endorse the illegal Israeli military occupation of the Palestinian territories was hardly limited to a small number of queer activists in New York: over 1,600 individuals signed the petition on iPetitions.com, which declared:
"We, the undersigned, are LGBT people and allies who condemn the stifling of free speech at New York's LGBT Center due to pressure from wealthy supporters of Israel's anti-Palestinian policies. A slanderous press release followed by a threatening call-in campaign led to the cancellation of an Israeli Apartheid Week event scheduled for March 5, 2011, and the right of peaceful pro-Palestine activists in the Siegebusters group to meet at the Center.
"New York's LGBT Community Center has a 28-year history of accommodating the needs of oppressed and marginalized groups and allowing controversial opinions to be aired. It is a sanctuary for those seeking a democratic organizing space. The recent press release by Michael Lucas, a wealthy gay porn entrepreneur, threatened a boycott and defunding campaign if the Center didn't cancel the event, which it tragically agreed to do.
"If activists allow this decision to stand, the Center will go from being a liberated space of democracy and free speech to yet another occupied, homogenized venue where wealthy and powerful voices can squelch all the rest.
"Lucas's accusation that the March 5 event and groups organizing to build it are "anti-Semitic" is not simply an odious lie, it is an attempt to manipulate hatred of anti-Semitism to draw attention away from the ongoing Israeli crimes of dispossession, systematic racism, collective punishment and wholesale warfare on a population guilty of nothing other than their own existence. An international campaign for Boycott, Divestment and Sanctions against Israel has global support, including diverse voices from queer theory icon Judith Butler and South African Archbishop Desmond Tutu to Auschwitz survivor and International Jewish Anti-Zionist Network spokesman Hajo Mayer.
"The LGBT Center must return to its mission as a space for the oppressed and marginalized and reverse its decision on the March 5 event and reinstate the right of Siegebusters activists to meet there.
"Please email or call the Executive Director of the Center, Glennda Testone at glennda@gaycenter.org or 212-620-7310
"In solidarity and struggle,
Siegebusters Working Group,
Existence is Resistance,
Sherry Wolf, author, Sexuality and Socialism; International Jewish Anti-Zionist Network
Cleve Jones, AIDS and LGBT rights activist
Judith Butler, author, Gender Trouble; Professor, University of California-Berkeley
Sarah Schulman, Writer. Distinguished Professor of the Humanities, City University of New York.
The petition was entitled, "Save New York's LGBT Center! Don't Let Wealthy Bigots Shut Down Free Speech," and I found myself entirely in agreement with the text and the sentiment of the petition, but I had to weigh my organizational responsibilities against my own deeply felt commitment as an individual to speak truth to power, and I waited until April 5 to sign the petition; when I did, I posted this comment:
"I have been attending events & meetings at the Center ever since I moved to New York City in 1995 and have always supported the organization, but I find I cannot continue to support the Center in good conscience after it has engaged in censorship and — by banning Siege Busters and canceling the March 5 event — implicitly endorsed the illegal Israeli military occupation of the Palestinian territories. The Center must acknowledge the violation of its own process as well as the betrayal of the LGBT community that this decision constitutes, and it must reverse the decision itself; and the Center's leadership must show that it is the LGBT community as a whole and not merely a few privileged gay white millionaires who determine policy at the Center."
Mine was the 1,646th signature. Many of the signatories left thoughtful comments, such as Eric Mills, who posted his on March 13:
"If Pride Toronto could (after some struggle) uphold its dignity and independence by welcoming Queers Against Israeli Apartheid (QuAIA) to its parade last year, surely New York's LGBT Center could at least host a meeting to oppose racist oppression in Palestine. What happened to the Stonewall spirit?"
William Lee, signing the petition on February 23, wrote,
"It is outrageous that the Center should buckle under to pressure like this, particularly in this case where the denial of rights to a people living under a harsh military occupation for more than 40 years was to have been highlighted. Shame on the Center for caving in to spurious charges and big-money pressure."
Signing the petition on April 2, Ray Sutton put it even more succinctly:
"I strongly disagree with your caving in to monied Islamophobes."
Bob Lederer, self-described 'queer producer, WBAI Radio' and 'former ACT UP organizer,' wrote on March 23,
"Thank you for standing up against censorship and affirming the right to keep the LGBT Center as a space for the entire community."
A prominent activist, Lederer was by no means the only Jewish member of the community to sign the petition. On February 23, Otto Coca wrote,
"As a Jew and an American, I know the sensitivity of this issue, but the priority is freedom and the right to free speech. Allowing an unpopular group to meet is a decision of tolerance and acceptance of diverging views: capitulating to the will of a wealthy group intent on stifling discussion is COWARDICE. THE LGBT community fought too hard to be co-opted by Porn Star activists hiding behind two flags. Michael Lucas is NOT a voice of the LGBT community."
On February 23, Gary Lapon wrote,
"Support for the Palestinian people is NOT the same as anti-Semitism. Not only are Lucas's claims a smear against a legitimate liberation struggle, they are particularly offensive to Jews such as myself who object to false claims of discrimination against us being used to justify the oppression of others. Rarely have I felt more comfortable than among my brothers and sisters in the Palestinian solidarity movement."
On February 23, Ellen Davidson wrote,
"As a Jew, I am offended by the equation of criticism of Israel with anti-Semitism. This serves to stifle dissent and shut down any reasoned discussion of the Israeli occupation of Palestinian territory."
Writing on February 23, Hannah Mermelstein addressed her comments directly to the Center management:
"You claim that the Center should be a safe space for LGBTQ people. It is no longer a safe space for me, based on my political views, and it is no longer a safe space for my queer Arab and Muslim friends, due to their ethnic and religious identities. Please reconsider your decision."
Not only did many Jewish Americans sign the petition, but even Israelis signed on, Daphne Tier writing on February 23,
"I am an Israeli anti-Zionist, anti-Zionism is NOT antisemitism ! When you expel hundreds of thousands of people, massacre them, put the rest in camps, steal their lands, and deny their history, you are doing something wrong. When you blockade access to roads, demolish homes, destroy water wells, build walls down the middle of orchards and villages and kill hundreds of unarmed civilians every year, you are doing something wrong. Regardless of your religion. People have the right to oppose U.S imperialism, and Israel is a colony propped up by U.S imperialist interests!"
Former members of the Center staff also weighed in on the controversy. On February 23, Sabelo Narasimhan signed the petition, writing,
"As a former employee and always a visitor at the center — I plead for you to keep it a space for ALL KINDS of oppressed and marginalized people locally and globally."
Organizations of color also sent letters to the Center. The Audre Lorde Project, FIERCE, Queers for Economic Justice and the Sylvia Rivera Law Project issued a joint statement on March 4:
"Open Letter to the NYC LGBT Community Center from The Audre Lorde Project, FIERCE, Queers for Economic Justice and Sylvia Rivera Law Project: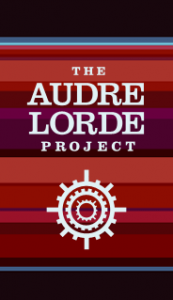 "The Audre Lorde Project (ALP), FIERCE, Queers for Economic Justice, and the Sylvia Rivera Law Project write to express our extreme disappointment and concern with the NYC LGBT Center's decision to cancel the Israeli Apartheid Week's event and to disallow Siege Busters from continuing to meet at the Center.
"Our four organizations recently hosted an event as part of the Palestinian Queer Activist Tour on February 18th. Co-sponsored by the South Asian Lesbian Gay Association (SALGA), Q-Wave, and the Gay Asian Pacific Islander Men of New York (GAPIMNY), the event featured alQwas for Sexual and Gender Diversity in Palestinian Society and ASWAT Palestinian Gay Women. Reflective of the history of ALP's dialogue with Palestinian queer activists over the last decade, the panel drew over a hundred LGBTQ folks of color and allies and resulted in a rich, fruitful discussion about the intersections of sexuality, culture, race, class, nationalism, and colonial occupation. This event made clear to us that our constituencies are eagerly interested in and in need of community spaces where they can be educated about the relevant issues and debates regarding the Israeli-Palestinian conflict and where community members can openly discuss the ways in which these issues have impacted them on a personal level.
"We are aware that you have received many statements and letters detailing the many ways that the Israeli Occupation of Palestine is a LGBTSTGNCQ issue. As organizations also working in service of NYC's LGBTSTGNCQ community and movements, we believe that the LGBT Center should be a space where all experiences of oppression and struggles for liberation are valued.
"Since its establishment, the Center has been a space that our communities and movements have sought to access for support against isolation, safety from homophobia and transphobia, and access to resources that we need to survive. By canceling the IAW event, you risk alienating many members who frequent your Center by sending a strong message to our communities and allies that the issues with which we struggle such as racial justice, anti-imperialism, immigration, economic justice, disability justice and militarization are not genuinely welcome to be discussed at the NYC LGBT Community Center.
"We hope you will reconsider your decision in light of the polarization that it creates amongst our diverse community. We invite you to be in conversation with our organizations as you think through this issue. Furthermore, we hope you will engage your funders who oppose the IAW event with courage and accountability in support of the concerns voiced by the very individuals and communities who use the Center."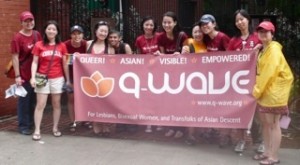 SALGA, Q-Wave and GAPIMNY — the three queer API organizations in New York City — also sent an 'open letter' to the Center:
"We, the undersigned Queer Asian Pacific Islander groups, are very concerned with the LGBT Community Center's decision on canceling the scheduled March 5th "Party to End Apartheid" event. The Center has a long history in providing a space, for many LGBTQ and other vulnerable groups, to hold dialogue and give voices to explore conflicts, issues and resolutions. The Siegebusters Working Group, while not identified a LGBTQ group, it is a minority voice seeking to address oppression and deserves a safe space.
"In cancelling this event and disallowing Siegebusters Working Group from meeting at the Center, the center comes across as supporting censorship. The LGBTQ movement has always had many voices, and suppressing these voices does not serve to make the center a "safe haven for LGBT groups and individuals." Social justice and open dialogue has always been a central part of LGBTQ organizing. Many of us in the QAPI Community believe that queer rights are human rights, and therefor human rights issues in the Israeli-Palestinian Conflict are inexorably linked to our struggle for queer rights.
"We are pleased to know that there will be an open forum to help clarify and possibly amend this decision, and we believe that the outcome will be supported with full consideration of justice. LGBTQ minorities have always found a safe space at the center, and we hope that this space continues to exist for us. Thank you very much."
The Center's response to the furor was to host a community forum on March 13, which was billed as 'a chance to talk, listen and be heard.' "Recent events have led us to build on our process for providing space at the Lesbian, Gay, Bisexual & Transgender Community Center," declared the Center's leadership on the Center's website. "As we do, we invite members of the LGBT community to join us for an open forum to share their perspectives and provide us with feedback," the announcement on gaycenter.org added.
The air was tense when I arrived at the Center on March 13, and the big hall on the third floor was packed, with every chair taken and even standing room filling up. Oddly enough, for a room that can hold 250-300 people and that was filled to capacity, Gay City News reporter Duncan Osborne reported a crowd of only 100 people.
Of 23 members of the Center's board of directors, only two actually attended the forum — Mario Palumbo, Jr., the board president, and Tom Kirdahy, the at-large member of the board's executive committee. Of the few senior staff, only the Center's executive director Glennda Testone spoke for the Center. (Robert Woodworth, the long-serving director of meeting & conference services & capital projects, was present for the entire meeting and did respond to one informational question from Testone.) Neither of the two board co-chairs (H. Gwen Marcus and Paul Gruber) were in attendance. Nor did I see Richard Winger — the immediate past board president and (reportedly) the partner of Michael Lucas — at the forum.
The fact that only two members of a 19-member board of directors were present for a meeting of such signal importance was taken by many in the audience as an indication of a lack of interest on the part of the board in the event and as yet one more indication that the Center was not serious about dialogue with Siegebusters or with other critics of the Center's decision to cancel that group's IAW event.
Of the board members, I know only three: Tom Kirdahy, Ana Oliveira, Stephanie Battaglino; I have also known Glendda Testone for many years — back from when she was on staff at the Gay & Lesbian Alliance Against Defamation (GLAAD) — and I like all four of them and respect the work they have done for the community over the years. By way of full disclosure, I should mention that Stephanie Battaglino has just joined the board of directors of the Transgender Legal Defense & Education Fund (TLDEF), one whose board I serve as vice-president (I was in fact the first and original member of that board). Of these four individuals, my only conversation about the current controversy was a very brief one with Stephanie following a TLDEF board meeting as we descended in an elevator at the end of that meeting; other than that minute-long conversation on the day that the story broke in Gay City News, I had no interaction with the board or staff of the Center about this controversy before the March 13 forum.
That forum drew many prominent activists, including Jon Winkleman, Melissa Sklarz, Bill Dobbs, Andy Humm, Urvashi Vaid, Sarah Schulman, Lisa Duggan, Jasbir Puar, Terry Boggis, and Geleni Fontaine, as well as the union leader Stuart Applebaum and Michael Lucas himself. One transman, Tom Léger, did live blogging at the March 13 forum, in order to provide a detailed account of it to those who could not attend. Glennda Testone asked Ann Northrop to facilitate the discussion, and she moderated the frequently heated debate as well and as even handedly as one possibly could in the difficult circumstances.
On a table at the door, I found a pink sheet signed by Bill Dobbs, Brad Taylor, Emmaia Gelman, Naomi Brussel, Sammer Aboelela, Sarena Melcher that was addressed 'to participants at the LGBT Community Center public forum – March 13, 2011':
"Greetings to All,
"We don't know how this meeting will go. We are (separately) members of Siegebusters, members of groups who wrote to the Center to object to the treatment of Siegebusters and queer political activists in general, organizers of the last week's protest against the Center's censorship, Palestinian and Jewish queers, and active participants in queer community. The Center hasn't included any of us as "stakeholders" in planning this meeting. However, we'd like to offset some of the chaos by offering a few starting ideas.
"Some bottom-line issues:
1. The Center dealt badly with Siegebusters. An apology is due, and the Center should immediately restore Siegebusters' access to meeting space until it can provide a transparent process for deciding otherwise. The reasons given by Center staff for cancelling the March 5 event and Siegebusters ongoing meetings in scattered e-mails and announcements (that Siegebusters is somehow not queer enough, or that queer activism on Palestine makes queer space "unsafe") have been broadly refuted in public comment from many corners of the queer community.
2. This controversy reveals a much bigger problem at the Center – lack of transparent decision-making. Center Executive Director Glennda Testone and the Center's Board of Directors have made major decisions about our space and community with no real community engagement.
"No one from Siegebusters was consulted before the cancellation.
"No organizers of the ensuing protest against the Center were contacted before the Center decided to hire private goons to police our community center against us.
"No public response has been made to the queers – particularly queers of color and Palestinian queers – who told the Center that this decision has marginalized them and made them unsafe.
"The forum today has been organized without input from affected groups.
"The Center must have a transparent process for making (and that allows for challenges of) decisions about who can use the Center. The Center also must open its board meetings to the public and take public comment. The board should be accountable, and it isn't. Its operations aren't public, its members don't represent our communities, and it doesn't provide the Center's constituency with any lines of communication – although it's clearly making decisions about us.
"What this meeting shouldn't be about:
"The Center shouldn't be blessing or disapproving queer political work, nor should this meeting.
"The Center shouldn't be making political calls about the Middle East, nor should this meeting.
"It's not a "neutral position" to shut down queer organizing or anti-occupation work because it's "too controversial." But having gotten itself into this mess, the Center now has the responsibility to transparently and neutrally bring folks back to the table. This meeting doesn't satisfy that responsibility.
"Here's hoping for a productive discussion."
In Steven Thrasher's March 15 news report for the Village Voice, he called the controversy 'the Gay Battle of Zion' and  he wrote that
"At the heart of the debate was the right to free speech for anyone renting space in the Center versus the right of donors to have their say about who gets to use the space. That argument is far from settled…"
Thrasher paraphrased the comments I made at the forum, writing, "As transgender activist Pauline Park pointed out, the Center's decision to cancel Siege Busters' event was already a way of choosing sides."
In a response to the March 13 forum, Lisa Duggan wrote a letter to Glennda Testone on March 16:
"Here is a link to VV coverage of the Center foum, if you haven't seen it yet:
http://blogs.villagevoice.com/runninscared/2011/03/more_sniping_in.php#more
I was very disturbed by a number of things said by the (only 2!) Center board members present at the forum.  Mario made it quite clear, repeatedly, that there is a ban on the word "apartheid" as applied to Israel at the Center–he called it quite simply "offensive."  When questioned, he was clear that even an "LGBT focused" group would not be permitted to use that term for events, etc.  Though he said this was "just" his opinion, he also made it clear that it was the basis for his vote on this matter.  This is an effective ban based on point of view.  Tom voiced the belief that organizing critical of the state of Israel creates an "unsafe" environment for vulnerable people at the Center.  But the feeling of "safety" is also based on point of view.  The feelings of "safety" of queers of color, and not only anti-Zionist queer groups, are not included as important in assessing the overall sense of "safety" in this context (I use scare quotes here because I don't think "safety" is an appropriate goal with regard to political disputes).  The result is the exodus of queer of color groups from the Center, as was noted by 2 speakers from ALP.  And, Bill Dobbs noted, using "controversy" as a rationale for excluding groups and events echoes the rationale used by the National Portrait Gallery for censoring the David Wojnarowicz video on exhibit there.
"The range of rationales provided by you and Center board members at the meeting were largely contradictory and clearly ad hoc.  I think the underlying forces at work have been shaped by the recent successes of the Palestinian BDS movement on campuses and in the LGBT communities across the U.S.  There has been a backlash mobilization, featuring efforts to frame critiques of Israeli policy as anti-Semitic, and responsible for creating a "hostile environment" for Jewish students/Center users, etc.  Since the Israeli government has quite deliberately created a "branding" campaign designed to whitewash apartheid policies by focusing on progressive policies with regard to LGBT populations, it is no surprise that this contest is being played out within the LGBT community.  The recent highly successful US tour of Palestinian queer activists, with two events in NYC (standing room only at both), has (I believe) specifically motivated the timing for this ruckus at the NYC gay community center.
"Here is an article on how this is playing out on college campuses:
http://chronicle.com/article/Education-Dept-Investigates/126742/?sid=at&utm_source=at&utm_medium=en
It doesn't seem to me that Center staff and board are aware of the wider context for this conflict.  Both the wider conflict over Middle Eastern politics that has been focused on LGBT populations, or the widening split among LGBT groups over the definition of what is a "gay" issue.  You and your board repeatedly stated that the Siege Busters are not an LGBT focused group, as if that were just a fact.  But the reframing of queer politics as properly and centrally concerned with the forces that oppress and constrain queer people all over the world–lack of health care, the violence of occupations–has been going on for nearly a decade now.  There is no agreement about what is properly a "gay" issue, and it is primarily prosperous white gay men who see "gay specific/only" as the right frame.  Many activists, especially lesbians, queers of color, and social justice activists generally, now use an intersectional frame for their queer activism, and do not isolate sexual identity in the way that seems "natural" to many monied white gay men.  So the Center is taking a political position on this question, without seeming to understand that this position is precisely the point that has been debated for years, and that now frames an increasingly wide gulf within LGBT communities, splitting Pride events worldwide in the past couple of years (google Pride Toronto or Pride Berlin Civil Courage Award 2010, or Pride East London 2011).
"It's quite true as you eventually acknowledged that the decision the Center made reflected a very flawed process.  And the process from here on out will be an anti-democratic, corporate style decision–with the board of trustees making final decisions that are neither transparent nor accountable.  And as you no doubt know, boards of directors are all about funding.  There is no structural mechanism to give community "feedback," as you call it, any teeth.  The board will do what it wants, when it wants, for whatever reasons it wants.  There are two steps that might be taken immediately to democratize the Center:  Establish clear guidelines (not the current power to ban any group at any time for any reason) with an appeals/complaint process included, and open the board meetings to the public, or at least to Center members.  A clear timetable for this series of decisions also seems necessary as a sign of minimal responsiveness to community "feedback.
"You might have noted the wide gap at the forum between the activists/orgs that opposed your decision–mostly (but not only) lesbian leaders, and queer of color organizations, and the mostly (certainly not entirely) white gay men who support the decision.  I think the split is over class and race, as well as right/left perspectives, and not primarily about gender.  Nonetheless it was striking.  That room was full of the heaviest hitters in NYC lesbian and social justice activism:  Urvashi Vaid, Leslie Cagan, Sarah Schulman, Alisa Solomon, Jasbir Puar, and many more….  All on the same "side" of this debate.  And then so many more who called or wrote:  Sue Hyde, Kate Clinton, Judith Butler.   I'm not sure you realize the weight of this consensus among so many lesbian leaders? (If you don't know who these folks are, you should google them.)  Plus Andy Humm, Bill Dobbs, Brad Taylor, transgender activist Pauline Parks and others present, of course, as well.  And I'm not meaning to invoke celebrity here, but rather the decades of experience in LGBT organizing in New York City.  So much collected in that room at the forum it was kind of mind boggling.  In that context, the relative ignorance of the Center representatives and their supporters (as well as the absence of most board members, and the presence of that clown Michael Lucas) was quite stark.
"I'm sorry you all seemed to be digging in around your decision, even if willing to consider some process and guidelines changes.  As the weeks roll by, the LGBT Community Center is going to become whiter, richer, more male and more politically conservative–as the progressives and queers of color leave for more welcoming pastures at the ALP, QEJ building and elsewhere.  You might consider renaming it the LGBT Clubhouse, to reflect the private governance and restricted viewpoints permitted there."
Lisa DugganProfessor, American Studies and Gender and Sexuality Studies
Department of Social and Cultural Analysis, New York University
On March 21, Bill Dobbs e-mailed Glennda Testone, Tom Kirdahy, and Mario Palumbo a message from 11 activists (including Dobbs himself) who were present at the event — the others being Naomi Brussel, Brad Taylor, Leslie Cagan, Pauline Park, Emmaia Gelman, Lisa Duggan, Steve Ault, Jasbir Puar, Andy Humm, and Ann Northrop:
"Dear Glennda, Mario and Tom, We're writing to stay in touch about the issues raised in the community forum and to get an update. There were several issues on the table when we ended the forum–particularly the questions of whether the Center would invite Siegebusters to resume meeting there, and whether the Center Board of Directors would open its own meetings to the community. We are members of an ad hoc group meeting tonight to talk about all this and we would appreciate knowing whether the Center has made any decisions about any of the above. Thank you,
Bill Dobbs
Ann Northrop
Naomi Brussel
Brad Taylor
Leslie Cagan
Pauline Park
Emmaia Gelman
Lisa Duggan
Steve Ault
Jasbir Puar
Andy Humm
Later on March 21, Glennda Testone responded,
"Hi Bill and everyone, Thank you for checking in with us.  We are continuing to carefully review the community feedback from the forum and the input coming in through the online suggestion box.  This issue is a priority for us and we will keep you apprised.  One of the things we heard loud and clear at the forum was that people wanted more avenues to communicate input and concerns to the Center, so in addition to the initial community forum and the online suggestion box, we have decided to offer other community forums as well.  We also plan to share the details of our process for analyzing and revising our room rental policies in a public memo as soon as possible. Thanks again, Glennda"
Meanwhile, between the March 13 and March 24, when a monthly meeting of the Gay & Lesbian Yeshiva Day School Alumni Association (GLYDSDA) was scheduled, a controversy arose over the group's invitation to Michael Lucas to speak at that March 24 event, which was advertised to members thusly:
"Monthly GLYDSA meeting with special guest Michael Lucas [boldface GLYDSA's]. We will be discussing the recent events of the past few weeks that have pitted anti-Israel organizers against the Center, as well as other topics of interest to our community, followed by socializing. Michael Lucas is a well-known columnist, activist, film maker and strong supporter of gay rights and Israel. Please join us, on time, at the Center 208 W.13 St, between Seventh and Eighth Avenues.
"As a follow up to the open community meeting that was poorly attended by the pro-Israel side, The Center is receiving a lot of pressure to re-allow Siegebusters and other anti-Israel groups to rejoin the center.  The Center wants to do the right thing but needs our support. Please take a moment to go to the below link and send in your thoughts — this comment box was created just for thoughts about space rental…"
After Bill Dobbs alerted Sarah Schulman and other activists about the GLYDSA event and the promotional message sent to members highlighting Lucas, Schulman then wrote to Glennda Testone on March 15,
"Dear Glennda, Clearly the elements of the pro-Seige of Gaza gay community who favor censorship, and we who favor open debate both have the same perception of your actions – namely that the Center is now officially partisan on the question of The Occupation. What are you going to do about this?"
Testone responded later that day by e-mail,
"Hi Sarah, We did not know about this and are looking into it as we process everything that was shared and conveyed at the community forum. Thanks for bringing it to our attention."
Scott Long, a visiting fellow in the human rights program at Harvard Law School and one-time LGBT research director at Human Rights Watch, e-mailed NYU's Gender & Sexuality Studies list this response:
"Earlier this month, as most of us know, the New York LGBT Community Center decided to draw a line around what it considered its community by banning a an event for "Israeli Apartheid Week" from its premises.  In doing so, it acceded to the demands of Michael Lucas, an adult entertainment star whose loathing for Muslims is notorious. And it acceded as well to Lucas's contention that criticism of Israeli policy is prima facie anti-Semitism.
"At a community meeting last weekend–which I couldn't attend because I'm working in the Balkans this week–one board member of the Center reportedly stated that the word "apartheid" would be banned at the Center if applied to Israel; he called it "offensive." (Presumably Jimmy Carter will not be speaking at the Center anytime soon.)  Another board member reportedly said that organizing critical of the state of Israel creates an "unsafe" environment.  (I owe this information to Lisa Duggan.)  According to a New York newspaper (sometimes, I have to note, inaccurate in its coverage of the gay community) the Center's Director, Glennda Testone told the meeting that the Center could not afford to host "an incredibly controversial and contentious event."
"I am therefore especially shocked to find that the Center is hosting Michael Lucas himself to speak on March 24 from 8:00 – 10:00 PM… One can only conclude the Center doesn't find *him* controversial.
"There's no secret about Lucas' racism.  Last year, he informed a waiting world that " I hate Muslims, absolutely. It's a horrible, horrible religion. It's a plague … they're stuck in a horrible lie, brainwashed from birth to death. And now they have been stuck in time since the 7th century. They have not contributed to civilization in any way, in any field — political thought, science, music, architecture, nothing for century after century. What do they produce? Carpets. That's how they should travel because that's the only way they travel without killing people." (http://www.queerty.com/michael-lucas-muslims-have-not-contributed-to-civilization-in-any-way-for-centuries-20100714/#ixzz1GxTNbfWz)
"I don't support banning Lucas. Let him talk; let the rest of us, who believe in the Center's professed values of acceptance and inclusion, respond–preferably loudly.  But the inconsistency in the Center's policy, and its increasingly explicit decision to align itself with Lucas's overt racism, is not just an assault on tolerance–it's intolerable. Insult has been piled on injury. I don't know whether protests against Lucas and the Center's cowardice are planned that night–I'm still in Serbia–but if so, please let me know. If not, we need one."
On March 24, the date on which the GLYDSA meeting was scheduled, Steven Thrasher reported that "at the last minute, the Orthodox Jewish gays decided to call off their own meeting at the center and hold it at another location." ("Gay Center's Feud Over Middle Eastern Politics Flares Up Again," Village Voice, 24 March 2011). "The group decided not to do it at the Center. The reason is simple. The Gay Center told the Jewish group that they had received threats and at the same time cannot guarantee the safety of the members of GLYDSA who attend. So the group decided to meet at a different location and I am still speaking," said Lucas, 'the gay-porn impresario and ardent Zionist' (as Thrasher described him). But GLYDSA flatly contradicted Lucas's assertion. "We are a small private group with no interest in publicity," a group spokesman told the Voice. "We received no threats, nor did the Center ask us to 'un-invite' Michael Lucas."
But Lucas charged Testone with lying about the GLYDSA event. "From this email it is very clear that the Center is lying when saying that they did not interfere by pressing GLYDSA to disinvite me," Lucas e-mailed Gay City News ("Michael Lucas Says LGBT Center Pressed Jewish Group to Move Meeting," Gay City News, 31 March 2011). "Yes, we were pressured to cancel Mr. Lucas," a GLYDSA spokesperson was quoted by GCN reporter Duncan Osborne as saying.
Once again, the credibility of the claim made by the Center's executive director that the Center had nothing to do with GLYDSA's withdrawal of its invitation to Lucas to speak and its decision to move its monthly meeting out of the Center — just like Testone's assertion that the Center's decision to cancel the Siege Busters' March 5 fundraiser — was undermined by key actors in the drama, leaving no one satisfied. Having alienated not only Siege Busters but fair-minded members of the LGBT community as well, the Center's leadership then ham-handedly managed to alienate Michael Lucas, the figure who was instrumental in pressuring the Center to cancel the Siege Busters event that was the original flashpoint in the controversy. By this point, even those sympathetic to the Center were beginning to question Testone's competence as well as her honesty.
The fact that Testone had come to the Center from the Gay & Lesbian Alliance Against Defamation (GLAAD) — supposedly the most media savvy of all the national LGBT organizations — made her apparent inability to handle media relations seem all the more ironic.  Having done corporate public relations in my first career, I was intimately familiar with the requirements of crisis management and damage control in such situations, and in that context, I was struck by the astonishing incompetence of the Center's executive director and its board of directors. Even setting aside the merits of the Siege Busters event as well as the underlying issue of the Israeli military occupation of the Palestinian territories, the Center's handling of the controversy purely in terms of its own institutional self-interest was bumbling at best, dishonest and disastrous at worst. "The decision [to cancel the Siege Busters March 5 event] was made in good faith and it as not made in response to any one individual," Testone told Gay City News ("Michael Lucas Says LGBT Center Pressed Jewish Group to Move Meeting," Gay City News, 31 March 2011). But neither Michael Lucas and those who supported that decision nor the Siege Busters and those who were critical of it believed the party line coming out of the Center's executive suite. By insisting on pushing a story line that no one believed, Testone and the Center's board undermined their own credibility as well as their ability to speak as leaders of the city's large and diverse LGBT community.
Meanwhile, on March 21, the ad hoc group of activists critical of the Center's decision to cancel the Siege Busters fundraiser, gathered at the Audre Lorde Project in Manhattan and decided to call themselves 'Queers for an Open LGBT Center.' (I did not attend, as I was chairing a meeting of the board of directors of Queens Pride House that evening.) The new group followed up with a second meeting at ALP on March 31.
The controversy spread from New York to Israel itself, as Gil Shefler of the Jerusalem Post reported on the upcoming March 13 forum on March 8 ("NY activists to debate scrubbed gay center event"). Ben Weinthal's March 27 news story for the Post ("Gay opposition rises against Israel Apartheid Week") characterized Michael Lucas as 'the game changer' in the center's decision to cancel the Siege Busters event, writing that "Lucas's efforts garnered a rare victory in a battle arena where anti-Israel forces have gained traction over the years."
Weinthal went on to quote Phyllis Chesler, a professor emerita of psychology and women's studies at the City University of New York (CUNY) — whom Weinthal characterized as 'a leading expert on contemporary anti-Semitism' — saying that "over the years, the gay liberation movement, world-wide, has become increasingly Stalinized and 'Palestinianized" and that "to retain their place in the larger Left, feminist and gay movement, they have identified Palestinians as the most victimized of all, and to retain their own value as outcasts and victims, they, too, especially lesbian feminists and lesbian Jewish feminists, must toe this politically correct party line."
Chesler had the opportunity to peddle her bizarre 'analysis' in a rabid opinion piece ("Out for Israel: A New Answer to the Hate Speech of Queers for Palestine") in Right Side News ('The Right News for America') on March 26, in which she wrote of Siege Busters that "the Center trembles when they demand something." Well, the Center did not seem to tremble much when they cancelled the Siege Busters fundraising event and banned Siege Busters from the site. And characterizing Siege Busters members as 'Palestinianized lesbians' not only ignores the non-lesbian members of the group (including quite a few gay men), it also raises the question as to what precisely a 'Palestinianized lesbian' might be — a lesbian who actually recognizes the common humanity that she shares with Palestinian people, perhaps?
Chesler concludes that "the Gay and Lesbian Center of NYC [sic] has joined [the] ranks… [of the] angry hecklers, silencers of anything that is pro-Israel or anti-Islam, intimidators, shriekers, haters, Nazi brownshirts (who view themselves as ligerationists and progressives and view the 'other side' as Islamophobic demons…" In one regard, Chesler has much in common with the 'Nazi brownshirts' she references — she seems drawn to telling the Big Lie in order to disparage those with whom she disagrees. It was not, after all, Michael Lucas who was banned by the Center, but rather the Siege Busters. But neither Chesler nor Lucas — whom she describes as 'a heroic gay Jewish man' — have much interest in the facts of the matter or in anything that might be described as 'the truth' in any sense of the word.
The truth, rather, seems to be that the leading institution in the LGBT community of New York City caved into a threat of blackmail by a right-wing Islamophobic bigot because of the fear of losing a few wealthy donors, and the Center's executive director and board of directors then engaged in damage control that was not based on any version of truth that any of the parties — whether Michael Lucas or the Siege Busters — would recognize. Rather, the Center's leadership insisted that Michael Lucas — the one person almost universally acknowledged by supporters and critics alike as having been instrumental in bringing about the initial decision to ban the Siege Busters — had absolutely nothing to do with that decision. In insisting again and again on an explanation that beggars credulity, the Center's leadership has diminished if not completely undermined its own credibility within the LGBT community.
It is important to recognize that the issues involved in the controversy that the Center provoked by instituting its moratoriium went well beyond any tempest in a teacup involving an outrageously bigoted gay porn mogul; they touched on the most fundamental issues of process and accountability, community and justice:
1) Process. It seems to me that the Center's own admission of a faulty process in coming to the decision to ban the Siege Busters and cancel their event falls far short of any genuine acknowledgement of the full extent of that failure. A decision of signal importance was made by a craven and incompetent cabal who did not even bother to consult with the full board of directors. Even so, not even all the members of the executive committee of the Center's board bothered to attend the Center's 'community forum' on March 13, suggesting that the issue of the Center's relationship with the community it ostensibly serves was really of little interest to the executive committee, let alone the full board. The Center leadership has not provided a shred of evidence that it ever bothered even to consider the ethical obligations of running a community center.
2) Accountability and community. By its actions, the Center has made clear that it sees its primary — perhaps exclusive — responsibility as being to its wealthy donors, with little or no sense of being part of, let alone accountable to, a larger LGBT community. The 'extensive process of consultation' that Glennda Testone engaged in seems to have consisted in a hurried conversation with one Siege Busters member which Testone apparently used simply to issue an ultimatum and then inaccurately reported to the participants in the March 13 community forum. By caving into a threat of blackmail from a right-wing bigot, the Center made clear that for its management team, the 'bottom line' was indeed the bottom line.
3) Censorship and freedom of assembly. Among the most shocking aspects of the affair has been the Center's endorsement of censorship — its willingness (eagerness, one is tempted to say) to silence discussion of an issue of signal importance to the LGBT community, locally, nationally, and globally. The insistence that the Israeli/Palestinian conflict is patently absurd: there are LGBT/queer-identified people in both Israel proper and in the Palestinian territories; and more to the point, the illegal and immoral Israeli military occupation of the Palestinian territories has had and continues to have a significant and deleterious impact on the lives of LGBT/queer Palestinians.
4) The underlying issue. At the March 13 forum, the executive director made a point of insisting that the Center wanted to avoid taking a position on the underlying issue of the Israeli/Palestinian conflict. One could argue that a community center committed to a vision of justice had an obligation to support those — including the Siege Busters — who were working to make that vision a reality. But if the Center were serious and sincere in wishing to remain neutral on the Israeli/Palestinian conflict itself, the decision should have been to issue a statement that the Center would allow the Siege Busters event to take place, but that the Center itself took no position on the Israeli occupation of the West Bank and Gaza Strip and did not endorse the Siege Busters event, the group's views, or their use of the term 'apartheid.' By canceling the March 5 event and banning the Siege Busters group, the Center did in fact endorse the Israeli military occupation of the Palestinian territories, though the Center's leadership has not been honest enough to acknowledge that fact…
By the end of March, the ad hoc group of activists critical of the Center's decision to ban the Siege Busters adopted the name 'Queers for An Open LGBT Center,' and on April 5, they e-mailed Mario Palumbo, Jr., the Center board's president:
Dear Mario–
It's good to hear from Glennda Testone that the Center Board and Administration are engaged in a serious process of examining the Center's room rental policies and community access to Board meetings.
As part of that process, we would appreciate the opportunity to meet with the full Board to provide some information and discuss these important issues. It was good to see you and Tom Kirdahy in attendance at the March 13 Community Forum but there's an ongoing need for a conversation between us, as longtime users and supporters of the Center, and the full Board. Please email Steve Ault (you may recognize his name as a founding board member)…  and Ann Northrop…  to arrange a mutually agreeable meeting time.
We would like to hear back from you by Monday afternoon, April 11. Please share this memo with board members whose email addresses we don't have. Thank you.
Bill Dobbs
Lisa Duggan
Leslie Cagan
Steve Ault
Pauline Park
John Francis Mulligan
Shawn Jain
Emmaia Gelman
Andy Humm
Bob Lederer
Ann Northrop
Scott Long
On behalf of Queers for An Open LGBT Center
On April 11, Palumbo responded with a message to the signatories, writing,
Dear Bill,
Thank you for your email.  We appreciate your recognition of the extensive amount of time and energy Center staff and board have invested in this process, including continuing to meet with community groups and members on this issue each day since the forum.  We look forward to sharing our process and timeline for the review of our space-use guidelines once completed.
As Executive Director, Glennda represents the organization in meeting with groups on the issue of our space guidelines.  Glennda and relevant staff members would be happy to meet with your group.  We would love to hear your input.  While the board has been kept apprised of Glennda's and the staff's activities and meetings, the board has not held meetings with individual groups. We are designing a process that will provide ample opportunity for community input into the revised policies, which the board will ultimately approve.  The board will not meet with individual groups outside this process.  Such a meeting could be seen as unfair by other stakeholders who may have different points of view and who will also want individual audiences with the board.
In addition to the avenues already in place for the community to provide feedback to the Center, we are exploring additional vehicles which will provide community members a regular opportunity to communicate concerns and meet with representatives of the Center in the future. We are taking this issue and process very seriously while at the same time maintaining our focus on serving the daily needs of the Center's users.  We very much want to hear from you and all community members who care deeply about the Center and this issue. We look forward to doing so as part of this process and sooner, if you choose, in a meeting with Glennda and her staff. She is copied on this email. Please feel free to contact her to schedule a mutually convenient time. Thank you,
Mario
In the meanwhile, as president of the board of directors of Queens Pride House, I welcomed the Siege Busters to the only LGBT community center in the borough of Queens on May 7 for a screening of the moving documentary, "Arna's Children," about the work of Juliano Mer-Khamis, a social justice activist and actor murdered in March 2011. Following the screening, attendees engaged in a discussion of the issues raised in the film, including the ways in which the continued Israeli military occupation of the West Bank have produced the very conditions for armed struggle and resistance that the Israeli government and its supporters deplore.
The film screening at Queens Pride House was the very first time that an LGBT community center in New York City had hosted an event sponsored by the Siege Busters since their expulsion from the Center in Manhattan in early March. While the decision to invite the Siege Busters to Pride House prompted some discussion among members of QPH groups, no members left Pride House because of it and the organization lost no donors.
What the May 7 event demonstrated quite clearly was that an LGBT community center could host a Siege Busters event without incident, without safety or security issues, and without any fall-off of support for the organization. Above all, I and my Queens Pride House colleagues felt it was important to underscore the principle of inclusion and the need for every LGBT community center to be a safe space for discussion of issues of importance to the community — serving, as queer theorists would have it, as a 'site of contestation' for debate over precisely those issues that are most controversial within the community.
More than a month after the April 11 letter to the Center from Dobbs et al, there was still no word from Testone or anyone at the Center about any follow-up meeting and there was absolutely no indication that the Center had any intention of lifting the ban on the Siege Busters. Hence, the formation of Queers for an Open LGBT Center (QFOLC) as well as Queers Against Israeli Apartheid (QAIA).
QFOLC was the formalization of the ad hoc group that formed to protest the ban on the Siege Busters, and QAIA was a new group formed out of the memberships of both QFOLC and Siege Busters to mount an LGBT-specific challenge to Israeli apartheid.
QFOLC members agreed that continuing media coverage of the Center/Siege Busters controversy was necessary to keep up the pressure on the  Center, but momentum seemed to be slowing after the initial flurry of activity, and the Center's administration seemed determined to 'stonewall' QFOLC on the issue of opening up the Center and ensuring inclusion there. In mid-May, an opportunity afforded itself when Steven Thrasher, a blogger for the Village Voice, contacted me, requesting an interview in order to update Voice readers on the status of the controversy.
My initial impression was that Thrasher would be interviewing me in order to extract a few quotes for a blog post on the controversy, but Thrasher decided to post a blog post consisting almost entirely of the interview itself (edited down for length), prefaced by a brief introduction which cited the Center's declaration that it would no longer talk about the controversy; the (unnamed) Center spokesperson told Thrasher that "At this time, we are not doing any further interviews on the topic." I actually did not know about that statement when I did the interview, but my comments were not only unusually blunt but deemed newsworthy enough that the transcript of the interview itself became the blog post, entitled, "Pauline Park Q&A: LGBT Center 'Gives the Community the Finger' in 'Israeli Apartheid Week' Dispute" (VillageVoice.com, 5.12.11).
Thrasher referred to me as 'veteran transgender activist Pauline Park — responsible for addiing the 'T' to Manhattan's LGBT Center,' and quoted me as president of the board of directors of Queens Pride House as saying that
"We [at Queens Pride House] believe that community centers, and LGBT community centers above all, should be places for those excluded by society… Controversy, far from being the reason for banning groups, should be viewed as an opportunity to engage the LGBT community around debate. Centers should be open to discussion and debate of the important issues of the day…"
Perhaps most controversial were my criticisms of the Center's action in banning the Siege Busters. Thrasher quoted me as labeling the Center's rationale for the ban — the allegation that the Siege Busters March 5 event was 'controversial' as 'baloney':
"They cave and they capitulated to blackmail. As the president of Queens Pride House, I would never capitulate to blackmail…"
The interview with Steven Thrasher was the only occasion on which anyone publicly pointed out the fact that Michael Lucas was the boyfriend or partner of Richard Winger, the immediate past president of the Center's board but that neither Lucas himself nor the Center board openly acknowledged that relationship, despite the fact that it gave Lucas access to Center board members and major donors that ordinary Center users or 'consumers' simply would not have.
In an indication of the intensity of opinion on both sides of the Israeli/Palestinian conflict, the Village Voice blog post prompted 58 comments, including many attacking the Siege Busters and inaccurately labeling the group as 'anti-Semitic' and 'anti-Israel' as well as a collaborator in terrorist activities undertaken by Hamas. But Sammer, a Palestinian member of Siege Busters, responded to those comments by writing,
"It is wonderful to see so many comments on this piece, especially the desperately pro-Israel ones.  Anyone whose mind has yet to be made up will surely notice that just about all of the pro-Israel posts rely on islamophobia and/or anti-Arab racism to make their point while the pro-Palestinian posts make no comparable racist attacks on the Jewish population.  It's hard to blame zionists for using these tactics as they have worked for decades, but change is in the air and everyone concerned with the occupation knows it. Anyone with a memory of this issue spanning more than a few years understands how much the ground has shifted and why stories such as this one are important.  Israel's brutality has been on open display thanks, in part, to the proliferation of independent media.  The racist language that has for so long worked to sway Americans in support of the occupation, now only underlines the brutal inhumanity with which the state treats it's Palestinian citizens, prisoners, and occupied populations.  The comments to this story are a remarkably typical soup of racial and religious hatred, character assassination, and false accusations.  What I find exciting is that this is what every racist regime and mindset looks like in it's waning moments… a totem of bigotry teetering on it's own rotting foundation.  Justice for Palestine is on the way… it's in the air and even zionists know it ."
Brad Taylor, another member of Siege Busters, wrote,
"The Center has been represented by its "leader"ship in this embroglio as a non-transparent, anti-liberationist shell of its prior embodiment as a progressive community stronghold.  If this is "dynamic and effective", the direction of the dynamism must be the complete undermining of the credibility of the Center.  The community leadership on display here equates taking a "neutral" position on Palestine/Israel with censoring the discussion and banning the queer/allied organization that brings it up.  Unless they bring it up from the right side.  Center leadership has shown either indefensible bias or complete non-familiarity with the issues at play.  And no respect for dialogue whatsoever.  I don't think it benefits Glennda to compare her to the authentic and politically knowledgeable Pauline Park."
Taylor, along with John Francis Mulligan, Emmaia Gelman, and several other activists, formed Queers Against Israeli Apartheid (QAIA) in May in order to bring to the LGBT community in New York City the issue of Israeli apartheid. QAIA began its activism by submitting a request for space rental at the Center, which had justified its exclusion of Siege Busters in part because Siege Busters was not an LGBT-specific group, even though a majority of Siege Busters members were in fact openly LGBT-identified.
Ordinarily, such space rental requests are answered in two-t0-three days, and the only consideration in most cases is whether there is a room available on the date requested. In this case, however, the Center staff interrogated QAIA about the rental request in detail, posing questions that would have been asked of no other group submitting a space rental request, and the decision on that request ultimately went up to the executive director and the board of directors — not surprising, given the political sensitivity of the issue.
In the face of obfuscation on the part of the Center, QAIA and QFOLC members were gearing up for an action on May 26, the day that QAIA members had requested a room. Just the day before, on May 25, the Center released a public statement on its decision:
STATEMENT ON DECISION TO ALLOW SPACE USE BY OUTSIDE QUEER IDENTIFIED GROUP
MAY 25, 2011
"The Center recently received a request for space rental by a group called "Queers Against Israeli Apartheid" for the purposes of holding recurring meetings to plan for local Pride events. This afternoon we informed the group that the Center would allow access for these meetings.
"The decision is consistent with our current guidelines. Under the guidelines we provide space to community groups for a fee on a case-by-case basis, asking that they abide by the Center's Space Use Agreement, Payment Terms, Code of Conduct and Good Neighbor Policy. Earlier this year we denied space to a group with a similar profile because among other reasons, it was not LGBT focused. In addition, the Center has a longstanding practice of allowing non-LGBT groups to meet so long as it doesn't distract us from our primary purpose of serving the LGBT community; the circumstances surrounding the group in question diverted us from our core mission and we therefore asked it to move an event and all future meetings.
"LGBT New Yorkers are facing urgent issues including: youth homelessness, violence, bullying, substance abuse, health disparities and the other myriad of challenges our community members encounter each and every day. The Center is here to help address these issues 365 days a year. Six thousand people pass through our doors every week. We have a responsibility to meet the vast and diverse needs of this community, and our number one priority is delivering critical services to the people we directly serve.
"The Center also provides space for a variety of LGBT voices in our community to engage in conversations on a range of topics. The Center does not have a position on the Israeli/Palestinian conflict, nor does it endorse the viewpoints of this group or any others that use rooms here. This is a complex issue, and there is a tremendous diversity of viewpoints within the LGBT community.
"We are currently undergoing a review of our space-use guidelines to ensure we have the most robust standards moving forward. As an interim step we are asking all new and existing groups to sign a Space Use Pledge of Non-Discrimination as part of their rental agreements. The group we approved today has signed this pledge.
"Most recently we have also engaged the firm Ritchie Tye Consulting, Inc. to help facilitate a thorough review of the Center's current standards and procedures for determining space use by outside groups, with the ultimate goal of strengthening our guidelines. Ritchie Tye Consulting, Inc. is a New York-based organizational development consulting firm with a long tenure of work with the LGBT and HIV/AIDS communities.
"The firm has already been working closely with Center leadership on a process that includes opportunities for input from a diverse cross-section of Center and community stakeholders through interviews and small groups, and will deliver recommendations to the full Board of Directors later this year. At the conclusion of this process, we will apply the newly adopted guidelines to all existing, recurring and new space-for-fee requests.
"The Center continues to welcome community input and feedback on this topic through our online suggestion box."
Extraordinarily, the Center did not send the statement to members of QAIA and QFOLC, merely e-mailing QAIA a document confirming the approval of the room rental request. On that Thursday, QAIA and QFOLC members held a joint meeting in Room 412 (the room rented to QAIA for the meeting), and then split into the two groups to consider matters pertinent to each.
On May 25, in response to the Center's statement, Michael Lucas posted a message leveling a new threat against the organization:
"Dear friends, I have a very unfortunate update. The group Queers Against Israeli Apartheid was just granted the ability to have their meetings in the LGBT Center. As I always believed, the LGBT Center of NY is an anti-Israeli nest and we did not put enough pressure on them to stop their efforts to harm the Jewish state. But we have the power to stop them. The LGBT Center receives city, federal, foundation, and private funding. We have to work on reaching the government officials and ask them to cut that funding unless the Center changes its decision. We should also reach out to different organizations and individuals and collect money to take a full page ad in the New York Times Magazine. I know this is not cheap and I myself will generously contribute. I also believe that their support of political activity may jeopardize their ability to maintain tax-free status. I would appreciate hearing your thoughts, input, and suggestions. I do need your help."
The hyperbolic language and the hysterical tone were typical of Lucas's communication style, but despite making some absurd claims, the threat was based on a concrete reality: the Center has become dependent on funding from the City of New York, which has become an increasingly large part of the Center's budget since Council Speaker Peter Vallone, Sr. gave the Center its first multi-million-dollar grant in 2001 as part of his campaign for the Democratic mayoral nomination.
It may nonetheless be useful to point out the absurdity of three distinct claims that Lucas made in this message to his supporters:
1) The claim that "the LGBT Center of NY is an anti-Israeli nest" is an extraordinary one, since Jewish groups — including the Gay & Lesbian Yeshiva Day School Alumni (GLYDSA) — meet regularly at the Center, while the Siege Busters remain banned from the Center; if that's an 'anti-Israeli nest,' it's a rather strangely ineffective one.
2) The claim that the Center is engaged in 'efforts to harm the Jewish state' is also an extraordinary and absurd one; all the Center did on May 25 was to concede the right of Queers Against Israeli Apartheid (QAIA) to meet at the Center; and QAIA, in turn, simply used that meeting space to begin planning for marching in pride parades in Queens, Brooklyn and Manhattan; so there have been no 'efforts to harm the Jewish state' on anyone's part going on at the Center.
3) The claim that the Center's "support of political activity may jeopardize their ability to maintain tax-free status" is perhaps the most absurd of all. There are no implications for the Center's federal tax status for simply renting rooms to a political organization. The Center regularly rents space to the Stonewall Democrats of New York City (SDNYC), a political club explicitly focused on party politics and electioneering, and has done so for years; no one has ever claimed that renting space to SDNYC and other political clubs has any consequences for the Center's 501(c)(3) status; in such cases, the Center is simply renting space to a political organization, and is not in any way implicated in its activities.
QFOLC, in turn, responded to Michael Lucas's statement, declaring:
"…Terrifyingly, it proposes that the Center is not allowed to host any political group meetings, and that the Center is itself an 'anti-Israel nest.' (What does a pro-Israel nest look like, then?!) If ever there were a time to shore up the Center's principles of openness and commitment to queers' long history of political organizing, it's now." (QFOLC, "Michael Lucas kicks up again," openthecenter.blogspot.com, 5.26.11).
And that scourge of progressive inclusion, Phyllis Chesler, again reared her ugly head, screeching hysterically in a blog post misleadingly entitled, "NYC Queers for Jihad,"
"The LGBT 'queers' [sic] had threatened to storm or 'surge' into the Center if they did not receive official approval for their group meeting. 'Surging' and 'storming,' Arab street mob behavior, is a vision and a tactic that… reminds me of Nazi Brownshirt behavior. Think Kristallnacht. Civilians and men in uniform breaking Jewish shop windows, breaking Jewish bones, burning Jewish books, eventually burning millions of living Jews…" ("NYC Queers for Jihad," Front Page Mag, 5.30.11).
Aside from ignoring the fact that a majority of members of Siege Busters and QAIA are in fact Jewish, Chesler's bizarre rant mischaracterizes the action that was planned: had QAIA been denied the space to meet, QAIA and QFOLC members were planning simply to find an empty room at the Center, and if none were available, to hold the meeting in the lobby of the Center  — to do a 'sit-in,' as it were, and nothing like 'surging' or 'storming.'
And of course, the larger point is that neither QAIA nor Siege Busters nor QFOLC are in any sense anti-Jewish or anti-Semitic; rather, QAIA is committed to challenging the apartheid regime that governs and controls the lives of Palestinians under the Israeli military occupation of the Palestinian territories, the Siege Busters are working to break the cruel and illegal blockade of the Gaza Strip, and QFOLC is committed to ensuring an open and inclusive LGBT Community Center.
But the outrageous falsehoods and the hysterical tone of both Chesler and Lucas may be taken as indicating the effectiveness of all three groups in challenging the Center's illegitimate ban of the Siege Busters and the Center leadership's betrayal of the values and principles upon which the Center was founded.
It is also worth noting that the Center, through its actions, has put itself in an untenable position. The Center maintains a ban on the Siege Busters, because they used the phrase 'Israeli apartheid in the name of the event that they planned for March 5; yet on March 25, the  Center leadership issued a statement explicitly recognizing the right of Queers Against Israeli Apartheid to meet at the Center even though QAIA includes the phrase 'Israeli Apartheid' in its very name — one of the reasons cited by Mario Palumbo, Jr. (the Center board's president) for banning Siege Busters in the first place. Given the May 25 policy statement, the only conceivable rationale for maintaining the ban on Siege Busters could be that the group is non-LGBT specific; but since many non-LGBT specific groups continue to meet at the Center (including a host of 12-step groups), that 'policy' clearly is not being enforced by the Center administration.
Perhaps the rationale for maintaining the ban is that Siege Busters is both a non-LGBT-specific group and once used the term 'Israeli apartheid' in the name of an event it was planning; but if so, the Center has not said so. And so the Center leadership seem to have painted themselves into a corner, defending a non-policy that is not only indefensible but that is not even coherent.
The inability of the Center's leadership to respond coherently to the challenge from QFOLC and QAIA was made all the more evident in the news story on the QAIA meeting and the change of Center policy filed by Duncan Osborne for Gay City News on June 1 ("LGBT Center 'Apartheid,' Access Controversies Reignited"). Rather than a comment from the executive director or the board president, the Center provided the reporter only with an e-mail message from Cindi Creager, the director of communications and marketing who at one time was a colleague of Glennda Testone's at GLAAD:
"We held a community forum on March 13th," Creager wrote to Osborne in response to his request for an interview. "Ann Northrop moderated and board members were present. And our board meetings are not open to the public, but input from the community is welcome and encouraged," Creager added, neatly evading the most pertinent questions and avoiding any comment at all on the renewed threat of a boycott from Michael Lucas. But Lucas himself had no hesitation in commenting for the record. "This group has had their first and last meeting in the Center," Lucas e-mailed Osborne in response to a query from the GCN reporter. "If someone fucks with Israel, I fuck them back. And I usually win," Lucas added in typically crude and adversarial language.
The Jerusalem Post, ever a sentinel of right-wing opinion in Israel, reported on the latest developments in the controversy as well (Benjamin Weinthal, "NY LGBT Center slammed as center of anti-Israel activity," Jerusalem Post, 6.1.11).
On June 2, in response to the renewed threat of a boycott by Michael Lucas — this time, ominously focusing on pressuring elected officials to cut funding to the Center from the City of New York — the Center again capitulated to blackmail, reversing course yet again and issuing a statement banning Queers Against Israeli Apartheid just as it had banned the Siege Busters three months previously:
Cindi Creager, Director of Communications & Marketing
(212) 620-7310, ccreager@gaycenter.org
New York, NY June 2, 2011 —
"The Lesbian, Gay, Bisexual & Transgender Community Center today announced a moratorium, effective immediately, on renting space to groups that organize around the Israeli-Palestinian conflict. The decision comes after months of divisiveness, protest, and heated rhetoric regarding whether the Center should rent space to two groups organizing around these issues. The Center has been forced to divert significant resources from its primary purpose of providing programming and services to instead navigating between opposing positions involving the Middle East conflict. The Center, which does not endorse the views of groups to whom it rents space and requires all groups to sign a non-discrimination pledge, has decided to implement this moratorium to allow a cooling off period.
"'We must keep our focus squarely on providing life-changing and life-saving programs and services to the LGBTQ community in New York City,' said Executive Director Glennda Testone. 'We respect those who are deeply passionate about these issues, and we respectfully ask that they take meetings outside of the Center. Make no mistake, everyone is welcome at the Center; but these particular organizing activities need to take place elsewhere.'
"In February, the Center declined to rent space to a group called Siege Busters, a non-LGBT-focused group whose presence at the Center provoked controversy and diverted energy and resources away from the Center's core mission. The Center subsequently agreed to rent space to Queers Against Israeli Apartheid, which conformed to the Center's application guidelines and signed its non-discrimination agreement. But the ensuing controversy has again consumed significant time and resources and forced Center staff to negotiate issues of anti-Semitism in political expression – an area outside the Center's expertise. For these reasons, the Center has adopted an indefinite moratorium. 'We have tried in good faith to weigh each space request while considering the deeply held beliefs of members of our community about these issues,' said Board President Mario Palumbo. "But we are first and foremost a community services center and need to ensure that all individuals in our community feel welcome to come through our doors and get what they need to live healthy, happy lives. This must be our priority."
Significantly, the Center did not send this statement directly to either QAIA or QFOLC or the Siege Busters Working Group, and even more significantly, the Center's media contact (Cindi Creager) refused to answer any questions about the new 'policy' when asked by Duncan Osborne. The Gay City News reporter told me that Creager merely referred him to her press release, as if the release itself would answer any question he might have about the apparent inconsistencies and contradictions in the statement itself.
To my mind, one of the most important questions in examining the reasons for the reversal of the May 25 policy statement by the Center on June 2 was whether calls from elected officials to the Center prompted that abrupt reversal. In his June 2 report for Gay City News, Duncan Osborne asked that question of Cindi Creager (the Center's director of communications and marketing), Stuart Applebaum, and Michael Lucas ("Swift, Stinging Criticism of LGBT Center 'Moratorium'," Duncan Osborne, Gay City News, 6.3.11). I was struck by the fact that the three of them gave three different answers to that crucial question. Osborne quoted Lucas as saying, "I don't know, you should ask them." Speaking on behalf of the Center, Creager e-mailed Osborne to tell her that the Center had not been contacted by any 'elected officials.' But Applebaum "said he had spoken with many people, including elected officials or their staff," Osborne reported. "I'm aware of offices of elected officials reaching out to try to save the Center from itself," Applebaum was quoted by Osborne as saying. "I don't know what happened, I don't know what calls were made, but people at every level said they were going to call to find out what was going on," Applebaum told Osborne, directly contradicting the official party line coming out of the Center, as voiced by Creager.
The question as to whether elected officials pressured the Center to reverse its May 25 policy statement and expel QAIA just as the organization's leadership had the Siege Busters in early March is far from a purely academic one: rather, the lack of transparency on the part of the Center board and staff here was replicated by a lack of transparency on the part of elected officials who — Applebaum clearly indicated — were involved in working behind the scenes to get the Center to abruptly reverse course and ban QAIA as well as the Siege Busters.
Indeed, it is quite possible that it was the city's highest-ranking openly LGBT elected official — New York City Council Speaker Christine Quinn — who was behind the abrupt reversal of policy. The Council Speaker is universally recognized as the second most powerful person in New York City government, and Quinn is an undeclared but active candidate for the Democratic nomination for mayor in 2013. If Applebaum, as president of the Retail, Wholesale & Department Store Union — one of the largest in the city — used that position to pressure the Council Speaker to pressure the Center, there would be not only the problematic misuse of power by the Center's board and executive director, but by a major labor union and by a leading (openly lesbian) elected official as well.
New York State Senator Thomas K. Duane (D-Manhattan), in whose Senate district the LGBT Community Center is located, was asked at the Queens Pride Parade on June 5 what his response was to the participation of Queers Against Israeli Apartheid in that event as well as the controversy surrounding the Center's expulsion of QAIA and Siege Busters. "I know about the difficult discussions around the Center's policies for meetings, and we have spoken with both sides," Duane told Gay City News (Winnie McCroy, "The World, Again, Comes to Queens," Gay City News, 6.8.11).  "It's a very, very tough issue, and one that I think will eventually be resolved… But, they are a group that is in solidarity, that share a point of view represented by a tremendous number of peopled," added Duane, the first openly gay person elected to the New York State Senate. "But with all of that said, there are people who simply disagree with them. It's unfortunate, yet appropriate that it be played out with the Center being in the middle of it."
Another elected official who was equally evasive and non-committal when asked directly about the Center's ban on QAIA and Siege Busters was Daniel Dromm, who in November 2009 was elected to represent the 25th district in the New York City Council. "I don't know exactly what their stand is," Dromm said of QAIA," although I have heard some of the press around it," he told Gay City News  (Winnie McCroy, "The World, Again, Comes to Queens," Gay City News, 6.8.11). "I know that the [Queens] Pride Committee, when they discussed the participation of that group here, felt that, look, they're gay, they should be allowed to march and to express their viewpoint. We all agreed on that," added Dromm, who along with Jimmy Van Bramer became the first openly gay person elected to public office in Queens (Van Bramer was elected to represent the 26th Council district in November 2009). Significantly, Dromm did not respond to the Gay City News reporter's question about the Center's newly announced policy banning QAIA and the Siege Busters as well as discussion of the Israeli/Palestinian conflict. The fact that Dromm, Van Bramer, and especially Duane are all personal friends and political allies of Speaker Quinn — who has made a very public show of her continued support for the Center while at the same time refusing to comment on the Center's ban on QAIA and Siege Busters — suggests that the openly gay and lesbian elected officials in New York are unwilling to take any stand on the issue that could potentially alienate voters and/or donors to their own campaigns.
In any case, the refusal of the Center's board president and executive director to speak directly — or even honestly — even to LGBT media outlets such as Gay City News underlined the rejection of any concept of accountability to the LGBT community which the LGBT Community Center ostensibly serves.
As Duncan Osborne quoted me for his Gay City News report, "The Center was intended to be a location for the open and free discussion of controversial issues; it was never intended to be solely a social services provider. This was a cowardly act of betrayl of the Center's mission by its executive director and its board of directors… They are no longer a community center."
Significantly, Michael Lucas was widely perceived by those who supported the Center's decision to ban QAIA — just like the decision to ban the Siege Busters — as having been instrumental in prompting that decision. "According to observers of the dispute, Lucas played a crucial role in waging the campaign against the center furnishing anti-Israel groups, including Siege Busters and QAIA, with space to organize activities, Benjamin Weinthal wrote in his report for the right-wing Jerusalem Post (Benjamin Weinthal, "New York LGBT Center ejects Queers Against Israel Apartheid," Jerusalem Post, 6.5.11); and this, despite the Center's own refusal to recognize Lucas's role in the reversal of its May 25 decision to allow QAIA to meet at the Center. Typically, the Jerusalem Post reporter did not even bother to seek comment from QAIA members, contenting himself with quoting Michael Lucas and Stuart Applebaum as the only sources that he contacted for comment; Weinthal simply and lazily took a comment from the QFOLC website as well as two excerpts from the Center's press release and dropped them into a 'report' obviously designed to defend the Israeli military occupation of the Palestinian territories at all cost.
On June 7, Naomi Brussel and Brad Taylor of Out-FM — the LGBT program on WBAI Radio in New York City — interviewed three organizational representatives, who discussed the ongoing controversy. Sherry Wolf represented the Siege Busters Working Group, John Francis Mulligan represented Queers Against Israeli Apartheid, and I represented Queers for an Open LGBT Community Center. (A podcast of the Out-FM interview is available on Out-FM.org.)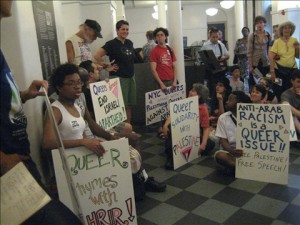 In response to the Center's ban on QAIA, members decided to hold a meeting in the lobby of the Center on the very date that their second meeting was scheduled to be held there; and so at 6 p.m. on Wednesday, June 8, members of QAIA, supported by QFOLC, the Siege Busters Working Group and LGBT community members, gathered in the lobby of the Center to hold the meeting that the Center had a contractual obligation to host. More than 50 individuals — at times approaching 60 people — crowded into the Center's lobby to plan for the upcoming Brooklyn Pride Parade and New York City Pride March as well as to consider a possible action at the Center Garden Party on June 20. Duncan Osborne reported on the action for Gay City News ("Critics of Israeli Occupation Occupy Center Lobby," Gay City News, 6.8.11).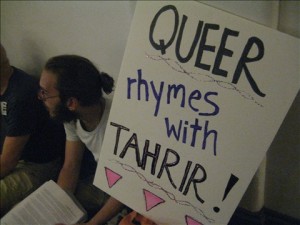 The next step in the campaign for an open center was the QFOLC action at the Center Garden Party on June 20, the Center's biggest fundraising event of the year. The Garden Party began in the Center's tiny garden years ago but then moved to a playground/ basketball court a few blocks down the street; in that location, community organizations staffed tables with literature about their activities. But the Center eventually moved the Garden Party to the Chelsea Piers, where it has since become a corporate food fest, with restaurants providing food a different booths to the thousand or so attendees who now pay $100 or more for tickets.
I attended the Center Garden Party in June 2010, and while a pleasant experience with good food and an opportunity to catch up with friends and acquaintances. A few elected officials made brief references to the need for legal and political equality, while the speech by Glennda Testone simply thanked attendees for their support and reminded them of the need for more money to keep the Center running. Most of the attendees were middle class to upper middle class gay and lesbian white professionals. Other than the drag queens who were the 'talent,' there were only a handful of transgendered people, including Stephanie Battaglino, who had at that point recently joined the Center board. Most of the attendees were not activists, which was perhaps not surprising, given how nearly entirely denuded of political content the event had become.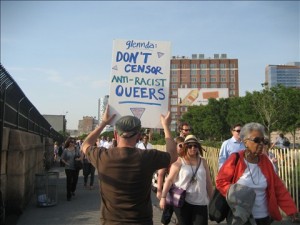 And the 2011 Garden Party would have been just as denuded of political content had it not been for Queers for an Open LGBT Center and our vocal and colorful protest. Dozens of us positioned ourselves on the long corridor along the West Side Highway leading to the entrance to the pier on which the Garden Party was being held. We handed out more than 500 leaflets informing Garden Party-goers of the issues at hand; our leaflet reiterated our demand that  the Center:
1) lift the ban on the Siege Busters and Queers Against Anti-Israeli Apartheid,
2) hold open board meetings, and
3) reinstate free speech at the Center.
The full QFOLC statement, which was drafted by Steve  Ault — a co-founder and member of the original Center board — and other members of QFOLC, was printed on the back fo the flyer, and read as follows:
"New York's LGBT Community Center has served as an indispensable resource since its founding in 1983. But now, something has gone very, very wrong at the Center. Its Board has turned the simple matter of renting space to queer groups for organizing into a giant mess. Groups have been told they can meet and then are banned. Suddenly there's a cloud of censorship on 13th Street. Claiming it "has been forced to divert significant resources from its primary purpose of providing programming and services to instead navigating between opposing positions involving the Middle East conflict," the Center announced "a moratorium, effective immediately, on renting space to groups that organize around the Israeli-Palestinian conflict." Summarily canceled were scheduled meetings of the group, Queers Against Israeli Apartheid (QAIA), which the Center had approved only eight days earlier. One such meeting took place without incident. Previously, the Center banned the group, Siege Busters, from further meetings because of its organizing around Israeli Apartheid Week. Center Executive Director, Glennda Testone, stated that Siege Busters was expelled because it was both non-LGBT and controversial, with neither factor alone being grounds for refusing meeting space. Obviously, QAIA met this announced criteria. Also obvious ― now ― is that the banning of Siege Busters and the criteria were a smokescreen for something else. By banning queer political organizing groups in response to "controversy," the Center is moving into a dangerous world of policing the queer community on behalf of outside forces ― forces that are openly trying to silence anyone with a position different from their own. Making matters worse, by banning discussion of the Middle East conflict, the Center is, indeed, taking a side: implicitly endorsing Israel's policy on Palestine as well as the dangerous idea that anyone who objects to this policy is "anti-Semitic." Only groups opposing that occupation had been meeting there, so the ban affects them only. Despite the extreme controversy surrounding this issue, these groups have affirmed the right of those supporting the opposite position to meet at the Center as well.
"The Center's "primary purpose" as described in its release is historically inaccurate. The Center was founded in 1983 to provide meeting and office space to community groups for the purposes of organizing, developing programs and rendering services. That the Center now itself performs some of these functions is great, but this role should never be used as an excuse to negate its founding purpose by limiting access to community groups. Contrary to the Center's claim, there is nothing around which to "navigate." Republicans, Democrats, socialists and anarchists have met at the Center; so have Muslims, Christians, Jews, Buddhists and atheists. Before this latest statement from the Center leadership, no one―including the Center itself ― had ever suggested that the provision of rental space implied an endorsement of the groups renting rooms or of their political perspectives. Siege Busters was banned under pressure from anti-free speech, Islamophobe Michael Lucas who threatened to organize a donor boycott of the Center. When QAIA was briefly allowed to meet,  he threatened to take out a full-page ad in the New York Times against the Center, calling it an "anti-Israeli nest." Thugs like Lucas are the last people the Center should be listening to when developing policy. Clearly, secret conversations are taking place behind the closed doors of the Center's boardroom.  But if the word "Community" in the Center's name has any meaning, we all have every right to know what's going on. Instead of responding positively to requests from community activists to meet on this matter, the Center board hired a consulting firm to formulate a space utilization policy at exorbitant cost that is a complete waste of community resources. Calls for open board meetings have been heard before. Now, with the latest flip-flop and ever lengthening trail of obfuscation, the need for the Center to heed this call is more urgent than ever."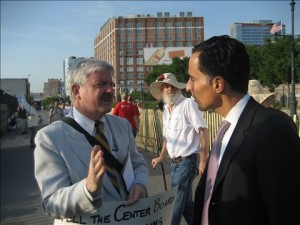 In a rare moment of contact with the Center board of directors, Andy Humm and a few other QFOLC members confronted Mario J. Palumbo, Jr. about the board's refusal to meet with QFOLC. When asked directly by Humm if Palumbo would raise the QFOLC request for a meeting with the Center's board, the board president initially seemed to indicate that he would raise it; but when Humm asked Palumbo if he would advocate for such a meeting, he said that he would not. Palumbo then started to say something about 'our Center,' but Humm reminded him that the Center belonged to the entire community. At that point, Palumbo stormed off, leaving QFOLC members present with yet one more confirmation of the current Center leadership's disdain for the LGBT community and refusal to be accountable to it.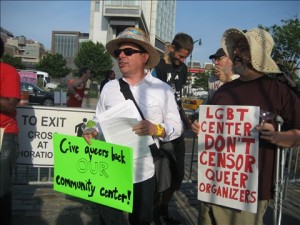 I reported on the confrontation with Mario Palumbo at the second meeting/sit-in of Queers Against Israeli Apartheid at the Center, which took place on July 5.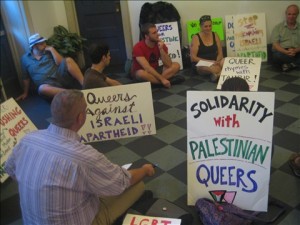 As on June 8, the Center management did nothing to try to expel QAIA members who occupied the Center's lobby from 6-8 p.m. on July 5. "The Center, which declined to comment on this latest QAIA move, took no action against the two unapproved QAIA meetings and appeared to be content to let the group meet," Duncan Osborne reported for Gay City News (Duncan Osborne, "Queer Critics of Israel to Test LGBT Center Ban," Gay City News, 7 July 2011).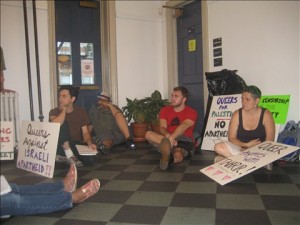 Comic relief came in the form of a gay man who held up a banner proudly declaring himself one of the "American Friends of Likud," complete with the Star of David superimposed on the American flag; attached to his Likud-friend banner was a string of three Israeli flags, which he anchored to the lubricant container of the Center's front desk. Precisely what the man thought he was accomplishing was unclear, but QAIA members found his presence a source of considerable amusement.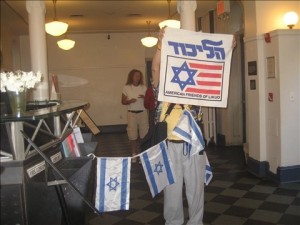 Michael Lucas blasted the Center for refusing to bodily expel QAIA members. "It is up to the Center how they want to approach intruders and hooligans that are trying to illegally occupy its premises," Lucas told the Jerusalem Post (Benjamin Weinthal, "Support for gays, Hamas at NY's LGBT Center sparks fury," Jerusalem Post, 7.10.11).  "I think the center, by allowing this, is setting a bad precedent," Lucas added. Despite the Center's previous declaration that it would not comment any further on the Siege Busters/QAIA controversy, its communications and marketing director did in fact respond to a request from the Jerusalem Post for a comment. "The QAIA had a sit-in at the center this past week in violation of center policy," Cindi Creager told the Post's Weinthal. "It was very small. We are not permitting them to meet and the moratirum remains in place," added Creager.
But the Jerusalem Post story on the July 5 QAIA sit-in could hardly be called reporting in any meaningful sense; Weinthal did not contact QAIA (or Siege Busters, or QFOLC, for that matter) for comment, instead relying only on one quote from Emmaia Gelman that he extracted from Duncan Osborne's report for Gay City News. And the false impression created by the headline and the story that QAIA supported Hamas was unsubstantiated by the reporter; indeed, since QAIA does not support Hamas, Weinthal's decision not to contact QAIA for comment must have been deliberate, as any QAIA member would have told him that QAIA had no connection with Hamas. But such is the climate of fear and intimidation created by the bullying behavior of ultra-Zionist pro-Israel propagandists that the Jerusalem Post story would be regarded in certain circles as objective journalism.
In the meanwhile, Michael Lucas and his partner, Richard Winger, continued to be active in the community, participating in a Lambda Legal fundraiser on Fire Island on July 9. The listing of Lucas as a sponsor of the July 9 Pines event prompted QFOLC to write to Kevin Cathcart, Lambda Legal's executive director:
Dear Kevin,
Lambda Legal is one of the largest national lesbian, gay, bisexual and transgender (LGBT) organizations in the country, and it is because of our recognition of the prominence and importance of your organization that we are writing to you to express our concern about the inclusion of Michael Lucas in the list of sponsors of your 33rd annual Fire Island event on July 9.
We fully recognize the need for any 501(c)(3) organization to raise funds to support its work, especially in an economic downturn such as we are now experiencing. However, we feel compelled to bring to your attention the involvement of Mr. Lucas in the operations of the LGBT Community Center — in particular, his pernicious influence in persuading the Center to expel and ban the Siege Busters Working Group in March of this year and Queers Against Israeli Apartheid (QAIA) in May.
It was the ban on the Siege Busters and the silencing of free speech at the Center that prompted us to form Queers for an Open LGBT Center (QFOLC). Unfortunately, the ban on both of those organizations remains in effect to this day, and represents an unprecedented as well as entirely unjustified exclusion of individuals and groups working on behalf of the liberation of the Palestinian people — including LGBT Palestinians — who currently struggle to survive under an illegal and oppressive Israeli military occupation of the Palestinian territories.
Michael Lucas has consciously and deliberately mischaracterized both groups as being 'anti-Israel hate groups' and its members as anti-Semitic — despite the fact that many members of both groups are Jewish — while he himself has made outrageously bigoted statements about Arabs and Muslims.  Lucas has been quoted as saying, "I hate Muslims, absolutely. It's a horrible, horrible religion. It's a plague." Lucas has also said of Muslims, "They have not contributed to civilization in any way, in any field — political thought, science, music, architecture, nothing for century after century. What do they produce? Carpets. That's how they should travel because that's the only way they travel without killing people." And Lucas has slandered the proposed Islamic cultural center on Park Place in Manhattan as a "monument to Muslim terrorism."
We have to assume that Lambda Legal as an organization does not endorse Michael Lucas's virulently Islamophobic and anti-Arab/anti-Palestinian bigotry or his efforts to exclude QAIA and the Siege Busters from the Center and repress queer political speech — in particular, his campaign to marginalize Arab and Muslim LGBT people and to silence community members who speak out against racism and bigotry. However, we would have to ask whether Lambda Legal would want to be seen as legitimizing the position as an LGBT community leader that Lucas so obviously wants to claim for himself.
Sincerely,
Naomi Brussel
Leslie Cagan
Bill Dobbs
Emmaia Gelman
Andy Humm
John Francis Mulligan
Pauline Park
Brad Taylor
for
Queers for an Open LGBT Center (QFOLC)
On July 11, Cathcart responded,
Dear Pauline, and all –
Thanks for your letter regarding Lambda Legal and sponsors of our Fire Island event.   You are right in assuming that Lambda Legal does not endorse any donor's political views; we have tens of thousands of donors every year and they cover a wide spectrum of opinions on LGBT issues and beyond.  In some cases, I think that all they share in common is a desire to support Lambda Legal's work.  Any listings we have show names of people who support Lambda Legal; not the reverse. It would be impossible for us to police the views of all of these donors, and any attempt to do so would take time and energy away from the work we exist to do and would, I believe, not serve the interests of our community.
Lambda Legal has been successful for nearly four decades by sticking to our mission statement and working to achieve full recognition of the civil rights of LGBT people and those with HIV through impact litigation, education, and public policy work, and I think that our work, accomplishments, and positions are clear to all who follow LGBT and HIV-related civil rights. I appreciate your taking the time to write with your concerns.
Kevin
At the same time that QFOLC was writing to Lambda Legal to express concern about Lucas' prominent role in the Lambda event in the Pines, Lucas himself was writing an angry letter to the Center denouncing the executive director and the board president for allowing QAIA to continue to meet there despite the official 'moratorium':
Glennda and Mario-
This is an open letter to you and I am copying it to others. It came to my attention that you, yet again, allowed a group of anti-Semites to meet on your premises, in the lobby of your Center.
http://www.chelseanow.com/articles/2011/07/07/gay_city_news/news/doc4e15ce498112c075992096.txt
This time, the size of the group was larger and consisted of several anti-Israeli groups. As I said before, the Center has become a magnet for anti-Semitism. The difference between previous meetings and the meetings that took place on June 8th and July 5th is that these times the meetings were more visible, instead of meetings and anti-Israeli fundraising campaigns behind closed doors. Meetings have now moved into a public space in the Center's lobby for everyone to see.
Again, you have publicly lied by saying that you would put a moratorium on these meetings, since the keep happening on larger scales.
I, as others have, made up my mind long ago that you are vigorously anti-Semitic. Let me state that nobody cares if you have Jews on board, if there are self-loathing Jews taking part in anti-Semitic meetings that you host, or if there are self-hating Jews supporting you. If you think that you bought insurance by having a handful of Jews on your side, then you are mistaken. Don't think you are fooling anyone.
The American Jewish body overwhelmingly opposes your actions and is disgusted by them.
As you know, there is a new meeting scheduled in your lobby for August 10th. If this meeting goes on, then I do hope that you will be forced to resign, since the Center deserves better leadership.
I am including your contact information for anyone who would like to contact you.
Glennda Testone
Executive Director of the LGBT Center
212-620-7310
glennda@gaycenter.org
Mario Palumbo
President of the Center board
212-875-4900
mpalumbo@millenniumptrs.com
Michael Lucas
What response, if any, the Center gave to Lucas, was not made public.
On 22 November 2011, Steve Ault provided an update on the Center controversy regarding his own personal attempt to meet with the  Center's executive director:
As most of you probably know, I was on the founding board of the Center. I served from 1983 to 1987 when I resigned upon having been elected co-chair of the 1987 March on Washington for Lesbian and Gay Rights II.
So, given my unique position as both a former board member of the Center and now an activist with QAIA and QFOLC, I decided to take the initiative of contacting former Center board members of a like persuasion on the issue of the ban to see if there may be something of substance we could accomplish given our relationship to the Center.
First, I contacted Chris Collins, also a founding board member, who then told me he was opposed to the ban. Next, I contacted Michael Seltzer, a former board president, who had written to Gay City News in opposition to the ban and against those pressuring the Center with threats of withholding funding. We both agreed that a meeting with Center leadership, including board members, was the correct way to proceed, with Michael making the contacts and coordinating arrangements. Further, he suggested contacting Janet Weinberg, also a former board president.
Michael reported that Executive Director Glennda Testone and Board President Mario Palumbo agreed to meet with the four of us. Initial contact was made in July but a mutually convenient date for the meeting couldn't be found until early October.
As the meeting date was approaching, Michael suggested that I write a memo on strategy so that we would all be on the same page. As I was putting the finishing touches on the memo Michael called to inform me that as a consequence of my participation in the meetings/sit-ins in the Center lobby, all involved were requesting that I withdraw from the meeting.
Of course, I protested in no uncertain terms and said among other things that my participation in these meetings was hardly a secret. In closing I said the request was completely unacceptable. Michael promised to get back to me again before the meeting. He never did. Soon after our conversation I called Chris Collins who said he was in a meeting and would get back to me soon. He never did. I left a message with Janet Weinberg. She returned my call some days later but at the time I was at the edge of cell phone reception and in a few seconds the call dropped. Upon returning home I left another message with her. She never called back.
It appears that Michael had a number of conversations with Glennda prior to the scheduled meeting, and I believe she managed to talk him into supporting the ban. He maintained to me that the Center's continuing ability to provide services to those in need is essential and is, in essence, a "class issue." I believe Michael then masterminded my exclusions with numerous conversations to which I was not privy.
I learned a number of things along the way that were never revealed to me as confidential information, but I assume there was an implicit understanding that they were so. However, given current circumstances, the hell with it.
* The Center has been viciously attacked, put under pressure, and threatened by the Zionist side. Two people particularly named (one assumes there are more) are Stuart Appelbaum (no surprise) and Jerrold Nadler. Some of these attacks/threats have been personal in nature (but not necessarily made by the aforementioned).
* The Center lost a considerable amount of government funding (was it $300,000?) for reasons that are not clear
* Glennda was particularly interested in the circumstances around the banning of NAMBLA.
* The Center is completely freaked out by this entire matter and has developed a bunker mentality.
* Michael Lucas is essentially a gadfly and has not been influential in determining policy.
By March 2012, a full year had gone by, and the Center had failed to fulfill its promise to produce a room rental policy, nor had it acted to lift the ban on Siege Busters and QAIA, and so QAIA members decided to mount a teach-in/demonstration on March 3.

QAIA issued a media advisory announcing its teach-in/demonstration on March 3:
Occupy the Center!
Protest censorship by New York's LGBT Community Center
WHO: Queers Against Israeli Apartheid and other groups (list below)
WHEN: Saturday, March 3, 2012 from 4-6 PM
WHERE: LGBT Community Center, 208 W. 13th St. between 7th and 8th Avenues
WHY: One year ago, amidst great controversy, the LGBT Center banned groups opposing Israeli apartheid. Protesters will confront the Center's censorship policy and its secret closed-door board of directors meetings.
It's been a year since NY's LGBT Community Center banned Siegebusters, the anti-occupation organizers, from using space at the Center. Since that time NYC Queers Against Israeli Apartheid has also been banned from the Center—and a "moratorium" has been imposed on ANY discussion of the Palestinian-Israeli conflict (meaning "discussion" of support for Palestinian rights). The Center's board promised, but never delivered, a policy revision clarifying their rental/access/programming guidelines.
On Saturday, March 3, as part of Israeli Apartheid Week, protesters will enact an end to the ban on Palestinian-related organizing at the Center, and re-institute the Center's original access policy of full inclusion for all queers who organize for liberation. The "moratorium" is over!
The wealthy and powerful 1% should not be allowed to silence the voices of the 99%. Queers Against Israeli Apartheid will defy the ban on March 3 — Occupy the Center!
DEMANDS:
1. End the ban on Palestine solidarity organizing at the Center
2. Open the Center to all who respect its stated mission.
The media advisory listed a host of organizations and groups endorsing the action, including QFOLC and NYAGRA as well as Adalah-NY, alQaws for Sexual & Gender Diversity in Palestinian Society, Jewish Voice for Peace-NY and Jews Say No! as well as Young, Jewish & Proud. The purpose of the action was to hold the Center accountable for its actions and to bring visibility to the larger issue of the continued illegal Israeli occupation of the Palestinian territories.
The March 3 event drew well over 200 people to the Center, and several speakers spoke to the crowd gathered in the lobby. In 2012, the Center announced a lavish $7.5 million renovation (Paul Schindler, "
Ambitious Facelift Planned for LGBT Community Center
," Gay City New, 10.10.13), the cost of which was many times larger than the combined total budgets of Queens Pride House, the Brooklyn Pride Community Center and the LGBT Center of Staten Island; even the $1.8 million reported to be the Center's own direct contribution to the renovation was several times the size of the combined total budgets of the other three centers. Schindler did reference the ongoing QAIA/Siegebusters ban in the last section of his news story:
On one thorny issue that has bedeviled Testone's tenure at the Center, her position remains the same. A year and a half ago, complaints about the use of space there by Siege Busters and Queers Against Israeli Apartheid (QAIA), both critics of the Jewish State's treatment of its Palestinian residents, led her to impose a ban on all groups that organize around the Israeli-Palestinian conflict. Critics of that decision charged the policy was out of line with the Center's tradition of opening up its doors to the LGBT community's full diversity and of inviting rather than curbing controversy. Some accused the Center of buckling to demands from some wealthy donors. Those who complained about Seige Busters and QAIA getting the use of space said their activities were divisive, with some suggesting that anti-Semitism or at least insensitivity to the complex realities on the ground in the Middle East were at play on the part of those two groups. Testone expressed confidence that the ban put in place is working and said she saw no broader issue regarding access to the Center that needs addressing.
In "Ambitious Facelift Planned for LGBT Community Center" (by Paul Schindler, Oct. 10-23), you report on the Center's planned $7.5 million renovation and quote executive director Glennda Testone as saying it is part of "a vision for the Center that offers impeccable social services in a setting that everyone who walks in feels is reflective of their lives." But that $7.5 million 'vision' does not reflect the lives, perspectives, or aspirations of LGBT human rights activists or those of LGBT Palestinians, Arabs, and Muslims and many queer immigrants living in New York City who no longer feel welcome at a center that has banned all mention of Palestine. Under the influence of a few wealthy anti-Arab and Islamophobic donors and funders, the Center continues to ban all Palestine solidarity organizing, including meetings of the Siege Busters Working Group and Queers Against Israeli Apartheid (QAIA). Sadly, the Center's board and executive director have rejected the original vision that led to its founding — as an open space for all members of the community and a site for community organizing and political activism — in favor of one that reflects the values of the most privileged elements of our community. The Center is no longer a community center but rather a profit center that has abandoned all pretense of commitment to social justice.
New York City Queers Against Israeli Apartheid
The ban on Palestine solidarity would finally come to an end in February, after QAIA submitted a request for rental space for an event involving Sarah Schulman, who was to read from her new book on Israel/Palestine. Duncan Osborne reported on the Center's rejection of the QAIA space rental request (Duncan Osborne, "
LGBT Center Bars Sarah Schulman Reading
," Gay City News, 2.13.13). The Center's decision to ban the Schulman reading provoked a firestorm of protest.
On Feb. 15, the Center announced its decision to end the moratorium on Palestine solidarity organizing as well as the ban on Siege Busters and QAIA:
"It looks like a quick and decisive victory for the champions of free speech," Lisa Duggan wrote of the lifting of the moratorium in an op-ed in The Nation. "But was it? Well, yes and no," Duggan concluded:
The new consensus, evidently palatable to city politicians and the center's major donors, now includes stated supported for free speech and open discussion, sans demands and threats against public and community institutions that sponsor politically controversial events. But this openness comes with the ongoing requirement that public officials and community institutions ritually invoke their solid support for Israel's policies and their disgust at critiques of those policies, critiques that are seen as always already underwriting anti-Semitic bigotry and hate speech. The policy announced with the lifting of the ban requires that groups pledge not to engage in bigotry and hate speech… That of course leaves the door open for another round of protests and complaints, alleging yet again that critiques of the Israeli occupation are anti-Semitic, and should be banned rather than heard. The door to free discussion may now be open, but, in the name of safety and protection of some—but not others—from offense, it can still be closed.  (Lisa Duggan, "A New Consensus on Public Space and Free Speech on Israel/Palestine in New York City," The Nation, 2.22.13)
Duggan's conclusion was underlined by a statement from New York City Council Speaker Christine Quinn, New York State Assembly Member Deborah Glick, New York State Senator Brad Hoylman and City Council Member Jimmy Van Bramer, issued only minutes after the Center announced its decision:
"We support the new Space Use guidelines, terms and conditions being implemented by the Lesbian, Gay, Bisexual, and Transgender Community Center.
Their decision to allow groups to have open discussion and to create a resolution process to address complaints of potential hate-related speech is the correct approach.
Under the Center's new guidelines, all parties will have access to rent space to organize around LGBT issues, and the Center will remain a safe space, where hate-related speech will not be tolerated.
This will allow the Center staff and board to promote its core mission of providing health and wellbeing services to our community, in addition to providing a safe and secure forum for issues relevant to NYC's LGBT community.
That said, we want to make abundantly clear that we categorically reject attempts by any organization to use the Center to delegitimize Israel and promote an anti-Israel agenda.  We adamantly oppose any and all efforts to inappropriately inject the Center into politics that are not the core of their important mission.
We vehemently oppose the absurd accusations by some groups that Israel is engaged in so-called 'pinkwashing.'  We find this charge offensive and fundamentally detrimental to the global cause of LGBT equality.  These accusations should be understood as just one part of the arsenal of those who seek to completely discredit the state of Israel altogether.  In fact, Israel's highly laudable record in advancing LGBT rights deserves praise, not scorn.  Given the very poor record of much of the world on LGBT issues, we should be celebrating Israel's – or any country's – LGBT equality advances.  We must always encourage countries with strong records of achievement for our community to be rightly and publicly proud so they may set an example for others.  We continue to believe that the boycott, sanctions and divestment (BDS) movement against Israel is wrongheaded, destructive, and an obstacle to our collective hope for a peaceful two-state solution. 
We applaud the Center Board and staff for taking this important step.  We now hope everyone will respect the Center as a safe space for open and safe discussions.  We hope the Center can move forward and serve the LGBT community as it has always done."  (joint statement from New York City Council Speaker Christine Quinn, New York State Assembly Member Deborah Glick, New York State Senator Brad Hoylman and City Council Member Jimmy Van Bramer, 2.15.13)
The statement from the elected officials drew a rare rebuke from Paul Schindler, editor of Gay City News, who wrote in an editorial,
I am dismayed, however, at how much more difficult it is to have a thoughtful debate about Israel's shortcomings in the US than it is in Israel. There, the opposition is freewheeling in its criticism of Prime Minister Benjamin Netanyahu. Here, nuanced thinking seems to pretty quickly hit a brick wall of "My Israel, Right or Wrong."
That is surely the attitude at the heart of the disconcerting release from Quinn, City Councilman Jimmy Van Bramer, State Senator Brad Hoylman, and Assemblywoman Deborah Glick. After praising the Center for finding an approach that will maximize access, the four gratuitously added, "That said, we want to make abundantly clear that we categorically reject attempts by any organization to use the Center to delegitimize Israel and promote an anti-Israel agenda." Then, in a perfect inversion of what actually happened over the past two years on West 13th Street, they continued, "We adamantly oppose any and all efforts to inappropriately inject the Center into politics that are not the core of their important mission."
If only they could have left it at a paraphrase of Mayor Michael Bloomberg's rebuke of those who threatened to punish Brooklyn college for hosting a BDS forum – and said simply, "If you want to go to a community center where the government or a board of directors meeting in private decides what kind of subjects are fit for discussion, I suggest you look for a community center in North Korea."  (Paul Schindler, "
LGBT Community Center: A Bad Policy Ended Badly
,"
Gay City News
, 2.27.13)
Schindler's editorial was followed by a news story three months later by Duncan Osborne on the collusion between those elected officials — Speaker Christine Quinn, City Councilman Jimmy Van Bramer, State Senator Brad Hoylman, and Assemblywoman Deborah Glick — and the Jewish Community Relations Council (JCRC) over the statement that they issued. In "
Quinn Consultation With Jewish Group on Center Palestinian Policy Bared
" (Duncan Osborne, Gay City News, 6.5.13), Osborne quoted from a statement from QAIA, which read in full:
NYC Queers Against Israeli Apartheid
City Council Speaker Christine Quinn hasn't made a secret of her tight relationship with the Jewish Community Relations Council (JCRC). Since 2007, the JCRC has sought and secured Quinn's influence on issues that are way beyond the appropriate scope of NYC politics. They've paid for her three trips to Israel. At their request, she pushed on the U.S. State Department to deny visas to human rights activists who survived Israeli attacks on the non-violent 'Gaza flotilla'. They secured her opposition to the recognition of the Palestinian Authority's status at the United Nations as a 'non-member observer state.' At a JCRC press conference whose purpose was "to express the unequivocal support for the State of Israel among New York's political [and] communal… leaders," Quinn said, "New York is Israel, and Israel is New York," and thanked the JCRC for focusing NYC elected officials on support for Israel "on a daily basis."
(https://www.youtube.com/watch?feature=player_embedded&v=l9-a6jvKBwE (Quinn starts at 9:30))
We believe that it is clear that in the past two years, the JCRC has asked Quinn to try to snow her own constituents on their behalf and silence any dissent, and she has done just that. In the case of the LGBT Community Center 'controversy,' Quinn stayed completely silent as many organizations and individuals from the LGBT community were shut out of this major institution to which she provides funding. She left her staff to run awkward interference against queer activists who asked to meet with her on the subject –- and ultimately communicate her refusal to meet with them at all. Her public silence doesn't mean she wasn't talking to the other side: Stuart Appelbaum told GCN that he personally had pushed elected officials to put pressure the Center. And the role of the JCRC was more starkly shown when the Jewish Daily Forward wrote that Quinn's consultation with the JCRC on her post-moratorium statement was 'routine.'
The Center isn't the only such instance. The JCRC also organized NYC elected officials to oppose a proposed vote by the members of the Park Slope Food Co-op on the idea of a boycott of Israeli goods (not just to oppose a boycott, but the membership vote itself), and Quinn dutifully piled on, saying she hoped the vote would 'not happen.' She went on to say that "[t]he relationship between New York and Israel…[is] something I feel very, very strongly about," intimating that the Israeli apartheid policies that food co-op members sought to boycott are "to protect the same independence that the U.S. cherishes" and calling on the co-op not to get in Israel's way:
 (http://www.nytimes.com/2012/03/27/nyregion/boycott-plan-at-park-slope-food-co-op-draws-politicians-opposition.html
and http://council.nyc.gov/html/pr/032712boycott.shtml)
We're well aware that the pro-Israel lobby is a strong force in NYC politics – and that Chris Quinn is a politician, not a community leader. But as human rights activism against Israeli apartheid takes root in New York, we have been truly disgusted to see her do the JCRC's bidding in silencing queer voices and human rights activists, and in turning LGBT institutions against both.
The JCRC is totally transparent about its aim to promote lockstep support for Israel, no matter how terrible its actions. But especially given the shoddy state of human rights in NYC, where Muslims and Arabs are surveilled and entrapped in ways that LGBT people once were, it's totally inappropriate for our elected officials to be pledging their allegiance to the JCRC.
The GCN story was published in the heat of the mayoral campaign, with Quinn