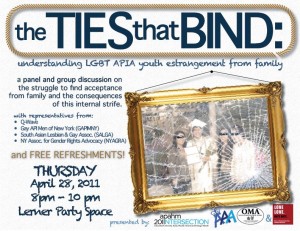 The Ties that Bind: Understanding LGBT APIA Youth Estrangement from Family

Date: Thursday, April 28, 2011

Time: 8pm to 10pm

Location: Lerner Party Space, Lerner Hall, Columbia University (2920 Broadway, between 114th and 115th St.)
RSVP required for non-Columbia University ID holders. RSVP here~!





"I love my family too much to come out-- if my grandparents found out, it would destroy them."





 

"I can't imagine my family ever wanting to come to my wedding."




 

"When I go home and I'm closeted, I feel like a fraud."




 

"I'm living a double life... one that's queer and one that's Asian."




What does it mean to estrange oneself from one's family and what leads one to make that decision?




Is it necessary to be open with family about sexuality and gender identity when it's so much easier to avoid the discussion altogether




With invited speakers from Q-Wave, Gay Asian Pacific Islander Men of New York (GAPIMNY), South Asian Lesbian & Gay Association (SALGA), and leading transgender rights activist Pauline Park, this panel will explore the impact that family has on LGBT Asian/Pacific Islander American (APIA) youth and the struggle to find acceptance from their families.




This event is free and open to the public. However, non Columbia University ID holders must RSVP by filling out the form at the link below. Please RSVP by noon, Tuesday April 26th~!




We welcome people of all backgrounds, sexual orientations, and gender identities. We especially encourage allies and those unfamiliar with APIA issues to attend this introspective and informative discussion. Snacks and refreshments will be provided.




Proudly presented by the Asian Pacific American Heritage Month (APAHM) and Asian American Alliance (AAA) at Columbia University. Sponsored in part by the Office of Multicultural Affairs (OMA).