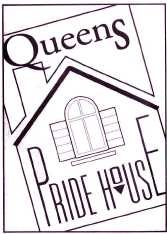 FOR IMMEDIATE RELEASE
For more info., contact:
Pauline Park
President, Board of Directors
Queens Pride House
76-11 37th Avenue, Suite 206
Jackson Heights, NY 11372
http://www.queenspridehouse.org/
Queens Pride House to host Siege Busters Working Group screening of "Arna's Children"
New York, NY – 1 May 2011 – The Siege Busters Working Group will present a tribute film screening of "Arna's Children" in honor of slain actor/social justice actvist Juliano Mer-Khamis at 7 p.m. on Saturday, May 7. Directed by Mer-Khamis, the film is a documentary  about the Jenin Freedom Theater in Palestine founded by his mother, where he continued working up to his death in March 2011. Queens Pride House, the only LGBT community center in the borough of Queens, will host the film screening at its home in Jackson Heights.
"We would like to thank Queens Pride House for welcoming us and for recognizing that the struggles of all oppressed peoples are connected," the Siege Busters Working Group declared. The Siege Busters were barred from holding meetings and events at the Lesbian, Gay, Bisexual and Transgender Community Center in Manhattan, where the group had been regularly meeting.
"We are delighted to welcome the Siege Busters Working Group to Queens Pride House and to screen this important film," said Pauline Park, president of the board of directors of Queens Pride House. "Queens Pride House is one LGBT community center that will not ban individuals or groups based on their political views, censor their speech, or curtail their ability to advocate on behalf of marginalized members of our community," added Park, who participated in the tumultuous community forum at the Center in Manhattan on March 13. The Center, located in Manhattan's Greenwich Village, scheduled that forum after a wave of protest swept the LGBT community in New York City following the organization's abrupt decision to cancel the Siege Busters' March 5 'Party to End Israeli Apartheid!' in response to the threat of a boycott of donors by right-wing millionaire Michael Lucas.
The event at Queens Pride House is being co-sponsored by the Friends of the Jenin Freedom Theater and all proceeds from the screening will go to them. The suggested donation is $5. Queens Pride House is located at 76-11 37th Ave. (Suite 206) in Jackson Heights and is easily reached by subway via the E, F, M or R line to Roosevelt Ave. or the #7 to 74th St./Broadway. For more info., see www.queenspridehouse.org.
# # # #