Rutgers University Rainbow Graduation
LGBT commencement address
Pauline Park, Ph.D.
5 May 2011
I'm honored by the invitation to speak here at the Rutgers University Rainbow Graduation and I'd like to thank the the Office for Social Justice Education and LGBT Communities (SJE) for that invitation. And I'd especially like to thank Jenny Kurtz, the acting director of SJE, for organizing my appearance here. I feel particularly honored to be the first commencement speaker at Rainbow Graduation who is from outside of the Rutgers community.  And let me say that I am really impressed by the work that SJE is doing here at Rutgers to make the university a safer place for all students, including and especially those who identify as LGBT or queer.
I note with interest the Gender Identity Taskforce that the Office of the Vice President for Student Affairs established here in 2005, as well as the wonderful series of events that SJE puts on each year. In February 2010, I gave a keynote speech entitled "Transgendering the Academy" at a conference in San Francisco called "Expanding the Circle: Creating an Inclusive Environment in Higher Education for LGBTQ Students & Studies." in which I made some suggestions for how to make colleges and universities more transgender-supportive. And I would like us all to fully appreciate the significance of this graduation ceremony itself — something that was inconceivable when I graduated from college way back in the Dark Ages.
When I was an undergraduate at the University of Wisconsin-Madison, there was no office of LGBT student services on any campus anywhere in the United States.  There was no LGBT studies program at any college or university, and queer theory had no place in the academy or academic discourse. There are now LGBT student services coordinators and resource centers of various sizes and configurations on colleges across the country, and even a professional association for such staff — the Consortium of Higher Education Lesbian Gay Bisexual and Transgender Resource Professionals.
When I had my first coming out way back in 1978 in my freshman year of college — as a gay-identified male, there was no LGBT student group of any kind at the University of Wisconsin. The only resource for students was what was then called 'the Gay Center,' which was staffed by volunteer peer counselors in a small room in the basement of the Presbyterian church on the edge of campus. Even when I received my Ph.D. from the University of Illinois at Urbana-Champaign in 1994 — just a few years before transitioning and coming out as an openly transgendered woman — UIUC offered nothing for LGBT students, until the establishment of the LGBT Resource Center a few years after I left campus. So I look around in wonder at the range of resources available for LGBT students on so many campuses around the country.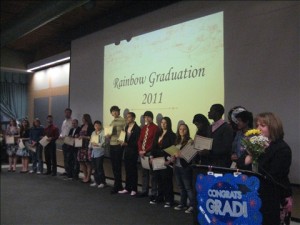 Rutgers University Rainbow Graduation 2011 graduating seniors receive their rainbow tassels
That being said, even at a university such as Rutgers that recognizes the needs of LGBT students and supports them through resources such as SJE, queer students may experience isolation, alienation, and humiliation, as was made so painfully obvious by the tragic suicide of Tyler Clementi last September, provoking deep sorrow as well as anger within the LGBT community not only at Rutgers but nationally. How terribly sad that Tyler felt so humiliated by the experience to which he was subjected by his roommate that he was driven to take his own life, just as he was preparing to debut as a soloist with the Rutgers Symphony Orchestra a few weeks later. I played violin in my junior high and high school orchestras and chamber orchestras, and perhaps for that reason as well as others, I felt a special connection with Tyler when I heard about his suicide and untimely death.
If any good has come out of that heart-rending tragedy, it is that Tyler's death brought renewed attention to the issue of bullying and bias-based harassment, one of the foremost concerns of the organization that I chair,  the New York Association for Gender Rights Advocacy. We founded NYAGRA in June 1998 in order to address the pervasive discrimination, harassment, abuse and violence faced by transgendered and gender-variant people in this society.
NYAGRA launched the campaign for the transgender rights law enacted by the New York City Council in 2002 and co-founded the coalition that is leading the campaign for the Gender Expression Non-Discrimination Act (GENDA) currently pending in the New York state legislature. NYAGRA also co-founded the coalitions that led the successful campaigns for enactment of the Dignity in All Schools Act by the New York City Council in 2004 and the Dignity for All Students Act by the New York state legislature in 2010. Both of the 'Dignity' laws prohibit bullying and bias-based harassment in public schools based on a comprehensive list of characteristics, including race, ethnicity, religion and disability as well as sexual orientation and gender, defined to include gender identity and gender expression. I now represent NYAGRA in the statewide task force convened last month to begin the task of drafting guidelines for implementation of the state Dignity for All Students Act.
Rainbow Graduation 2011 award recipients Lauren Felton (LGBT Taskforce Award), Aaron Lee (Lionel Cuffie Award for Activism & Excellence) & Ethan Lu (LGBT Taskforce Award)
While it is impossible to anticipate every possible situation of potential bullying, we can mandate sensitivity training and implement guidelines that greatly reduce the bias-based harassment that so many students face in schools — and sadly, even on college campuses — in New York, New Jersey, and throughout the country.
Another priority for NYAGRA is to enhance access to  health care for members of the transgender community, which we do — working in partnership with the Transgender Legal Defense & Education Fund (TLDEF) and the Gender Identity Project of the LGBT Community Center of New York City — through the Transgender Health Initiative of New York, a project whose mission is to enhance access to health care for transgendered and gender-variant people.
In the 7 years since we started the Transgender Health Initiative, THINY (as we call it) and its members have worked tirelessly to try to open up health care to members of our community in New York, who face significant impediments to accessing quality health care, just as they do throughout the country. In July 2009, NYAGRA published the first directory of transgender-sensitive health care providers in New York City and the metropolitan area, which is now available on nyagra.com. This was the first directory of transgender-sensitive health care providers for New York City and the metropolitan area ever published, and to my knowledge, it was the first such directory for any city published in a print edition anywhere in the United States. We are now updating it continuously as we identify more transgender-sensitive providers in the area.
And Queens Pride House, the LGBT community center that we founded in 1997, also works to enhance access to health care through Queer Links, a service that provides referrals to LGBT-sensitive health care providers in the borough of Queens.
It is through community-based organizations such as NYAGRA, TLDEF, and Queens Pride House that so much of the work of the LGBT community is done. And I would encourage you — whatever your field of study here at Rutgers was and whatever occupation or profession you pursue after graduating — to consider volunteering for an organization that serves the LGBT community. As Mohandas K. Gandhi so famously and so aptly put it, one discovers oneself through service to others.
The philosopher who most inspired the Mahatma was Henry David Thoreau, the 19th century New England transcendentalist philosopher. Thoreau might well have been thinking of Ennis Del Mar and Jack Twist in "Brokeback Mountain" when he wrote that "the mass of men lead lives of quiet desperation."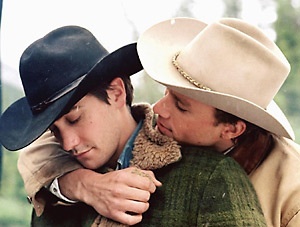 While Thoreau's "Walden" long predates Annie Proulx's short story and the Ang Lee film based on it, Thoreau's magnum opus remains as relevant today as was published in 1854. In "Walden," Thoreau poses basic questions that we all face as human beings: What is life and how shall we live it? Thoreau offers this answer: "I did not wish to take a cabin passage, but rather to go before the mast and on the deck of the world, for there I could best see the moonlight amid the mountains. I do not wish to go below now."
What is that "moonlight amid the mountains" of which Thoreau speaks? It is the sheer exhilaration of the authentic life lived fully in the integrity of one's own truest self. Ennis and Jack glimpse the literal moonlight amid the mountains when they live on Brokeback and later return to it on their periodic "fishing trips." But only Jack can see the metaphorical moonlight of the authentic life that offers itself to them before they descend from the mountain into the dreary desperation of straight conformity and loveless marriage. Thoreau could well have been describing Jack in the passage in "Walden" in which he famously declared: "If a man does not keep pace with his companions, perhaps it is because he hears a different drummer."
The authentic life is there for the living, and the deepest tragedy of "Brokeback Mountain" is Ennis's refusal to accept Jack's invitation to live it. Regardless of sexual orientation or gender identity, anyone seeking to live an authentic life need look no further than the conclusion from "Walden" for guidance:
"I learned this, at least, by my experiment: that if one advances confidently in the direction of his dreams,  and endeavors to live the life which he has imagined, he will meet with a success unexpected in common hours. He will put some things behind, will pass an invisible boundary; new, universal, and more liberal laws will begin to establish themselves around and within him; or the old laws be expanded, and interpreted in his favor in a more liberal sense, and he will live with the license of a higher order of beings. In proportion as he simplifies his life, the laws of the universe will appear less complex, and solitude will not be solitude, nor poverty poverty, nor weakness weakness. If you have built castles in the air, your work need not be lost; that is where they should be. Now put the foundations under them."
Thank you.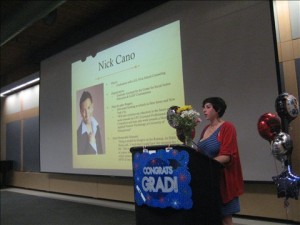 Genna Ayres, graduating senior
Pauline Park (paulinepark.com) is chair of the New York Association for Gender Rights Advocacy (NYAGRA) (nyagra.com), a statewide transgender advocacy organization that she co-founded in 1998, and president of the board of directors of Queens Pride House (queenspridehouse.org), which she co-founded in 1997. Park currently serves as vice-president of the board of directors of the Transgender Legal Defense & Education Fund  (transgenderlegal.org).
Park named and helped create the Transgender Health Initiative of New York(THINY), a community organizing project established by TLDEF and NYAGRA to ensure that transgendered and gender non-conforming people can access health care in a safe, respectful and non-discriminatory manner. And as executive editor, she oversaw the creation and publication in July 2009 of the NYAGRA transgender health care provider directory, the first directory of transgender-sensitive health care providers in the New York City metropolitan area and the first directory of transgender-sensitive health care providers published in print format anywhere in the United States.
Park led the campaign for passage of Int. No. 24, the transgender rights ordinance enacted by the New York City Council as Local Law 3 of 2002. She served on the working group that helped to draft guidelines — adopted by the Commission on Human Rights in December 2004 — for implementation of the new statute. Park negotiated inclusion of gender identity and expression in the Dignity for All Students Act (DASA), a safe schools law enacted by the New York state legislature in 2010, and the first fully transgender-inclusive legislation enacted by that body, and she is a member of the statewide task force created to implement the statute. She also served on the steering committee of the coalition that secured enactment of the Dignity in All Schools Act by the New York City Council in September 2004.
Park did her B.A. in philosophy at the University of Wisconsin-Madison, her M.Sc. in European Studies at the London School of Economics and her Ph.D. in political science at the University of Illinois at Urbana. Park has written widely on LGBT issues and has conducted transgender sensitivity training sessions for a wide range of organizations. In 2005, Park became the first openly transgendered grand marshal of the New York City Pride March. She was the subject of "Envisioning Justice: The Journey of a Transgendered Woman," a 32-minute documentary about her life and work by documentarian Larry Tung that premiered at the New York LGBT Film Festival (NewFest) in 2008.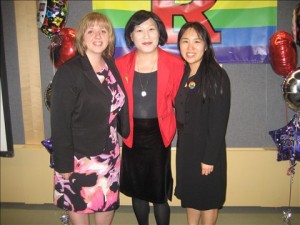 Jenny Kurtz, acting director of the Office for Social Justice Education and LGBT Communities (SJE) at Rutgers University; Pauline Park, chair of the New York Association for Gender Rights Advocacy (NYAGRA); and Ji Hyun Lee, director of the Asian American Cultural Center at Rutgers University