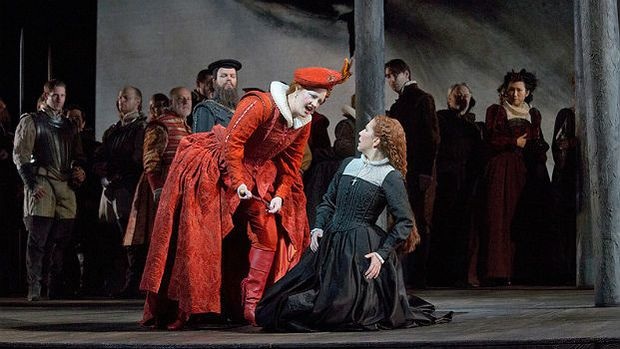 "Maria Stuarda": the Metropolitan Opera's New Year's Eve Gala 2012
a very informal non-review
by Pauline Park
Donizetti's "Maria Stuarda" was chosen for the New Year's Eve gala at the Metropolitan Opera for the first time on 31 December 2012; it was a rather disappointing experience, I regret to say.
The basic problem is that "Maria Stuarda" is a mediocre score, without a single great aria or ensemble to speak of; it certainly can't compare to Donizetti's most famous operas. Donizetti wrote 77 operas, but the sad truth is that he only wrote a few worth seeing — "Lucia di Lammermoor," "L'Elisir d'Amore" & "Don Pasquale" being at the top of that very short list. Joyce DiDonato was superb & is the only reason I can think of to see this rather misbegotten production by David McVicar. The Elisabetta was of the screechy soprano variety; Elza van den Heever sounded like her push-up bra was too tight. Matthew Polenzani has a light lyric tenor that was suited to the part of Leicester, but the composer didn't give him a lot to work with. But even Joyce DiDonato's wonderfully subtle, true bel canto style couldn't cover up the fact that the opera itself is a dud and the production is rather dreary. John Macfarlane does a good job with period costumes — loved the glittery farthingale for Elisabetta in the 2nd act — but the sets ranged from boring to drab to downright ugly; I think they were supposed to be 'painterly,' but I just found them dreary and uninspired; they certainly did nothing to capture the potential excitement of the imagined confrontation between two great queens (Elizabeth Tudor and Mary Stuart).
My friend, Kevin, who invited me to join him for the gala, was convinced that the only reason they staged this opera was as a vehicle for Joyce DiDonato, which is the only reason I can think of, and her command of bel canto style makes this a good showpiece for her vocal technique. The traditional choice for the Met's New Year's Eve gala — just like in Vienna — has been "Die Fledermaus," that sparkling champagne of operas. Kevin thought the choice of this opera was ludicrous, ending as it does with Mary's execution. Maybe the Met should have advertised this gala with the slogan, "Start your new year off right — with an execution~!"