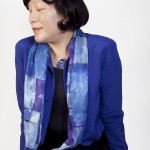 Contact:
Pauline Park
paulinepark@earthlink.net
(718) 662-8893
or
Jen Richards
Co-Director, The Trans 100
jen@
Pauline Park named to the first-ever 'TRANS 100' list
We Happy Trans, This is H.O.W., Chicago House and GLAAD Announce Inaugural List Focused on Positive Work Being Accomplished by Trans People Nationwide
April 9, 2013 – Today, Pauline Park was named to the inaugural Trans 100 list, an overview of the breadth and diversity of work being done in, by, and for the transgender community across the United States. The 2013 Trans 100 list, created by We Happy Trans, a website that celebrates the positive experiences of transgender people, and This is H.O.W., a Phoenix based nonprofit organization dedicated to the betterment of the lives of trans people, was presented at an event sponsored by Chicago House, GLAAD, the Pierce Family Foundation, Orbitz.com, and KOKUMOMEDIA. The first effort of its kind, the list intends to shift the coverage of trans issues by focusing on the positive work being accomplished, and providing visibility to those typically underrepresented.
Pauline Park (paulinepark.com) is chair of the New York Association for Gender Rights Advocacy (NYAGRA) (nyagra.com), which she co-founded in 1998, and president of the board of directors as well as acting executive director of Queens Pride House (queenspridehouse.org), which she co-founded in 1997. A resident of Jackson Heights in western Queens, Park also co-founded Iban/Queer Koreans of New York in 1997 and served as its coordinator from 1997 to 1999.
"I'm honored to be named to the inaugural Trans 100 list and delighted at the enhanced visibility that my presence on this list will bring to Queens Pride House and the New York Association for Gender Rights Advocacy (NYAGRA) as well as the other groups, organizations and projects that I'm involved with," said Park, who led the campaign for passage of the transgender rights law enacted by the New York City Council in 2002. She served on the working group that helped to draft guidelines — adopted by the Commission on Human Rights in December 2004 — for implementation of the new statute. Park negotiated inclusion of gender identity and expression in the Dignity for All Students Act (DASA), a safe schools law enacted by the New York state legislature in 2010, and the first fully transgender-inclusive legislation enacted by that body.
The list began as an idea by This Is H.O.W. Executive Director Toni D'Orsay, and was then developed in partnership with Jen Richards of We Happy Trans. The project received over 500 nominations in December 2012, with over 360 individuals recommended for inclusion.
A launch event for the Trans 100 list took place at Mayne Stage in Chicago on International Transgender Day of Visibility, a day which aims to bring attention to the accomplishments of transgender people around the world.
"The only sustainable self-interest is that which extends the sense of self to include the whole," said Jen Richards at the Trans 100 launch event. "Look around: women, men, people of color, genderqueer kids, crossdressers, showgirls, sex workers, academics, activists, artists, and allies. We are all one community."
"The value of the work that is represented by the 100 people on this list is immeasurable," said Executive Director of This Is H.O.W., Antonia D'orsay, about the Trans 100. "These people demonstrate the diversity, the determination, and the incredible triumph of spirit that informs all trans people, no matter where they are. This is just a glimpse of what trans people can accomplish."
"The Trans 100 will bring much-needed visibility to the critical, grassroots work that trans people have been doing in communities across the country for years," said GLAAD's Wilson Cruz. "While media coverage so often misses the mark on accurate portrayals of trans people, the Trans 100 is changing the game by sharing the inspiring and diverse stories behind trans advocacy."
KOKUMO, an artist, activist, and African American transgender woman, hosted the event. Two accomplished transgender musicians – folk-rock songwriter Namoli Brennet, and singer Joe Stevens of the West Coast-based Folk/Roots group Coyote Grace – gave live performances.
Jen Richards partnered with Chicago House and KOKUMOMEDIA to produce Chicago's Trans 100 launch event. GLAAD served as Inaugural Sponsor, with additional support from the Pierce Family Foundation, Orbitz.com, Progress Printing, and Dr. Graphx. Both Chicago House's TransLife Project and This is H.O.W. provide direct services to transgender people experiencing homelessness, unemployment, violence, health disparities, and HIV infection. KOKUMOMEDIA uses film, music, and literature to provide to create and generate realistic depictions of transgender, gender non-conforming, and intersex (TGI) people of color.
For a full list of the 2013 Trans 100 visit www.WeHappyTrans.com, or www.facebook.com/Trans100.
###
About We Happy Trans: WeHappyTrans.com was launched in early in 2012 in response to the lack of positive depictions of trans people in the media, and the absence of an online space that focused on the positive aspects of the trans experience. For more information, please visit www.wehappytrans.com or connect with We Happy Trans on Facebook.
About This is H.O.W.: This Is H.O.W. Inc. is a 501(c)(3) non-profit organization dedicated to the betterment of the lives of Trans (transsexual, transgender, and gender variant) persons experiencing crisis situations such as homelessness, substance abuse, familial abuse, and transition related difficulties. For more information, please visit www.thisishow.org or connect with This is H.O.W. on Facebook and Twitter.