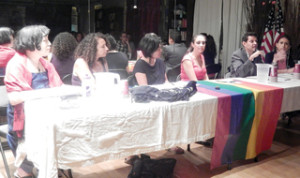 LGBT Forum Discusses Stop And Frisk Policy (by Trisha Sakhuja, Queens Tribune, 9.19.13)
By Trisha Sakhuja, staff writer
Queens Tribune
9.19.13
Members of the LGBT community, along with a panel of experts, held a forum on Sept. 11 at the Queens Pride House to discuss the implications of the Stop and Frisk policy enacted by the New York Police Department.
The controversial Stop and Frisk tactics were deemed unconstitutional by Judge Shira Scheindlin in late August because she said the policy violated the constitutional rights of minorities in the City. Even though Scheindlin did not order an end to the Stop and Frisk policy, she called for a federal monitor to oversee the policy and mandated police officers to wear cameras.
"The NYPD's Stop and Frisk policy has an enormous impact on members of the LGBT community in Queens, especially transgender people and LGBT people of color in Jackson Heights," said Pauline Park, president of the Queens Pride House board of directors and acting executive director. "This public forum will be an opportunity for those who feel that they have been subjected to a campaign of harassment and intimidation by the NYPD to speak out on Stop and Frisk as well as to hear from experts on the implications of Judge Scheindlin's ruling for members of the LGBT community in Queens."
Bianey Garcia, LGBTQ justice project co-organizer at Make the Road New York, said "the police cannot profile us based on our race or any other factor."
She said the LGBT community wants the police to "treat them like human beings and call them with their preferred names and pronouns."
A report released by Make the Road NY found that 76 percent of the people who are subject to stop-and-frisk are LGBT.
Ivan Espinoza-Madrigal, a legal director of the Center for HIV Law and Policy, said "the City distributes one million condoms a year, but if the police happen to find condoms on you, they will use it against you" because they assume you are involved in prostitution practices. He said the City is dealing with a conflict between public health and criminal laws.
Andrea Ritchie, co-coordinator for Streetwise and Safe, explained different ways women can carry condoms, such as putting them inside small containers that may look like makeup.
Ritchie said there are various ways people from the LGBT community can feel safe, one of them being, "know your rights." She said the nonprofit organization conducts "know your rights" workshops specifically tailored to the LGBT youth of color where they share critical information about rights in the criminal legal system as well as strategies to reduce the harms of interactions with the police.
Jennifer Ching, project director for Queens Legal Service, said the consequences people face when stopped for crimes they did not commit are severe and it destroys their lives.
"It is time to turn the word enforcement on its head," she said.
Ching explained the Community Safety Act, which was introduced by the City Council in October 2012. It is a landmark police reform legislative package aimed to ending discriminatory policing and bringing accountability to the NYPD.
Lynly Egyes, a staff attorney at the Sex Workers Project for the Urban Justice Center, said it is hard to hear her clients recount stories of the police stripping them to check their gender.
She said people do not feel safe reporting crime even if they see it happening from afar because previous encounters with the police have terrified them.
Reach Trisha Sakhuja at (718) 357-7400, Ext. 128, tsakhuja@queenstribune.com, or @Tsakhuja13
This article appeared in the Queens Tribune on 19 September 2013.