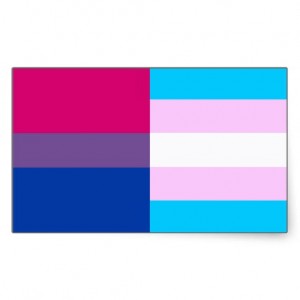 Bisexual & Transgender Inclusion in New York City:
A History of the Coalition for Unity & Inclusion
By Pauline Park
Chair, New York Association for Gender Rights Advocacy (NYAGRA)
Nowadays, most organizations serving the lesbian, gay, bisexual and transgender community in the United States use the term 'LGBT' in describing themselves and the people they serve. Adoption of bisexual- and transgender-inclusive nomenclature is an important statement of what our community institutions stand for as well as a signal to those groups – including bisexual and transgendered people – who have not always felt fully included in our community, that they are welcome, too.
In New York City, what is the largest LGBT community center in the United States was founded as the Lesbian & Gay Community Services Center in 1983. In 1999, Sheela Lambert, a bisexual activist in New York, asked me if I would partner with her to start a campaign to get the Center to change its name, and we formed the Coalition for Unity & Inclusion, which over the course of the next few years was successful in persuading a number of important community institutions to change their names.
Pressure from us as well as years of internal work by the Center's Gender Identity Project helped persuade the Center's board to change the name of the organization to 'LGBT Community Center.' We were also successful in persuading the New York Gay & Lesbian Film Festival to change its name to 'LGBT Film Festival.' And we were also able to persuade Heritage of Pride to change the names of all of its events to the more inclusive 'LGBT Pride March,' 'LGBT Pride Rally,' etc. It is worth noting that each of those organizations, while bisexual- and transgender-inclusive in their work before the change of organizational name, expanded the bisexual and transgender components of their work after the change of name.
But there is still much work to be done, as there are still some prominent of those organizations whose names are still not fully inclusive, notably, the National Gay & Lesbian Task Force, the Gay & Lesbian Alliance Against Defamation (GLAAD), the Gay Lesbian Straight Education Network (GLSEN), the National Lesbian & Gay Journalists Association and the Los Angeles Gay & Lesbian Center, just to name the most obvious. Full bisexual and transgender inclusion in every organization and institution throughout the country still awaits attainment.
__________________________
Pauline Park is chair of the New York Association for Gender Rights Advocacy (NYAGRA) and president of the board of directors and acting executive director of Queens Pride House, the only LGBT community center in the borough of Queens. She led the campaign for the transgender rights law enacted by the New York City Council in 2002.