Bratton & the NYPD on LGBT exclusion from St. Patrick's Day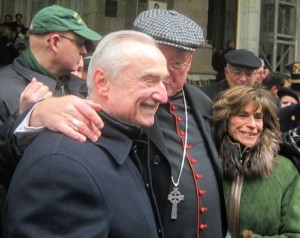 Bill de Blasio's appointment of Bill Bratton as police commissioner as one of the new mayor's first acts provoked expressions of concern among progressive activists and advocacy organizations in New York; despite de Blasio's decision to absent himself from the St. Patrick's Day parade on March 17, the mayor did authorize the New York Police Department (NYPD) and Fire Department (FDNY) to march in uniform, despite the continued exclusion of self-identified LGBT individuals and groups from the parade — in direct contravention of the New York City human rights law.
Asked to explain his decision to march in the parade, Bratton said he was marching "to celebrate the great traditions of the Irish and the NYPD" ("Bratton Says He Marched to Honor NYPD Tradition, Not Against Gay Groups," WNYC, 17 March 2014).
Bratton's response to a letter from Manhattan Borough President Gale Brewer also cited this 'Irish heritage' defense (see below for the full texts of both letters), demonstrating that the police commissioner either is unaware that the parade is no longer about Irish pride but instead an explicit expression of Roman Catholic faith or else that Bratton was completely disingenuous in citing Irish and police traditions in attempting to justify his endorsement of homophobic discrimination.
While Bratton's attempts to excuse the inexcusable are themselves inexcusable, it is de Blasio who as mayor bears ultimate responsibility for this travesty; when he ran for mayor, he successfully drew more LGBT community support than openly lesbian City Council Speaker Christine Quinn which helped de Blasio defeat Quinn handily in the Democratic mayoral primary in September 2013. The new mayor's decision to authorize NYPD & FDNY officers to march in a discriminatory parade in contravention of city human rights law calls into question the depth and sincerity of that commitment.
. . . . .
Honorable Gale A. Brewer
Manhattan Borough President
I Centre Street, 19h Floor
New York, New York 10007
Dear Borough President Brewer:
I am writing in response to your correspondence expressing concem about uniformed Police Department personnel participating in the New York City St. Patrick's Day Parade. The Police Commissioner's Offrce is responsible for determining whether or not to grant authorization for Police Department personnel to wear their uniform while participating in parades and other types of organized events. While I understand your viewpoint regarding this matter in light of the policy of parade organizers to exclude organized participation by gay and lesbian groups, Police Department personnel have long been allowed to march in the St. Patrick's Day Parade as a way to celebrate Irish heritage. I believe this decision is fair and appropriate. Permission is similarly granted for members of the Police Department to participate in the wide array of other parades and celebrations that occur throughout New York City during the course of the year. Thank you for providing your concems regarding this matter. I appreciate your continued support of the New York City Police Department.
All the best,
William J. Bratton
Police Commissioner
1 Police Plaza, New York, NY 10038
546-610-5410
Website: http://nyc.gov/nypd
Fax:646-610-5865
. . . . .
February 25, 2014
William J. Bratton
Commissioner, NYPD
One Police Plaza
New York, NY 10038
Dear Commissioner Bratton,
As lam sure you are aware, the St. Patrick's Day Parade on Fifth Avenue has been a source of contention for some time. A L993 court case allowed parade organizers to prevent the lrish Lesbian and Gay Organization from marching and the exclusion of LGBTQgroups has been standard practice
ever since. Many of us in leadership roles in New York City have long boycotted the parade because of this discriminatory anr.l offensive practice. However many civil servants who march in the parade wear their official City uniform, thus representing City government. I know that there are already clear rules about when your employees are and are not allowed to wear
their city uniform. For example, my understanding is that they may not wear official uniforms in paid advertisements and must obtain permission before wearing uniforms in parades such as St. Patrick's and the Pride Parades. I would appreciate any clarity you can give me as to your policy on when
uniforms can and cannot be worn by your employees.
While lsupport everyone's right to participate in a parade, I question whether individuals should be allowed to represent the City of New York in a clearly partisan and divisive event. ln addition, I am deeply concerned about the message we are sending to the LGBTQ community when the very people
who are paid to protect all New Yorkers are participating in an event that purposely excludes so many New Yorkers. I ask that you clarify your existing position on this, and consider prohibiting your employees from
wearing uniforms if they choose to participate in this parade.
Sincerely,
Gale A. Brewer
Manhattan Borough President