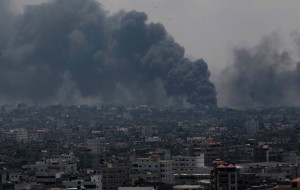 The unprecedented assault on the Gaza Strip by the Israeli military this week brought to mind a hymn whose text was written by Johann Heermann in 1636, "Zion klagt mit Angst und Schmerzen" (Zion mourns with anxiety and pain); all one needs to do is substitute 'Gaza' for 'Zion' and the hymn could be sung today in mourning for the more than 300 (and counting) victims of Israeli bombardment in Gaza…
Zion klagt mit Angst und Schmerzen,
Zion, Gottes werte Stadt,
Die er trägt in seinem Herzen,
Die er sich erwählet hat.
Ach, spricht sie, wie hat mein Gott
Mich verlaßen in der Not
Und läßt mich so harte preßen!
Meiner hat er ganz vergeßen.
Der Gott, der mir hat versprochen
Seinen Beistand jederzeit,
Der läßt sich vergebens suchen
Jetzt in meiner Traurigkeit.
Ach, will er denn für und für
Grausam zürnen über mir?
Kann und will er sich der Armen
Jetzt nicht wie vorhin erbarmen?
Zion, o du Vielgeliebte!
Sprach zu ihr des Herren Mund,
Zwar du bist jetzt die Betrübte,
Seel' und Geist ist dir verwund't;
Doch stell alles Trauern ein!
Wo mag eine Mutter sein,
Die ihr eigen Kind kann haßen
Und aus ihrer Sorge laßen?
Ja, wenn du gleich möchtest finden
Einen solchen Muttersinn,
Da die Liebe kann verschwinden,
So bleib ich doch, der ich bin.
Meine Treu bleibt gegen dir,
Zion, o du meine Zier;
Mein Herz hast du mir besessen,
Deiner kann ich nicht vergessen.
Laß dich nicht den Satan blenden,
Der sonst nichts als schrecken kann!
Siehe, hier in meinen Händen
Hab' ich dich geschrieben an.
Wie mag es denn anders sein?
Ich muß ja gedenken dein;
Deine Mauern will ich bauen
Und dich fort und fort anschauen.
Du bist mir stets vor den Augen,
Du liegst mir in meinem Schoß
Wie die Kindlein,
die noch saugen,
Meine Treu' zu dir ist groß;
Dich und mich kann keine Zeit,
Keine Not, Gefahr und Streit,
Ja der Satan selbst nicht scheiden.
Bleib getreu in allem Leiden.
Zion mourns with anxiety and pain,
Zion, God's dear city,
which he carries in his heart,
which he has chosen for himself.
Ah, says Zion, why has my God
abandoned me in my distress
and allows me to be so hard pressed!
He has completely forgotten me.
God, who promised me
his helping presence at all times
is sought in vain
now in my sadness.
Ah, will he forever
rage fiercely against me?
Can he and will he not
as before pity me in my wretchedness?
Zion, you who are greatly beloved,
says the mouth of the Lord,
you are indeed now distressed,
Your soul and spirit are wounded;
yet put aside all your mourning!
Where could there be a mother
who can hate or have no care
for her own child?
Indeed if you could find
a mother so minded
whose love could disappear,
yet I will stay as I am.
My faithfulness abides for you,
Zion,you who are my adornment;
You have taken hold of my heart,
I cannot forget you.
Don't let Satan hoodwink you,
all he can do is just frighten you!
See, here on my hands
I have written it down.
How then could it possibly be otherwise
I must think of you;
I shall build your walls
And always watch over you.
You are continuously before my eyes,
You lie on my bosom
like a little child who still sucks.
My faithfulness to you is great;
there is no time,no distress,
danger and strife that can separate you and me,
Not even Satan himself.
Remain faithful in all your sufferings.