Jackson Heights: Beyond 'Diversity'
by Pauline Park
Jackson Heights is the most diverse neighborhood in Queens, the most diverse county in the United States. But what precisely does 'diversity' really mean and how does it actually play out in this neighborhood that I've called home for nearly two decades now? In this photo essay, I hope to answer those questions.
I'd like to begin with this photo, which I took just outside the entrance to Queens Pride House on 37th Ave. during the World Cup finals this summer: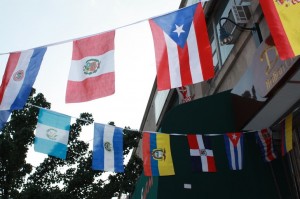 According to the last US Census, Jackson Heights is about half Latino, with immigrants coming from every country in Latin America; but the largest populations are from Ecuador and Colombia in South America. When the World Cup frenzy reached fever pitch, someone mounted these flags from various Latin American countries, which made a colorful addition to 37th Ave. This is the conventional notion of diversity: local color with a hint of the exotic; but the notion of a 'melting pot' is problematic because it is based on a discourse of assimilationism into a white US-born majority. Even 'multiculturalism' is a problematic model, with its advocates often using the metaphor of a salad bowl full of ingredients from different countries, because it is a relatively superficial and static notion that does not get at the dynamics of diversity and the difficult tensions that diversity can pose.
The next photos raise an important issue that needs to be addressed in any discussion of diversity in Jackson Heights, and that is class.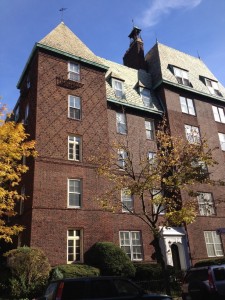 These are photos of two of my favorite buildings in Jackson Heights. Both are in the historic district, the Italian Renaissance building on the north side of 37th Ave. and the French Renaissance building with the Mansard roof on the south side of 37th Ave. While I don't know what the price of an apartment in either of these buildings would be, it couldn't be cheap, whether a studio, one-bedroom, two-bedroom or larger. And so the issue of affordable housing is a crucial one for maintaining the diversity of the neighborhood, both racial and ethnic as well as in terms of class, income and wealth. These buildings, like so many in the historic district are a wonderful part of our architectural heritage, but we can't refrain from engaging in a searching analysis of the problematic class issues that the cost of housing raises.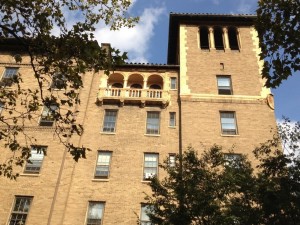 One particular aspect of Jackson Heights is worth mentioning: its role as the origin of the cooperative housing movement in the United States. Co-ops have a different ownership structure than condominium apartments, and in many ways, co-ops are ideal in that they are owned by their residents; but they also have the legal right to deny entry to anyone for any reason except those explicitly prohibited by the human rights law of the City of New York — including, e.g., race, religion, ethnicity, national origin, sexual orientation and gender, defined to include gender identity and gender expression. Given the closed-door nature of many of the deliberations of co-op boards, there is always the possibility that  something can be used as a proxy for prohibited discrimination to deny rental or ownership of a co-op apartment. And as noted above, the rising cost of apartments and houses — especially in the historic district — can act as a barrier to many who would otherwise like to live in the nicest areas of Jackson Heights.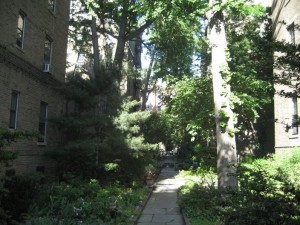 Not far from the leafy gardens of the historic district are the main shopping streets of Jackson Heights, which together form a rectangle: 74th St. on the west, 82nd St. on the east, 37th Ave. on the north and Roosevelt Ave. on the south. Below is the store owned and operated by a Korean greengrocer on 37th Ave. Like so many Korean-owned shops in the city, this is a family-owned and family-run market, with the husband, wife and daughters working what appear to be long hours. Class, race and immigration come together in the peculiar economy of such operations, which are not without problematic aspects.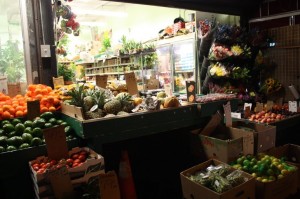 The cheerful neon sign at New Peking on 37th Ave. between 77th and 78th Streets beckons passersby to enjoy cheap Chinese, with most of its business being take-out. One problematic aspect of such take-out restaurants is the proliferation of their menus in apartment buildings in the neighborhood, causing litter and often even the danger of accidents caused by residents slipping on the menus that are often dumped in the lobbies and vestibules of buildings in Jackson Heights.
But a potentially far more serious problem is the way in which some immigrant families, in order to provide for future generations, often rely on family labor that can enormously stress parents as well as children. And the expectations of such parents, especially East Asian and South Asian parents, can sometimes push Asian immigrant youth to the breaking point.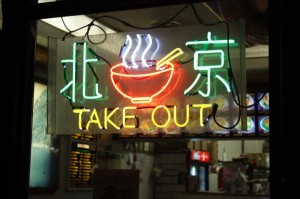 Another aspect of 'diversity' that requires interrogation is the question of food sources and the treatment of those animals that we consume (at least those who aren't vegetarian).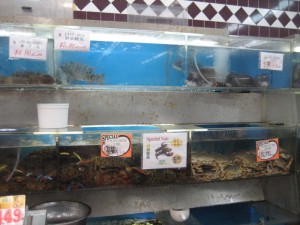 I love the diversity of offerings at the Pacific Supermarket on 75th St. between Roosevelt Ave. and Broadway, which is pan-Asian but seems to cater to a primarily Chinese immigrant customer base, but I'm somewhat troubled by the way the management keep the fish and the lobsters especially, crowded into overcrowded small tanks. I took an acquaintance into the supermarket not too long ago, and while she was delighted by the many choices and their Asian origins, she was shocked by the way in which the management kept frogs in an extremely overcrowded tank, lying one on top of the other. I'm happy to say that I haven't seen any frogs in the store when I've gone in recently, so perhaps someone spoke to the management about that horrendous treatment of those poor amphibians.
Jackson Heights also has its choice of street food, and food trucks are now beginning to proliferate just as they are in Manhattan and the other boroughs.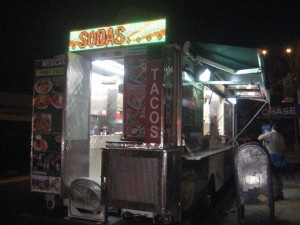 This late-night taco stand is often parked on the northeast corner of 75th St. and Roosevelt Ave., kitty corner from the subway station. One serious concern that I have is about the hygiene of such operations, the lack of which has been reported on in the media in recent years.
Jackson Heights is a wonderful neighborhood, but like every neighborhood in this city, it has its share of problems, many related to crime, many of which in turn relate to substance abuse. And that leads me to the next photo, which may be the most shocking I've included here to illustrate life in the neighborhood. I suppose I should put up a 'trigger alert' here, because some will find disturbing; but the purpose of this photographic essay is to talk about diversity in the neighborhood, and there's a dark underbelly to that diversity that I think needs to be discussed and addressed.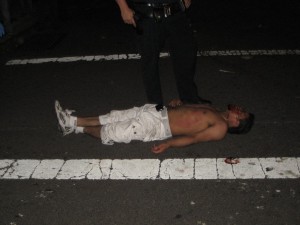 The year before last, I was on a #7 train coming back from Manhattan. Around midnight, the train stopped at the 69th St. station, and when the doors to the train cars opened, a young man came running through the train car I was in, acting very erratic, either chasing or being chased by another man. This young man appeared to be Latino and was speaking in Spanish in a very strange fashion. After a few minutes an announcement over the loudspeaker informed us that the train was being stopped temporarily because of police activity, and very shortly, a couple of police officers arrived on the scene, apparently in pursuit of this young man.
The incident ended bizarrely and tragically when the young man leapt to his death, and I saw his body on the ground when I descended to the street level to walk home down Roosevelt Ave. I had only recently read about the 'bath salts' craze sweeping the country and I had to wonder if either substance abuse and/or mental illness had anything to do with this young man's erratic and ultimately fatal behavior. The point to be made here is that substance abuse, mental illness, poverty and crime are issues that have to be raised in a discussion of Jackson Heights or just about any neighborhood in this city; and those phenomena intersect with oppression based on race, ethnicity, national origin, immigration status, class, income, wealth and disability as well as sexuality and gender. Even in a neighborhood as wonderful as Jackson Heights, there are many who live lives of quiet desperation.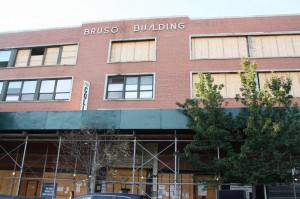 And speaking of issues of class, income and wealth, in a slightly different context than the one raised above by the reference to the high cost of co-op apartments in the historic district, is the issue of the high cost of commercial real estate in the neighborhood. This is an issue that affects non-profit organizations such as Queens Pride House. While rents in Jackson Heights are nowhere near as high as those in Manhattan or in the most expensive parts of Brooklyn, they have nonetheless been rising here year after year, making it difficult for both commercial enterprises and non-profits located in the neighborhood.
There is also a shortage of non-residential rental space in Jackson Heights, with the Bruson Building on 37th Ave. between 74th and 75th Streets one of the few buildings offering commercial space in the neighborhood. But on April 20, a huge five-alarm fire destroyed much of the Bruson Building and it is not clear if the building will be rebuilt or not. Regardless, the incident points to the danger of fire that a densely populated neighborhood like Jackson Heights is vulnerable to.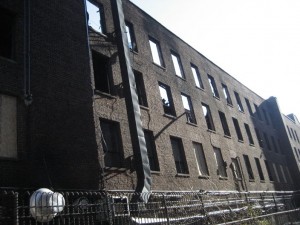 When there's a fire, the people to call are obviously the Fire Department (FDNY). But what if you're the victim of a crime? One would hope that the New York Police Department would be the agency of city government that all New Yorkers could turn to, but unfortunately, the NYPD has a long and sordid history of police harassment and brutality, directed especially towards people of color and lesbian, gay, bisexual and transgendered (LGBT) people. And in fact, we held a forum on the NYPD's notorious 'stop-and-frisk' policy on September 11 of last year, with representatives from various community-based organizations to discuss police-community relations.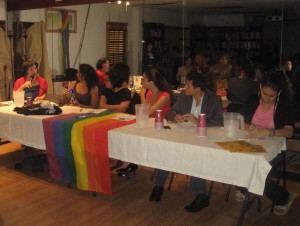 Everyone on the panel agreed that people of color and LGBT/queer people had legitimate reasons to mistrust and even fear the police, especially transgendered women of color who have been subjected to a campaign of harassment and brutality for a very long time now. Transgendered Latinas in particular are assumed to be engaging in prostitution regardless of whether they're actually sex workers. And of course, there have been a host of high-profile police brutality cases in other areas of the city over the years, involving Abner Louima, Anthony Baez, Amadou Diallo, Sean Bell, and most recently, Eric Garner on Staten Island only in April.
New York City Public Advocate Bill de Blasio defeated New York City Council Speaker Christine Quinn and a number of other challengers in the Democratic mayoral primary in good part because he was able to make stop-and-frisk and police reform a signature issue of his campaign. We will now see whether Mayor de Blasio can bring about meaningful reform that will enhance the quality of life for residents of Jackson Heights, including its transgendered residents, Muslims, and others who are all too often victims of overly aggressive policing and even harassment and brutality.
It is important in any discussion of diversity in this neighborhood to raise the issue of the unconstitutional NYPD surveillance of Muslims in this city, given the burgeoning Muslim population in Jackson Heights.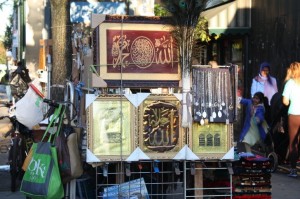 On the corner of 74th St. and 37th Ave. at the head of 'Little India' (which stretches two blocks south to Roosevelt Ave.), you will find vendors selling religious items to fellow Muslims. In this neighborhood, the Muslim population is predominantly South Asian — mostly Pakistani and Bangladeshi. The NYPD's unconstitutional surveillance of the city's Muslim community directed by Commissioner Raymond Kelly at the behest of Mayor Michael R. Bloomberg is one of the most disgraceful episodes in the history of policing in this city, and there has yet to be any accountability for it. I have been informed by police watch groups that the NYPD have used traffic stops on Roosevelt Ave. to attempt to track down law-abiding Muslims and blackmail them into collaborating in illegal surveillance on other members of the Muslim community.
It is in such circumstances that the NYPD's superficial appeals to 'diversity' make a mockery of the concept, and of all our city agencies, it is the NYPD whose use or misuse of the concept of diversity that is most ripe for interrogation.
Speaking of both religion and Little India, I have to mention my love of the delights of 74th St. On a hot summer afternoon, walking down 74th St. between 37th Ave. and Roosevelt Ave., one can imagine that one is walking down a street in Delhi, Bombay (Mumbai), Calcutta (Kolkata) or Madras (Chennai), with restaurants serving tandoori chicken and lamb vindaloo and shops full of glittering jewelry and saris.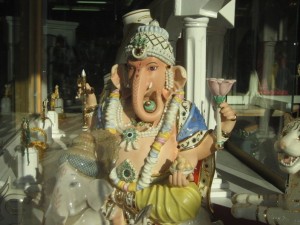 Ganesha is the happiest of the Hindu gods, representing good luck, and sits contentedly here in a window on 74th St., surrounded by gold jewelry that is worn primarily at weddings. But there is a darker reality behind the colorful façade of sari shops on 74th St., and that is the persistence of poverty, labor abuses, domestic violence, and other ills that plague immigrant communities as well as mainstream society in Jackson Heights. Last year, we held a forum on the human trafficking of Asian women in Queens, which experts on our panel informed us in this borough was actually primarily labor trafficking rather than the more sensational but somewhat less common phenomenon of sex trafficking.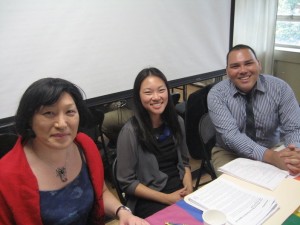 One particularly problematic aspect of the thriving Indian community in Queens is the persistence of caste distinctions, which becomes readily apparent when one reads any of the classifieds in any of the ethnic press in the South Asian community here, where such personal ads focus almost obsessively on caste origins in determining the suitability of marriage matches — this, despite the fact that the newly independent India abolished caste in 1947 after the end of the British Raj.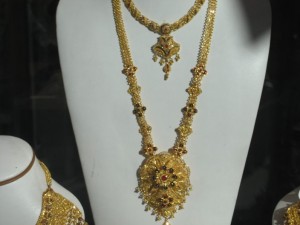 One aspect of 'diversity' that doesn't get enough attention in the focus on race, ethnicity, religion and to a lesser extent, sexual orientation, is that of access for people with disabilities. The renovation of the Roosevelt Ave. subway station that was completed back in 2005 cost $87 million and was long overdue. As part of the renovation, elevators were installed in the station, but oddly, enough, the elevator from the #7 train platform of the 74th St./Broadway station descends to a mezzanine, and anyone then wishing to go down to the platform on the lower level to catch the E, F, M or R train must cross an often busy mezzanine to a separate elevator to make that leg of the trip. And of course, even if this station is (just barely) wheelchair-accessible many other stations in Queens are not, which limits the mobility of wheelchair-bound passengers and their ability to use the subway system in the borough.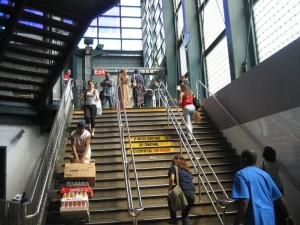 And of course, wheelchair accessibility is only one issue when discussing access for people with disabilities, given that there are innumerable disabilities of various kinds. At Queens Pride House, we are limited by extreme budget constraints from addressing many issues that we would like to address, wheelchair access being one; it is simply beyond our current budget to consider elevator installation in this building.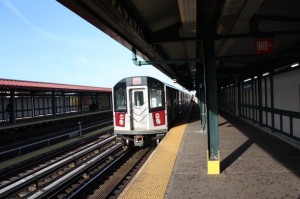 But for the able-bodied at least, Jackson Heights is a convenient location for access to the New York City subway system, and those who live near the Roosevelt Ave. subway station enjoy perhaps the best location in Queens for access to public transit.
One aspect of diversity that is of particular importance for our discussion is the role that our educational system plays in accommodating diversity and ideally fostering an appreciation of it. There are a number of public as well as private schools in the neighborhood, with PS 69 being an elementary school on the southeast corner of 76th St. and 37th Ave.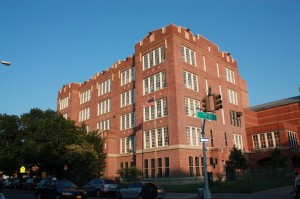 PS 69 is said to have the most diverse student body of any public school in the city and possibly in the country, with one estimate counting 84 different native languages spoken at home by the students at the school. But while we ought to celebrate this diversity, we also need to address issues that it may raise. To what extent is bullying and bias-based harassment in our schools a problem? The New York City Department of Education won't tell us and may not know themselves, given that they do not keep adequate statistics on bullying and bias-based harassment; nor do they have any real accountability system for holding those guilty of bullying and bias-based harassment accountable for the actions — whether students, faculty or non-teaching staff. Fortress Tweed will not tell us the extent of the problem, nor do the powers that be at NYC DoE have any systematic program for sensitivity training, with their current sensitivity training program ineffective at best and at worst, a mechanism for channeling tax dollars to fund problematic organizations which themselves are guilty of gross bias, the Anti-Defamation League (ADL) in particular.
One aspect of diversity that is of course central to the mission of Queens Pride House is the inclusion of LGBT people in the life of the neighborhood and the borough. We have hosted events for LGBT parents and their children, including Claudia Narvaez-Meza, Krystal Banzon and their son, Malaya.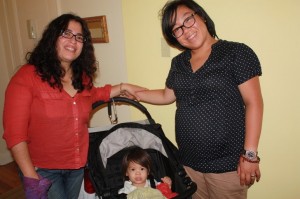 Claudia and Krystal were hoping to join us, but Krystal's pregnancy and impending delivery made that impossible. But they are one of a growing number of same-sex couples who are raising children such as Malaya in Jackson Heights, and like all LGBT people, they have legitimate concerns about discrimination and harassment, something that, as I have already noted, the NYC DoE was simply not interested in addressing under the Bloomberg administration; we shall see whether there is any change under Mayor de Blasio and his new chancellor, Carmen Fariña.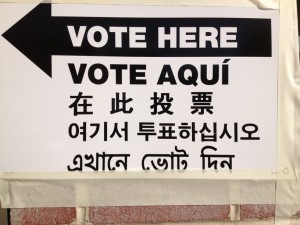 Public schools are actually polling sites in our elections, as this sign indicates. The sign is in Spanish, Chinese, Korean and Bengali as well as in English, but some advocacy organizations have deplored the lack of Asian-language speakers at polling places in the neighborhood and the borough. While Queens now has two openly gay Council members, a Latino Assembly member and a Latino member of the state Senate, as well as its third woman in a row serving as borough president, the mere inclusion of members of historically underrepresented communities does not necessarily result in the automatic empowerment of those communities, despite the symbolic victory of their election, and it is important not to be taken in by a superficial discourse of identity politics; it is the impact on the real lives of real people that must be the measure of the efficacy elected officials as well as of the political empowerment of the communities that they claim to represent.
We at Queens Pride House take seriously our mission to serve the LGBT community of Queens, not only through our participation in the Queens Pride Parade every first Sunday in June, but every day of the year.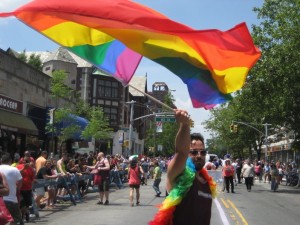 Located on 37th Ave. in Jackson Heights, Queens Pride House is the only LGBT community center in the borough and we serve an exceptionally diverse group of members and clients. I might add parenthetically that I am the only openly transgendered executive director of an LGBT community center in the city or the state and one of the only two in the country; I am also the only Asian American executive director of an LGBT community center in the city or the state and one of the only two in the country; and perhaps not surprisingly, I'm the only openly transgendered Asian American executive director of an LGBT community center in the country.
* * * * *
This was the text of the presentation that Pauline Park gave at "Beyond 'Diversity'" at Queens Pride House on 25 October 2014.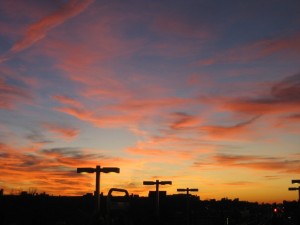 Pauline Park, Ph.D., is president and acting executive director of Queens Pride House as well as a long-time resident of Jackson Heights.