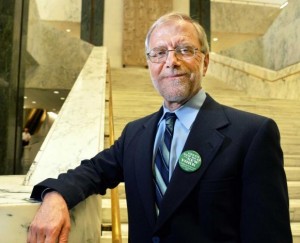 Howie Hawkins: why I'm endorsing him for governor over Andrew Cuomo
by Pauline Park
In November, New Yorkers across the state will go to the polls to vote for governor and lieutenant governor; never has the choice been clearer in 2014. The mainstream media will no doubt cast this as a contest between a well-known Democratic incumbent, Gov. Andrew Cuomo, and an obscure right-wing Republican opponent, Rob Astorino. But Howie Hawkins is running for governor on the Green Party line, and by any reckoning, he's the true progressive in the race.
Cuomo likes to portray himself as progressive, but he's anything but. The son of Mario Cuomo is only governor because of the fame of his father and the dynastic politics that are an unfortunate aspect of New York's political scene. If he didn't have the name 'Cuomo' and weren't the son of a two-term governor with a national reputation for liberal politics and compelling oratory, it's hard to see how Andrew Cuomo would be governor now.
But beyond the extremely problematic dynastic politics that made this princeling of power and privilege into a candidate for state attorney general and then for governor, the simple fact is that Andrew Cuomo is at best a DINO — a Democrat in name only — and is arguably to the right of George Pataki, our last Republican governor. Cuomo has surrounded himself with corporate lobbyists and disbanded his own Moreland Commission when it actually began to do its job, looking into the governor's shady campaign contributions as well as those of members of our notoriously corrupt state legislature.
As governor, Cuomo has pursued a right-wing corporate agenda, and his claim to fame as a 'progressive' seems to rest almost solely on his pushing the marriage equality bill through the state Senate, which any careful observer of the political scene would have to regard as nothing more than a cynical maneuver to enable him to position himself as a progressive champion of lesbian, gay, bisexual and transgender (LGBT) rights; but in fact, other than same-sex marriage, Cuomo's record on LGBT issues is actually pretty thin. Yes, his administration approved a change in birth certificate policy for transgendered people (a change in policy that does not in fact help people born in the five boroughs of New York City), but that only at the beginning of his re-election campaign. On the most important legislation pending in the state legislature, Cuomo has been missing in action. The Gender Expression Non-Discrimination Act would prohibit discrimination based on gender identity or expression in employment, housing, public accommodations, education and credit throughout the state; GENDA has been pending for twelve years now, and Cuomo has been governor for four, but he's refused to lift a finger to push GENDA through the Senate.
In fact, I was part of a group of transgender activists who met with the governor's chief counsel in Albany to discuss the GENDA bill, and his counsel all but told us that Cuomo would be willing to sign the bill into law but would do nothing to help us move it through the Senate. Cuomo recently sent the Empire State Pride Agenda a letter ostensibly confirming his commitment to GENDA, but with no specifics and no action to back it up; the cynical observer would see this as nothing more than another cynical ploy by the most cynical governor in state history, garnering a coveted endorsement by the state's largest LGBT advocacy organization by sending ESPA a letter that is all but meaningless in the absence of any action from his office. What is truly noteworthy here is that Cuomo has never once spoken out publicly in favor of GENDA or even mentioned transgender discrimination in any of his public utterances, including in his keynote speech at the ESPA annual fall dinner following enactment of the marriage equality law, where he had an audience supportive of the GENDA bill, which was and remains the Pride Agenda's top legislative priority; and this in a state in which ESPA-commissioned public opinion polls show overwhelming support for GENDA, even among Republicans, conservatives and upstate New Yorkers. The political risks of supporting GENDA are close to zero, and it is in fact considerably less controversial than the marriage equality bill was when it was voted on in the Senate. But Cuomo's political calculation must surely be that there are no wealthy gay white donors in Manhattan who will open their checkbooks to his re-election campaign for his support for GENDA in the way that they did because of his support for marriage equality. And yet, transgendered New Yorkers are among the most marginalized in the state, and lack basic legal protections from discrimination; ironically, transgendered New Yorkers can now marry members of the same legal sex but can still be fired from a job throughout most of the state because of the lack of inclusion of gender identity or expression in state human rights law. There is one person who holds primary responsibility for that lack of transgender inclusion in state non-discrimination law, and that is Andrew Cuomo.
Anyone looking at this race will also notice the striking difference between Brian Jones, a progressive African American, who is the Green Party candidate for lieutenant governor, and Andrew Cuomo's running mate, the un-progressive and very white Kathy Hochul, who has made donations to 'the Bible Teaching Ministry of Charles Swindoll,' a homophobic anti-choice Christian fundamentalist. Hochul is also a darling of the National Rifle Association (NRA) and has a voting record that is consistent with that of many of her Republican colleagues in the House of Representatives. When looking at Hochul's profile, it's very hard to avoid the conclusion that this Democratic Party hack was chosen as Cuomo's running mate almost entirely because of the supposed gender and geographic balance (being from western New York) that she would lend to the ticket; certainly, Hochul can claim no significant accomplishments as an elected official, and her record is the opposite of progressive.
There are a host of other reasons why anyone voting in the 2014 New York governor's race should have serious concern about Andrew Cuomo's re-election; perhaps the most important for our environment is the governor's refusal to impose a permanent moratorium on hydrofracturing upstate. The sad reality is that 'fracking' in the vast shale belt of the 'southern tier' of New York could potentially poison a third of the state's drinking water sources. Nowhere else is Cuomo's horrendous record on environmental issues in such contrast with the Green Party platform, which calls for a complete permanent moratorium on fracking in the state.
Among so many issues of concern to progressives, there is yet one more that I feel compelled to mention in explaining my endorsement in this race, and that is Cuomo's disturbing support for Israeli apartheid. In fact, the governor led a delegation of elected officials to Israel in August in the midst of the Israeli bombardment of the Gaza Strip, which killed over 2,150 Palestinians, most civilians, and over 500 of them children; outrageously, Cuomo actually publicly stated his support for the Israeli genocide, despite the fact that many New Yorkers opposed the genocidal war on Palestinian civilians in Gaza. Unlike most US officials who go to Israel, Cuomo refused even the pro forma meeting with the Palestinian Authority in Ramallah, reinforcing the conclusion that his first and so far only trip abroad since being inaugurated in January 2011 was nothing more than a cynical ploy to play to the state's Zionist voters in the run-up to the election. Of course, the less-than-subtle subtext of the visit was the attempt to make Cuomo look 'presidential' by becoming engaged in foreign policy, despite the fact that the governor has no statutory role to play in US foreign policy-making.
Andrew Cuomo's corruption of our state's already corrupt politics, his refusal to use the power of his office to move transgender rights legislation through the state Senate, his refusal to institute a permanent ban on fracking and his support for Israeli apartheid and genocide all make him unworthy to be re-elected governor of the great state of New York. It is for all of those reasons that I am endorsing Howie Hawkins for governor and Brian Jones for lieutenant governor. I should add that I do so in a purely personal and individual capacity and not as the representative of any organization with which I am associated.
Those interested in supporting Howie Hawkins can also 'friend' the Howie Hawkins for governor campaign on Facebook. I encourage everyone concerned with the future of this great state to consider voting Hawkins/Jones in November.
Pauline Park is a transgender activist living in Queens; this endorsement does not necessarily reflect the views of any organizations with which she is affiliated.