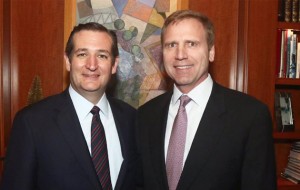 Ted Cruz & Mati Weiderpass getting cozy over Israeli apartheid
Ted Cruz, Israel & the unbearable whiteness of being gay Zionists
by Pauline Park
Ian Reisner and Mati Weiderpass created something of a sensation in the lesbian, gay, bisexual and transgender (LGBT) community by hosting what they called a 'fireside chat' for Ted Cruz, but not perhaps of the kind they had hoped for. The openly gay millionaires may be learning the difference between fame and notoriety since the April 20 dinner that they organized to promote the presidential candidacy of the senator from Texas. The right-wing Republican's strident opposition to LGBT rights — including his support for a federal constitutional amendment to ban same-sex marriage — has earned Reisner and Weiderpass the ire of LGBT activists and organizations, including the Lesbian and Gay Democratic Club of Queens, the Lambda Independent Democrats (LID) of Brooklyn, the Jim Owles Liberal Democratic Club, and the Stonewall Democratic Club of New York City, the last of these the largest and arguably the most influential of the LGBT Democratic clubs in New York.
Cheered on by Queer Nation, these clubs and other LGBT groups have helped start a movement to boycott the Out Hotel and the Fire Island Pines properties owned by Reisner and Weiderpass; there is now even a Facebook page called 'Boycott Fire Island Pines Establishments & Out NYC Hotel.' On April 24, Broadway Cares/ Equity Fights AIDS "announced that it was cancelling a fundraiser planned for the 42West Club, a nightspot located inside the Out Hotel" (Paul Schindler, "OUT of Their Minds," Gay City News, April 30).
On his own Facebook page, Reisner wrote, "I am shaken to my bones by the e-mails, texts, postings and phone calls of the past few days. I made a terrible mistake. I was ignorant, naive and much too quick in accepting a request to co-host a dinner with Cruz at my home without taking the time to completely understand all of his positions on gay rights… I sincerely apologize for hurting the gay community and so many of our friends, family, allies, customers and employees. I will try my best to make up for my poor judgment. Again, I am deeply sorry." It is difficult to believe that Reisner and Weiderpass were not aware of the Texas Republican's strident opposition to LGBT rights, given that he trumpets it at every turn. But even if these two developers were completely ignorant of Cruz's record on LGBT issues, what is striking is that nowhere in their statement is there any apology for their support for Israeli occupation and apartheid. Nor in any of the LGBT Democratic clubs' statements is there any reference to the 'pinkwashing' of the Israeli occupation of Palestine by these two wealthy gay Zionists, despite the fact that Reisner and Weiderpass have tried to justify the dinner and 'fireside chat' for the homophobic Cruz with reference to his stalwart support for Israel, which the two businessmen unsurprisingly praise for its supposedly sterling record on LGBT rights.
And that may well be the scandal within the scandal here: the fact that leading LGBT activists and organizations can summon righteous indignation for gay support for a homophobe like Ted Cruz but fail to speak out against his egregious support for the illegal and brutal Israeli occupation of the West Bank and East Jerusalem as well as the Israeli genocide in the Gaza Strip last summer. The silence of the LGBT political establishment on the brutality of Israeli apartheid is deafening, which is one of the reasons why several queer activists (most in fact Jewish) founded New York City Queers Against Israeli Apartheid, to educate the LGBT community on what is now the longest running foreign military occupation in the world as well as to challenge the LGBT Community Center of Manhattan's ban on Palestine solidarity organizing, which was only lifted in February 2013 after two full years.
Just as LGBT individuals and groups are rightly working to hold Ian Reisner and Mati Weiderpass accountable for their support of the appallingly homophobic Ted Cruz, LGBT activists and organizations should also be trying to hold Reisner and Weiderpass accountable for their support for apartheid Israel. Archbishop Desmond Tutu — a strong ally of the LGBT community who won a Nobel Peace Prize for his work in challenging South Africa's apartheid regime — has said, "I have witnessed the racially segregated roads and housing in the Holy Land that reminded me so much of the conditions we experienced in South Africa under apartheid," Tutu continued. "I have witnesses the systematic humiliation of Palestinian men, women and children by members of the Israeli security forces. Their humiliation is familiar to all black South Africans who were corralled and harassed and insulted and assaulted by the security forces of the apartheid government" (Brett Wilkins, "Desmond Tutu urges boycott of 'apartheid' Israel," Digital Journal, 3.10.14).
LGBT community members and organizations owe it to both LGBT/queer and non-LGBT Palestinians living under occupation to support their call for an end to the endless occupation and for justice for them as well as for everyone in Israel/Palestine. We must pursue justice in solidarity with all of those who suffer injustice in this world, in occupied Palestine as well as in the United States.
Pauline Park is a co-founding member of New York City Queers Against Israeli Apartheid and participated in the first US LGBTQ delegation tour of Palestine in January 2012; the views expressed here are her own and not necessarily those of any group or organization with which she is associated.