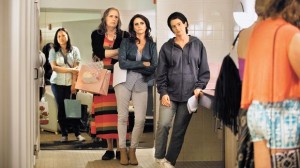 In the series "Transparent," Jeffrey Tambor and his daughters in the ladies' room.
TRANSGENDER
Tragic Trans? Nope!
The American series "Transparent" makes the subject gender identity now also popular in Germany. In America, the debate is far more. A visit to the transgender center in Queens, New York.
By Claudia Steinberg
Die Zeit
9 April 2015
A rainbow flag between Isabel's Hair Salon and the mini supermarket shows the way to Pride House: the center for queers and transsexuals on 37th Avenue in Jackson Heights, Queens. There sits on voluminous sofas and office chairs a group of transsexuals, lesbians and bisexuals. The atmosphere is relaxed. Until a woman of indeterminate age dressed in black with a glamorous Chinese shawl draped around her shoulders, takes her place. Pauline Park is the founder and director of Pride House. The group discussion includes dramatic tales of family disputes and unease with their assigned gender identity that feels wrong.
Everyone has known for a long time about Laura's attempted suicide. Gene reported on the visit of his beloved grandmother from China and how she did not understand the transformation of her granddaughter into a boy and the difficulty she was having accepting his new gender identity. Dylan is computer programmer and longs for acceptance from his ex-wife and his children as he contemplates his transition. June wants to find a new job as a woman, but her doctorate and all her excellent work experience is under her male name.
Since the debates of the 1970s, gays have been able to integrate into the mainstream, leaving transgendered  individuals as an exotic community of outsiders. Their stories of redemption still have entertainment value in a way that the story of a gay couple with a dog and a house in the suburbs has lost. Meanwhile transgender has become the new hot topic, even among the general public, as a civil rights issue, as glamor factor, as a television series. In universities, transgender is challenging gender boundaries under the flag of queer studies. In October of last year, New York Mayor Bill de Blasio called for the ability to change one's gender on birth certificates without sex reassignment surgery. New York Governor Andrew Cuomo has demanded that health insurance companies pay for sex change operations. The New York City jail, Rikers Island, one of the largest prisons in the world, set up a special department for transsexual inmates because prisons are dangerous places where they often have to endure violence and sexual attacks. Ten years ago a film like "TransAmerica" – in which heroine Bree transitions from man to woman – was still exceptional. Beginning this week, you can go to Amazon.com to find a German-language version of the series "Transparent" (as in, a parent who is transsexual); it has already won a Golden Globe award and has a good chance of attaining cult status.
The writer and director of "Transparent," Jill Soloway, was inspired by the gender metamorphosis of her own father to create a funny and empathetic call for gender freedom: As Mort's three daughters are grown up, he risks his coming-out and suddenly comes through the door as a woman with a long hair, in high heels and in a pretty dress. The astonishment is great, especially since Papa Mort surprises his daughter in an intimate embrace with her girlfriend. The series celebrates not just "the birth of a new mother from the female I of the Father," but also "boygirl, girlboy, macho princess and officer slutty sweet bear," encouraging them to affirm the identity of their choice. With this anti-dualistic conception, Soloway has wiped away the stereotype of the tragic tranny, the audience of millions demonstrating the possibilities of bold self-determination.
Pauline Park has situated her Pride House in one of the most ethnically diverse places in the world: In the school kitty corner, 84 languages are spoken. At Pride House, there are clients from Colombia, Ecuador, Mexico, China, India, Pakistan, Bangladesh and the Philippines. Each year, the site provides approximately 6,000 interactions with residents from throughout Queens, New York's second largest borough in population. Pride House has a database of lawyers and doctors accumulated over the course of two decades from whom transsexuals can hope for respectful behavior, working with psychotherapists or psychiatrists together. Immigration and health care are the most important issues. Pride House provides HIV tests, distributes 50,000 condoms a month, and helps homeless clients to find accommodation. "Transsexual teens often end up on the street," says Park.
Pauline Park's compassion for people like Laura or Gene is based on her own complicated biography. In 1960, American adoptive parents took two malnourished twins from Seoul. The boys were only eight months old and were the only non-white children in their elementary school. They found themselves in a Christian fundamentalist Republican family. In the first semester of her philosophy degree at the University of Wisconsin, to Park came out as gay. But that was only half the story. The other half came to light when Park took a scholarship to London and there increasingly appeared as a woman. She calls it the most liberating experience of her lives: "For the first time, I presented myself as I saw myself." Finally, there was her reading of Michel Foucault, through which Park freed herself from the burden of supposedly inauthentic Korean identity and the sex/gender binary, unmasked as a social construct. "I started to accept me as" a male-bodied woman "and as Korean adoptee."
At home in the sexual and cultural ambiguity, Pauline Park makes a radical theorist and activist who is at loggerheads with the "transgender establishment" in America and the "classic transsexual transition narrative."
Page 2/2: The gender identity disorder still has the status of a mental illness
After conducting hundreds of training sessions and workshops at universities, hospitals, government agencies and companies Pauline Park is very familiar with all the prejudices that circulate about transsexuals. "Most participants expect me to tell them something about hormones and surgery. But while I begin by talking about that, I focus on trying to explain how many barriers a transsexual must overcome in a hospital visit." Since 9/11, almost every public building has required showing an identity card. If one's ID is in a male name, but the person appears as a woman, she will not be able to get beyond the guards. The next hurdle is the form on which you have to check 'male' or 'female.' If the patient Joanna is sitting in the waiting room, but the name John is called, it can expose her to astonished glances.
The linear transformation from male to female and vice versa is presented to the public on countless talk shows, from Oprah Winfrey to Barbara Walters – with guests who talk about being trapped in the wrong body and want to corrected that state of affairs through hormones and surgery. A change in legal sex designation can actually reinforce the sex/gender binary if it is based on the disease model of transsexuality. In 1974, homosexuality was removed from the diagnostic manual of mental disorders, which instantly 'cured' millions of gays. At the same time, the American Psychiatric Association introduced the diagnosis of gender identity disorder, which was recently changed to gender dysphoria, but which retains its status as a mental illness. Consequently, all transgendered individuals are still considered mentally ill.
Park conceded that the dissonance between the assigned gender identity and internal feeling, especially coupled with transgenderphobia, can lead to depression. But that would implicate a diseased society rather than the individual. She wants more than a few crumbs from the table at the Department of Health and isn't willing to accept them at the cost of pathologizing the community. She regards transgender identity rather like left-handedness, with transsexualism as a natural variant of the dominant gender identity, not a form of deviance. Whoever would like sex reassignment surgery should have the opportunity to get it, says Park. But in contrast to the traditional transgender discourse only a tiny minority would undergo these serious interventions. The majority is situated on some point in the wide spectrum between masculine and feminine. A subversive concept that can result in open conflict in the choice of a public toilet in New York as elsewhere.
NB: This article appeared in the 9 April 2015 issue of Die Zeit under the title, "Tragische Transe? Nö!." The original German text is below. The above English translation is mine. ~Pauline Park
_______________________
TRANSGENDER
Tragische Transe? Nö!
Die amerikanische Serie "Transparent" macht das Thema Geschlechtsidentität jetzt auch in Deutschland populär. In Amerika ist die Diskussion längst weiter. Ein Besuch im Transgender-Zentrum in Queens, New York.
Von Claudia Steinberg
Die Zeit
9 April 2015
Eine Regenbogenflagge zwischen Isabels Haarsalon und dem Minisupermarkt zeigt den Weg nach Pride House: ins Zentrum für Queers und Transsexuelle auf der 37th Avenue in Jackson Heights, Queens. Dort sitzt auf voluminösen Sofas und Bürostühlen eine Gruppe von Transsexuellen, Lesben und Bisexuellen. Die Atmosphäre ist ausgelassen. Bis eine schwarz gekleidete Dame unbestimmten Alters, glamourös einen chinesischen Schal um die Schultern drapiert, Platz nimmt. Pauline Park ist die Gründerin und Direktorin von Pride House. Sie weiß, gleich wird die Stimmung abstürzen, mit dramatischen Erzählungen von Familienstreit, dem Aufflammen von Unbehagen an der zugewiesenen Geschlechtsidentität, die sich falsch anfühlt.
Alle wissen längst um Lauras Selbstmordabsichten. Gene berichtet vom Besuch seiner geliebten Oma aus China, die über die Verwandlung ihrer Enkelin in einen Jungen so verzweifelt war wie er über ihre Unfähigkeit, seine neue Identität zu akzeptieren. Dylan ist Computerprogrammiererin und sehnt sich nach einer "Rückwärtskompatibilität" mit der Ehefrau und den Kindern aus ihrem früheren Leben als Mann. Ihre Kollegin June sollte sich bei der Suche nach einem neuen Job einfach als Frau vorstellen, findet Dylan – doch Junes Doktortitel und ihre ganze exzellente Berufserfahrung laufen unter ihrem Männernamen.
Seit sich die Schwulen nach den Debatten der siebziger Jahre in den Mainstream eingliedern konnten, sind Transgender-Individuen als exotischer Rest der Außenseitergemeinde übrig geblieben. Ihre Erlösungsgeschichten besitzen noch immer jenen Unterhaltungsfaktor, den ein schwules Paar mit Hund und Haus in der Vorstadt längst verloren hat. Inzwischen ist Transgender das neue heiße Thema, es ist sogar in der breiten Öffentlichkeit angekommen, als Bürgerrechtsproblematik, als Glamour-Faktor, als Fernsehserie. An den Universitäten rüttelt es unter der Flagge von Queer Studies an den Geschlechtergrenzen. Im Oktober des vergangenen Jahres plädierte der New Yorker Bürgermeister Bill de Blasio für die Möglichkeit, das Geschlecht auf Geburtsurkunden ohne operative Umwandlung ändern zu können. Der New Yorker Gouverneur Andrew Cuomo hat verlangt, dass Krankenversicherungen für Geschlechtsumwandlungen aufkommen. Das New Yorker Gefängnis Rikers Island, eine der größten Strafanstalten der Welt, richtet eine Sonderabteilung für transsexuelle Häftlinge ein, weil Gefängnisse für sie zu den gefährlichsten Orten zählen, wo sie oft Gewalttätigkeit und sexuelle Attacken erdulden müssen. Vor zehn Jahren war ein Film wie Transamerika mit seiner vom Mann zur Frau transformierten Heldin Bree noch eine Ausnahme. Von dieser Woche an kann man über Amazon auch auf Deutsch die Serie Transparent sehen (parent wie Eltern und trans wie transsexuell), sie ist schon ausgezeichnet mit dem Golden Globe und hat beste Aussichten auf einen Kultstatus.
Die Autorin und Regisseurin von Transparent, Jill Soloway, hat sich von der Gendermetamorphose ihres eigenen Vaters zu einem witzigen und empathischen Aufruf für die Geschlechterfreiheit inspirieren lassen: Als Morts drei Töchter erwachsen sind, wagt er sein Coming-out und kommt plötzlich als Frau mit langer Haarmähne, auf Stöckelschuhen und im hübschen Kleid durch die Tür. Das Erstaunen ist groß, zumal Papa Mort dabei seine Tochter in inniger Umarmung mit ihrer Freundin überrascht. Die Serie soll nicht nur "die Geburt einer neuen Mutter aus dem weiblichen Ich des Vaters" feiern, sondern auch "boygirl, girlboy, macho princess and officer sweet slutty bear" zur Identität ihrer Wahl ermutigen. Mit dieser antidualistischen Auffassung hat Soloway das Klischee der tragischen Transe mit Schwung hinweggewischt und einem Millionenpublikum die Möglichkeiten kühner Selbstbestimmung vorgeführt.
Dieser Artikel stammt aus der ZEIT Nr. 15 vom 9.4.2015.
Dieser Artikel stammt aus der ZEIT Nr. 15 vom 9.4.2015.  |  Die aktuelle ZEIT können Sie am Kiosk oder hier erwerben.
Pauline Park hat ihr Pride House an einem der ethnisch vielfältigsten Orte der Welt angesiedelt: In der Schule schräg gegenüber werden 84 Sprachen gesprochen. Im Pride House erscheinen Klienten aus Kolumbien, Ecuador, Mexiko, China, Indien, Pakistan, Bangladesch oder von den Philippinen. Die Einrichtung verzeichnet jedes Jahr rund 6000 Interaktionen mit Bewohnern aus ganz Queens, New Yorks zweitgrößtem Stadtteil. Pride House hat in zwei Jahrzehnten einen Katalog von Rechtsanwälten und Medizinern angesammelt, bei denen Transsexuelle auf respektvollen Umgang hoffen können, man arbeitet mit Psychotherapeuten oder Psychiatern zusammen. Immigration und medizinische Versorgung sind die wichtigsten Themen. Pride House vermittelt HIV-Tests, verteilt pro Monat 50.000 Kondome oder hilft obdachlosen Klienten, eine Unterkunft zu finden. "Gerade transsexuelle Teenager enden oft auf der Straße", sagt Park.
Pauline Parks Mitgefühl für Menschen wie Laura oder Gene ist in ihrer eigenen komplizierten Biografie begründet. Im Jahr 1960 nahmen amerikanische Adoptiveltern zwei unterernährte Zwillingsbrüder aus Seoul in Empfang. Die Jungen waren erst acht Monate alt und wuchsen nun auf als die einzigen nicht weißen Kinder der Umgebung. Sie waren in einer christlich fundamentalistischen, republikanischen Familie gelandet. Im ersten Semester ihres Philosophiestudiums an der University of Wisconsin offenbarte sich Park als schwul. Doch das war nur die halbe Wahrheit. Die andere Hälfte kam zum Vorschein, als Park mit einem Stipendium nach London zog und dort immer häufiger als Frau auftrat. Sie nennt es die befreiendste Erfahrung ihres Lebens: "Zum ersten Mal präsentierte ich mich so, wie ich mich sah." Schließlich war es die Lektüre von Michel Foucault, die Park von dem vermeintlichen Fluch einer inauthentischen koreanischen Identität befreite und die binäre Geschlechtsbestimmung als gesellschaftliches Konstrukt entlarvte. "Ich begann, mich als ›körperlich männliche Frau‹ und als koreanisches Adoptivkind zu akzeptieren."
Dass sie sich in der geschlechtlichen und kulturellen Ambiguität so beheimatet fühlt, macht Pauline Park zu einer radikalen Theoretikerin und Aktivistin, die mit dem "Transgender-Establishment" Amerikas und seiner "klassischen Version der Geschlechtsumwandlung" auf Kriegsfuß steht.
Seite 2/2: Die Geschlechtsidentitätsstörung hat immer noch den Status einer Geisteskrankheit
Nach Hunderten von Schulungen und Workshops an Universitäten, in Kliniken, Regierungsstellen und Unternehmen ist Pauline Park bestens mit allen Vorurteilen vertraut, die über Transsexuelle kursieren. "Die meisten Teilnehmer erwarten, dass ich ihnen etwas über Hormone und Operationen erzähle. Aber das Thema berühre ich kaum. Ich versuche zu erklären, wie viele Barrieren ein Transsexueller etwa bei einem Krankenhausbesuch überwinden muss". Seit dem 11. September verlangt nahezu jedes öffentliche Gebäude das Vorzeigen eines Ausweises. Wenn der auf einen männlichen Namen lautet, die Person jedoch als Frau erscheint, wird sie möglicherweise nicht über den Wachtposten hinauskommen. Die nächste Hürde ist das Formular, auf dem man "männlich" oder "weiblich" ankreuzen muss. Wenn die Patientin Joanna im Warteraum sitzt, aber als John aufgerufen wird, ist sie verwunderten Blicken ausgesetzt.
Die lineare Transformation vom Mann zur Frau und umgekehrt wurde der Öffentlichkeit in zahllosen Talkshows von Oprah Winfrey bis Barbara Walters nahegebracht – mit Gästen, die sich im falschen Körper eingesperrt fühlten und diesen Missstand mit Hormonen und Operationen behoben. Mit der Umkehrung der genitalen Vorzeichen bleibt aber nicht nur die Weltordnung der polaren Geschlechtsidentität erhalten, sondern die Transsexualität weiterhin dem Krankheitsmodell verhaftet. 1974 wurde die Homosexualität aus dem diagnostischen Handbuch psychischer Störungen gestrichen, das führte mit einem Streich zur "Heilung" von Millionen von Schwulen. Gleichzeitig definierte aber die American Psychiatric Association eine gender identity disorder, Geschlechtsidentitätsstörung, die zur gender dysphoria abgemildert wurde, ohne jedoch ihren Status als Geisteskrankheit zu verlieren. Demzufolge wären alle Transgender-Individuen geisteskrank.
Park konzediert, dass die Dissonanz zwischen der zugewiesenen Geschlechtsidentität und der eigenen Empfindung, vor allem aber Transgender-Phobie zu Depressionen führen kann. Das wäre allerdings eher eine Krankheit der Gesellschaft als eine des Individuums. Sie will mehr als ein paar Brotkrumen vom Bankett des Gesundheitsministeriums um den Preis der Pathologisierung eines Zustands, den sie als so natürlich betrachtet wie Linkshändigkeit. Transsexualität ist für sie eine Varianz der dominanten Geschlechtsidentität, keine Devianz. Wer eine operative Geschlechtsumwandlung wünsche, sollte die Gelegenheit dazu haben, meint Park. Doch im Unterschied zum klassischen Transgender-Diskurs wolle sich nur eine winzige Minorität diesen gravierenden Eingriffen unterziehen. Die Mehrheit siedele sich einfach an irgendeinem Punkt auf dem breiten Spektrum zwischen maskulin und feminin an. Ein subversives Konzept, das bekanntlich schon bei der Wahl einer öffentlichen Toilette Konflikte eröffnen kann, in New York wie überall.
In der Serie "Transparent" wählen "MaPa" (Jeffrey Tambor" und seine Töchter die Damentoilette.