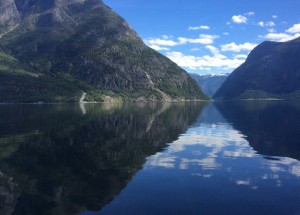 Europe 2017: Norway Iceland Spain
I spent five weeks in Europe in 2017, two in Norway, two in Spain and one in Iceland; it was the longest trip of my life, exceeding even the four weeks I spent in Korea in June and July 2015; these are some of my photos of the trip and some of my thoughts about what I saw there…
Monday, June 19
Flight from JFK to Stockholm Arlanda.
Tuesday, June 20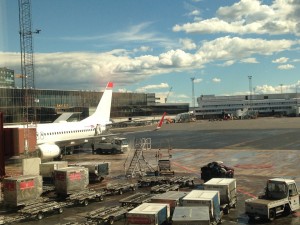 Flight from Stockholm Arlanda to Oslo; arrival at Gardermoen airport; train into Oslo. Dinner at an Asian fusion restaurant Monsun in Grünerløkka.
Wednesday, June 21
Waking up in the grendehus of an apartment building in Grünerløkka.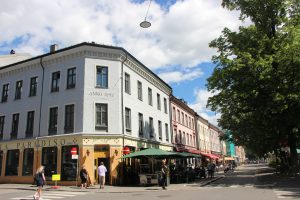 Olaf Ryes Plass at Markveien in the Grünerløkka district of Oslo
Trikk Trakk tram to Oslo City mall. Back to the Grünerløkka.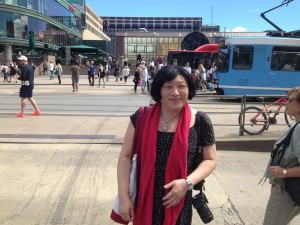 Oslo: in front of Sentralstasjon
Thursday, June 22
Royal Palace. Henrik Ibsen Museum. Trikk Trakk tram to Apothek restaurant for dinner.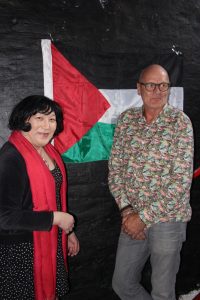 Øystein Grønning & I spoke to members of the Palestinakomite i Norge at Maksitaksi in Oslo about the illegal Israeli occupation of Palestine
Friday, June 23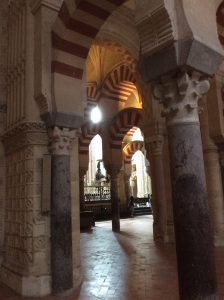 arches leading to the cathedral chapel in the middle of the gran mezquita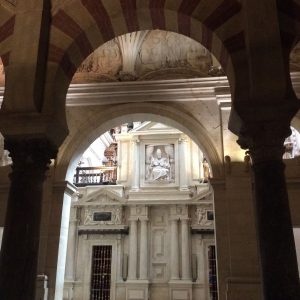 Córdoba's gran mezquita has a statue of a pope above classical columns: it's a hybrid that embodies the history of Spain…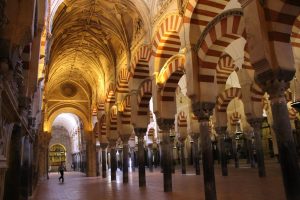 Córdoba's gran mezquita is a forest of Roman arches brought in by Abd al-Rahman I from Roman ruins in and around the city; the addition of a Gothic barrel vaulted ceiling to this long passageway in the midst of the mosque shows how thoroughly mixed Roman, Muslim Arab and Spanish Catholic Baroque styles are in this extraordinary building…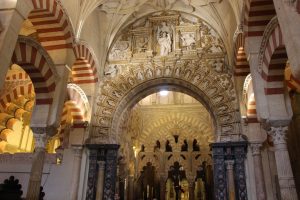 I was struck by the sculptures of Christian saints being supported by Roman arches added to Córdoba's gran mezquita after the Reconquista, which could be cited as a visual and architectural metaphor of Spain itself…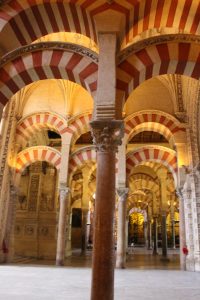 arches in the gran mezquita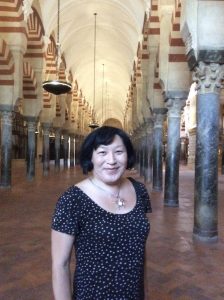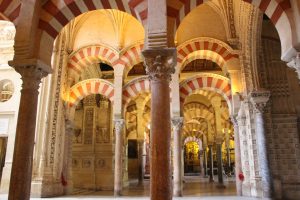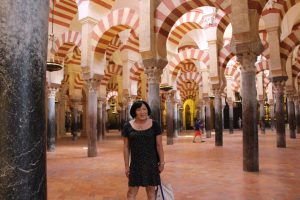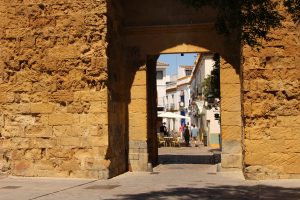 Granada as seen from the Alhambra
Sala de los Abencerrajes in the Alhambra's Palacios Nazaríes
Torre de Camares & Patio de los Arrayanes (Patio de los Mirtos) in the Alhambra's Palacios Nazaríes
Patio del Cuarto Dorado in the Alhambra's Palacios Nazaríes (7.8.17)
Mirador de Daraxa in the Palacios Nazaríes of the Alhambra
In the morning, I crossed the square to the Hallgrímskirkja to meet the van to embark on the Golden Circle tour I'd booked upon my arrival in Iceland.
The first stop on the tour was the Mossbær horse farm outside of Laxness, where we had the chance to feed the horses in the stables horsey treats.
But I went outside to see the amazing view of the mountains from Mossbær and saw a beautiful dark chocolate brown horse; she must have realized I was admiring her and she sauntered over to me and began nuzzling me.
This was the most wonderful equine experience I'd ever had; one of the staff at Mossbær told me her name — which was the name of a flower in Icelandic — but I only had enough time to get a few photos with this beautiful filly before we had to move onto the next step of our tour.
I was