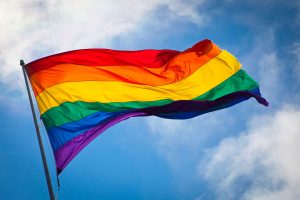 2017 LGBT year in review
by Pauline Park
2017 was a hell of a year and that's using the politest language I can think of. The year that just passed was dominated by Donald Trump, who has loomed large for lesbian, gay, bisexual and transgendered (LGBT) people and especially for LGBT activists since he was inaugurated on Jan. 20. In fact, the Washington Blade called 2017 the 'Year of Trump' and deemed it the top national story of the year (Chris Johnson, "'Year of Trump' is Blade's pick for top national story of 2017," 29 December 2017).
#1… The year began with dramatic protests over the Muslim ban written by Steve Bannon that was repeatedly blocked by federal courts until the US Supreme Court finally ruled on Dec. 4 allowing it to go into effect (Sam Levin, "Tears, despair and shattered hopes: the families torn apart by Trump's travel ban," Guardian, 8 Jan. 2018); while we can't know how many families torn apart by the travel ban included LGBT people, some must undoubtedly did include queer family members.
#2… And though it attracted far less mainstream media attention, the ongoing epidemic of murders of transgendered people should; such crimes are routinely underreported, so we can't know how many trans people were killed because of their gender identity last year, but one website counted 28 such murders, primarily transgendered African American women (Mey, "Brandi Seals Is the 28th Trans Person Murdered in 2017," Autostraddle, 14 December 2017).
#3… The Trump administration's first assault on LGBT rights was the new president's recission of the Obama administration's guidelines on transgender discrimination in education; but as I have argued elsewhere, there may be less than meets the eye (Pauline Park, "LGBT rights & progressive politics in the age of Trump," 29 March 17). The guidelines issued by the Department of Justice and Department of Education eight months before the end of Barack Obama's second term were not legally binding on any state or school district and in practice were unenforceable, so while Trump's decision to rescind them was despicable, the practical impact will probably be minimal. Likewise, while Trump's DoE issued a memo directed by Attorney General Jefferson Beauregard Sessions interpreting Title IX not to include transgender identity under the terms of 'sex discrimination,' the US Supreme Court has not as of yet adjudicated the issue and it would be impossible to argue that the original legislative intent of Congress was to include transgendered people, so there is once again less here than meets the eye.
#4… Potentially far more consequential was Donald Trump's recission of Barack Obama's executive order allowing openly transgendered people to serve in the US military (Chris Johnson, "'Year of Trump' is Blade's pick for top national story of 2017," 29 December 2017). On Oct. 30, a federal judge blocked key provisions of Trump's reinstatement of the ban first announced on July 26 (Ariane de Vogue, "Judge blocks enforcement of transgender military ban," CNN, 30 Oct. 2017). It is not yet clear if or when the US Supreme Court will take up this issue.
#5… On the same day that Trump announced his reinstatement of the ban on openly transgendered military service members, Jeff Sessions filed an amicus curiae (friend of the court) brief on behalf of a company being sued for discrimination based on sexual orientation in which the attorney general argued that such discrimination was not included in existing federal legislation, most notably, the 1964 Civil Rights Act (Paul Schindler, "As POTUS, AG Scramble to Hold On, Our Community Proves an Inviting Target," Gay City News, 3 August 2017). But as 'dispiriting' as the amicus curiae brief and its clearly homophobic intent was, as with the rescinding of Obama's education guidelines, there was less here than meets the eye, since the US Supreme Court has never ruled on the applicability of the 1964 Civil Rights Act in sexual orientation discrimination cases, nor is there any case to be made that the legislative intent of Congress was to ensure such inclusion.
#6… The case with really potentially monumental consequences that the US Supreme Court has agreed to hear in 2018 is the Masterpiece Cakeshop case involving a Colorado bakery that refused to bake a wedding case for a same-sex couple.
#7… Trump's failure to get the Senate to pass a bill repealing the Affordable Care Act (ACA) means that Obamacare remains intact, but the new administration's hostility to LGBT people could undermine the guidelines and regulations adopted by the Obama administration that were intended to ensure health insurance coverage for LGBT people and especially transgendered people, not included in the terms of the original legislation.
#8… In December, Council Member Corey Johnson rounded up enough votes to win the election for Speaker of the New York City Council, formalized in a vote on Jan. 3 (Duncan Osborne, "Mr. Speaker," Gay City News, 3 Jan. 2018). Johnson became the first openly gay man and the first HIV-positive person to be elected Speaker, though Christine Quinn (who represented the 3rd Council district before Johnson) was the first openly lesbian Council member elected Speaker. But the fact that Queens County Democratic Party chair Joe Crowley and big money interests put Johnson in the Speaker's chair should diminish the enthusiasm of any progressive (LGBT or not) for this achievement.
#9… 2017 was an annus horribilis for LGBT people in many countries abroad, including Honduras, Egypt, Russia and Chechnya. In Chechnya, there were reports of mass persecution of LGBT people including imprisonment, torture and murder. And in Honduras and Egypt, the brutal military juntas installed in military coups supported by Barack Obama and Hillary Clinton went on the rampage in a vast new wave of persecution of LGBT people. The one piece of good news in Africa was the ouster of Robert Mugage as president of Zimbabwe, among the most homophobic rulers in the world; whether the new regime will be any friendlier is an open question.
#10… Over the course of the summer, a wave of sexual harassment scandals broke, beginning with Hollywood mogul Harvey Weinstein. By October, Kevin Spacey became embroiled in his own sexual harassment scandal, leading to his ouster from the wildly successful "House of Cards" drama series. Spacey's coming out as gay in response to the allegations outraged many in the LGBT community and understandably so, since it implicitly linked his homosexuality with pedophilia and sexual assault.
#11… On a happier note, "Call Me By Your Name" came out in December 2017, an extraordinary new film based on a novel by André Aciman, directed by Luca Guadagnino and starring Timothée Chalamet and Armie Hammer as a 17-year-old who falls in love with a 33-year-old in an old family house in northern Italy in 1983.
And into the new year…
#12… In January, Chelsea Manning announced her candidacy for the US Senate, challenging incumbent Ben Cardin, the Senate lead sponsor of legislation that would criminalize support for boycott, divestment and sanctions against Israel for its illegal occupation of the West Bank, East Jerusalem and the Gaza Strip (Norman Solomon, "Why Senaor Cardin is a Fitting Opponent for Chelsea Manning," CounterPunch, 16 Jan. 2018). In the rather unlikely event that Manning were to win the Democratic primary (tantamount to election in blue Maryland), she would become the first openly transgendered person elected to the US Senate.