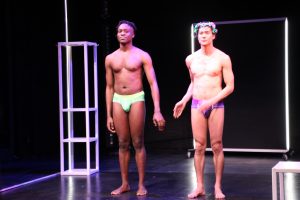 Pillow Talk: transgender identity, people of color & intersectionality
by Pauline Park
Kyoung H. Park is a Korean American playwright who emigrated to the United States from Chile, where he was born and raised; he is the first Korean playwright from Latin America to be produced and published in the united States; he is the founder of Kyoung's Pacific Beat, a theater company that has produced four works of his, the most recent being "Pillowtalk." Kyoung invited me to come to the Jan. 18 performance of "Pillowtalk" and participate in a 'long table' discussion following the performance.
I was struck by the incorporation of the issues of race, sexuality, gender, immigration and identity as well as capitalism and neoliberal economics raised by the play; and I was delighted to join other openly lesbian, gay, bisexual and transgendered (LGBT) people of color to discuss these issues. What I tried to do in my comments was to draw on my own experiences in pointing to some of the insights in the play.
I began my comments by noting that my first career was in the corporate sector, which though it was the least fulfilling or inspiring of my three careers, in some ways was the most instructive in showing me how the real world actually worked. I then mentioned my second career and how it disillusioned me with academia, which ended up being corporate in its own way and certainly not the idealized realm of ideas that I had imagined as an undergraduate. I noted that while I've been working as an activist since leaving academia over 20 years ago, that I've always considered myself a writer first and foremost. And I commented on how the need that many writers have to support themselves with their writing can end up seriously compromising their ability to write what they really want to write. Riffing on the play, I argued that the problem was not only capitalism per se, but crony capitalism coupled with aggressive neoliberal economic policies that have impoverished so many while working to make the wealthy elite even wealthier.
Since the comments of my colleagues in the long table focused considerably on the theater, I pointed out that the question of power in the theater was not only one of the underrepresentation of women, LGBT people and people of color, but also of the positions people held and the power within the theater to make decisions. And I also pointed out the unfortunate face that LGBT people of color can be victimizers as well as victims, including perpetrators of sexual harassment against other LGBT people of color.
I concluded by saying that I believed that we all need to figure out what are reasonable compromises with the corrupt system we live under while we pursue artistic expression and social justice.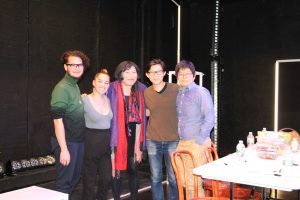 Pauline Park is chair of the New York Association for Gender Rights Advocacy (NYAGRA), which she co-founded in 1998, and president of the board of directors of Queens Pride House, which she co-founded in 1997.  She also co-founded Iban/Queer Koreans of New York in 1997 and served as its coordinator from 1997 to 1999, as well as the Out People of Color Political Action Club, the first political club by and for LGBT people of color in New York City, which she co-founded in 2001, serving as co-president of the club from 2007-2010. Park led the campaign for passage of the transgender rights law enacted by the New York City Council in 2002. She served on the working group that helped to draft guidelines — adopted by the Commission on Human Rights in December 2004 — for implementation of the new statute. In January 2012, She participated in the first US LGBTQ delegation to Palestine, a seven-day tour of the West Bank and Israel that included meetings with LGBT- and non-LGBT Palestinians and Israelis. Park did her B.A. in philosophy at the University of Wisconsin-Madison, her M.Sc. in European Studies at the London School of Economics and her Ph.D. in political science at the University of Illinois at Urbana.